FEATURE ARTICLE

2008 Top Ten

Rating: Various

Distributor: Various

Released: Various

Written by Sara Michelle Fetters
Senior Theatrical Editor
www.moviefreak.com
2008 Best and Worst
Little Robot Who Could WALL•E Year's Best Film
There is nothing wrong with a very good year at the movies. That's what 2008 was, a very good year, full of plenty of entertaining motion pictures that hardly left me unsatisfied. From the big (Iron Man, Quantum of Solace), to the small (JCVD, Frozen River), to the somewhat in-between (Doubt, The Bank Job), there has been plenty for audiences to find comfort in.
The problem for a lot of people (and critics) is that 2007 was a spectacular year, and in some small way those of us who watch film for a living can't help but be slightly disappointed by this one. But in this job you have to take each 365-day period as you find them, and for my money I'll take plenty of good with very little crap to a twelve month stretch of awfulness sprinkled with a couple classics any day.
Not that this one wasn't without its highlights or surprises. For one thing, 2008 very quickly became known for tapping into the tween and teenage girl marketplace like it never before. While Sex and the City, Step Up 2: The Streets, Mamma Mia!, High School Musical 3, Twilight and 27 Dresses had their eclectic groups of diverse fans, a great deal of their success was thanks to the under 21 female demographic, each striking box office gold mainly thanks to them.
Then there was the even more expansive list of comic book adaptations. Wanted, The Incredible Hulk, Hellboy II: The Golden Army, The Spirit, Speed Racer and Punisher: War Zone were just a handful of them, Will Smith created his own superhero with Hancock while Doug Liman's Jumper, might not have been based on a graphic novel, but that doesn't mean it sure as heck didn't feel like it was.
This year also continued the streak of failure for every single picture even slightly connected to the Middle East. Stop-Loss, Standard Operating Procedure, Nothing Like the Holidays, The Lucky Ones, Towelhead and even Ridley Scott's star-studded Body of Lies met with box office silence, while WWII features The Miracle of St. Anna and The Children of Huang Shi (the verdict is still out on Tom Cruise's just released Valkyrie) caught the bug, too, and died an almost instant death at the ticket booth.
The biggest news, of course, was the tragic passing of actor Heath Ledger only a scant few months before the release of The Dark Knight. Combined with the sheer brilliance of co-writer/director Christopher Nolan's complicated and stunning vision transcending the usual comic book clichés, the curiosity surrounding the actor's performance as The Joker catapulted the film right into the record books. It's staggering $530-million gross at the box office is second only to Titanic, people flocking to the movie theater again and again to see Bob Kane's creation take flight like never has before.
There's plenty else to talk about this year from the giddily pleasing return of Indiana Jones, to the amusing wonders of Anna Faris in The House Bunny, to Colin Farrell and Brendan Gleeson exchanging vulgar verbal jousts in the underrated In Bruges. Be that as it may, here are my ten best and ten worst films of 2008. Hopefully you'll find them interesting. If not, well, there's always 2009.
TOP TEN
1. WALL•E – Sublime, poetic, hilarious, poignant and absolutely beautiful, Pixar's latest instant classic might just be their best one yet. Mixing old and new Hollywood, there is a remarkable genius to what director Andrew Stanton and his team of magicians have accomplished. Like Chaplin's Little Tramp this little robot who could is absolutely guaranteed to stand the test of time. [view "Theatrical Trailer"]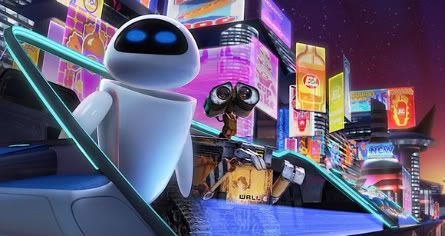 A scene from Disney/Pixar's WALL-E
2. The Edge of Heaven – Dramatically moving and emotionally complex, filmmaker Fatih Akin's film festival favorite is one for the time capsule. Filled with perfectly realized performances and featuring one of the most magnificent last scenes of the year, this saga of family, sexuality, national pride and unfulfilled promise is so devastatingly uplifting it's nearly perfect. [view Theatrical Trailer]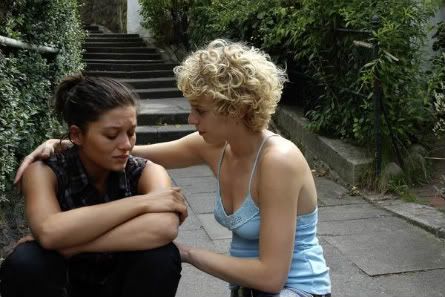 Nurgul Yesilçay and Patrycia Ziolkowska in Strand Releasing's The Edge of Heaven
3. The Dark Knight – Christopher Nolan has unleashed a comic book The Godfather Part II, elevating the superhero genre to such an entirely new and richly seductive plain just about everything coming next will seem idiotic child's play in comparison. Without question, this was the year's most thrilling adventure, it's saga of right and wrong resonating long after the curtain closed. [play Theatrical Trailer]



The late Heath Ledger in Warner Bros' The Dark Knight


4. -tie- I've Loved You So Long and Rachel Getting Married – A striking double feature of sisterly devotion and love showcasing performances by Kristin Scott Thomas, Elsa Zylberstein (the former), Anne Hathaway and Rosemarie Dewitt (the latter) so stunning that if Oscar doesn't take notice of the lot of them then it might as well just not recognize anyone at all. [view Theatrical Trailer - Rachel Getting Married]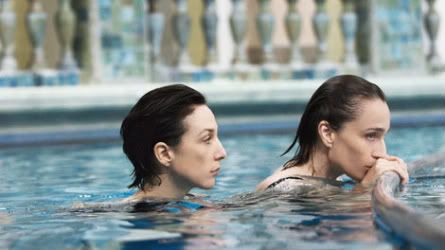 Elsa Zylberstein and Kristin Scott Thomas in Sony Pictures Classics' I've Loved You So Long


5. The Wrestler – Director Darren Aronofsky's raw and uncompromising underdog tale is a true work of passion and pain, the whole thing a litany of missed opportunities and lost second chances anchored by a viscerally shocking performance by Mickey Rourke that totally blew my mind. While not for the weak of stomach, few films have come even close to equaling this one's emotional body slam. [view Theatrical Trailer]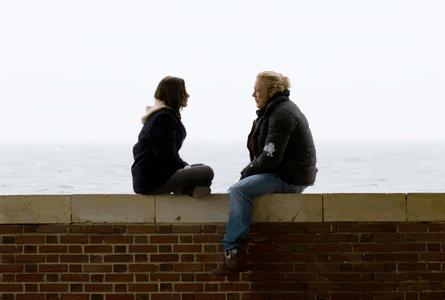 Evan Rachel Wood and Mickey Rourke in Fox Searchlight's The Wrestler
6. 4 Months, 3 Weeks and 2 Days – Grueling and tough to watch, this unrelenting Romanian saga of two friends in search of an illegal abortion tears your guts leaving them lying on the table for you to contemplate. Yet trying to look away is impossible, few works of cinema leaving you as worn out and as distraught as this one. Not an upper yet simply exceptional all the same. [view Theatrical Trailer]



Anamarica Marinca and Laura Vasiliu in IFC Films' 4 Months, 3 Weeks and 2 Days


7. The Visitor – Writer and director Thomas McCarthy's soaring aria of music, second chances and unexpected friendships is one of 2008's most deeply moving revelations. Veteran character actor Richard Jenkins, in his first lead, both steals and breaks your heart in this enduring almost-romance everyone who watches it can't help but adore. [view Theatrical Trailer]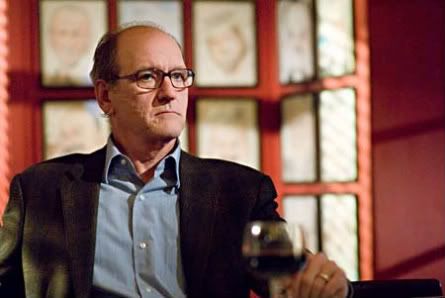 Richard Jenkins in Overture Films' The Visitor


8. Man on Wire – In a year of outstanding documentaries, this towering look at Frenchman Philippe Petit's audacious August 7, 1974 wire walk between the newly completed Twin Towers rises above them all. An engaging, exhilarating and absolutely effervescent piece of nonfiction filmmaking I can't wait to watch again. [view Theatrical Trailer]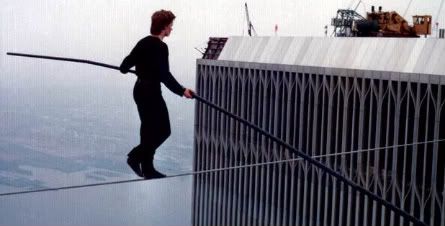 Philippe Petit in Magnolia Films' Man on Wire


9. Tropic Thunder – I've said plenty of awful things about writer, director and actor Ben Stiller over the years, but considering misfires like The Heartbreak Kid can you really blame me? With this satirical Hollywood war-torn epic I totally take it back, this flick the single funniest live-action comedy of 2008. Tom Cruise and Robert Downey, Jr., both Golden Globe nominees, are sensational. [view Theatrical Trailer]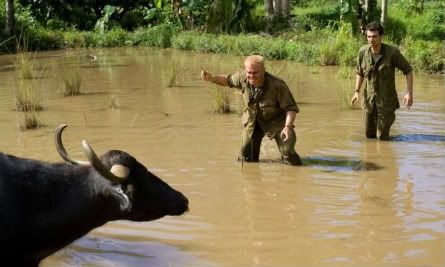 Jack Black and Jay Baruchel in DreamWorks Pictures' Tropic Thunder


10. Wendy and Lucy – A film that sneaks up on your heart and then busts it right open, this tiny gem from director Kelly Reichardt had me reaching for the Kleenex so many times I think I went through an entire box. Michelle Williams' portrait of a young, unfocused woman searching for her lost dog on the way to Alaska is probably the finest of her entire career. [view Theatrical Trailer]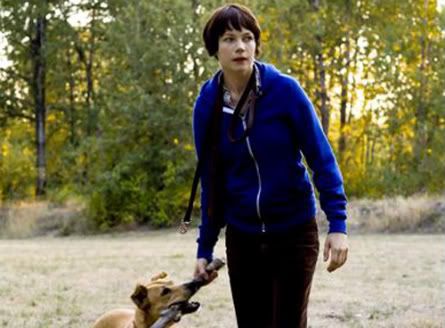 Michelle Williams in Oscilloscope Pictures' Wendy and Lucy
Article posted on Dec 25, 2008 | Share this article | Top of Page
Copyright © 1999-infinity MovieFreak.com
---