FEATURE ARTICLE

2008 Top Ten (part two)

Rating: Various

Distributor: Various

Released: Various

Written by Sara Michelle Fetters
A Second Fifteen (because I can)
1. Tell No One – Splendid French thriller recalling the best of Hitchcock, Chabrol and Pakula. Film starts like gangbusters and then refuses to let up, so electrifying it leaves audiences screaming for more.



Marie-Josée Croze and Francois Cluzet in Music Box Films' Tell No One
2. Kung Fu Panda – DreamWorks' best animated feature in ages, this panda packs seriously enjoyable punch no matter how many times you sit down to watch it.


3. The Fall – A visually spellbinding fantasy from visionary auteur Tarsem that left me feeling alive and energized with striking cinematography by newcomer Colin Watkinson.


4. American Teen - Nanette Burstein's outstanding look at a group of Indiana teens from all walks of life and social cliques trying to navigate their final year of High School.


5. Happy-Go-Lucky – Acclaimed writer and director Mike Leigh's latest small-scale working class sensation featuring an endearing performance by ebullient star Sally Hawkins.


6. CHE – Steven Soderbergh's controversial four-hour two-part biopic of famed revolutionary Ernesto 'Che' Guevara is a dazzling, sometimes flawed and constantly enthralling epic worthy of applause.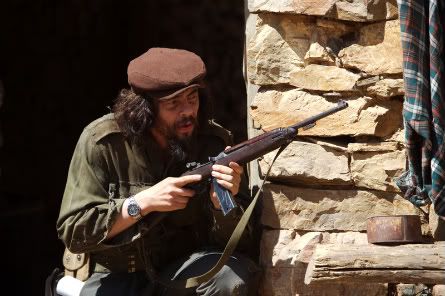 Benicio Del Toro in IFC Films' CHE

7. The Lucky Ones – Arguably the year's most underrated gem, filmmaker Neil Berger's follow-up to The Illusionist is the single best film to date about soldiers returning from Iraq.


8. Revolutionary Road – Dazzling adaptation of Richard Yates acclaimed novel reuniting Titanic stars Kate Winslet and Leonardo DiCaprio, both of which are achingly spectacular.


9. Gran Torino – Clint Eastwood's bravely iconic (and supposedly last) performance as an actor elevates what could be a tiring tale of racial intolerance into something raw and primal.


10. The Grocer's Son – Reflective and poignant story of a son trying to come to grips with his familial demons while working his father's grocery truck driving through the lush Provence countryside.


11. Cloverfield – Delightfully original monster mash from producer J.J. Abrams and director Matt Reeves taking the you-are-there aesthetic of The Blair Witch Project coupling it with Godzilla-like extremes.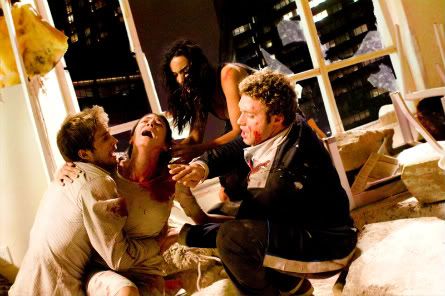 Michael Stahl-David, Odette Yustman, Jessica Lucas and T.J. Miller in Paramount Pictures' Cloverfield
12. Miss Pettigrew Lives for a Day – Frances McDormand and Amy Adams shine as women from dissimilar worlds who change one another's lives. Romantic, charming and wholly unforgettable.


13. The Curious Case of Benjamin Button – David Fincher's gloriously original and technically astonishing fable of a man aging backwards speaks to both the heart and the soul.


14. Towelhead – Brutal and obdurate suburban melodrama from the pen of award-winning writer/director Alan Ball based on the novel by Alicia Erian. An astonishing debut for newcomer Summer Bishil.


15. Ben X – Director Nic Balthazar, adapting his own novel, brings his searing and original tale of an autistic boy retreating into the fantasy world of online role-playing to vividly staggering life.



Laura Verlinden and Greg Timmermans in Film Movements' Ben X
The Best of the Rest (in alphabetic order)
A Christmas Tale, A Thousand Years of Good Prayers, Appaloosa, Australia, Baghead, The Bank Job, Blindsight, Body of Lies, Burn After Reading, Chicago 10, Choke, Days and Clouds, Doubt, Dr. Seuss' Horton Hears a Who, Encounters At the End of the World, Frost/Nixon, Frozen River, Ghost Town, Gonzo: The Life and Work of Dr. Hunter S. Thompson, Hellboy II: The Golden Army, The House Bunny, Humboldt County, In Bruges, Indiana Jones and the Kingdom of the Crystal Skull, Iron Man, JCVD, Jellyfish, The Last Mistress, Madagascar: Escape 2 Africa, Milk, Pineapple Express, Quantum of Solace, Quarantine, The Reader, Role Models, The Ruins, Sex Drive, The Sisterhood of the Travelining Pants 2, Slumdog Millionaire, Son of Rambow, Snow Angels, The Spiderwick Chronicles, Standard Operating Procedure, Stop-Loss, Suburban Girl, Up the Yangtze, Valkyrie, Vicky Cristina Barcelona, W., XXY
BOTTOM TEN
1. You Don't Mess with the Zohan – Arguably the very worst film of Adam Sandler's entire career, this supposed "comedy" is easily the most disgustingly unforgivable thing released this decade.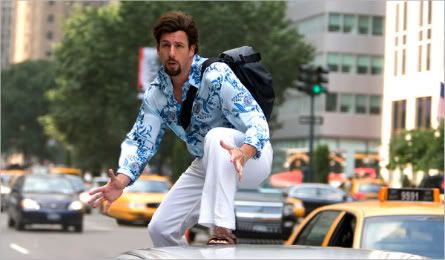 Adam Sandler slaps the audience senseless in Sony Pictures' You Don't Mess with the Zohan


2. 88 Minutes – Al Pacino hits a new low with this risible thriller that makes about as much sense as George W. Bush setting environmental policy for the new Barak Obama administration.


3. 10,000 B.C. – Offensive and ludicrous dawn of mankind epic that's so boneheaded and stupid it's hard to believe anyone ever thought it was a good idea in the first place.


4. One Missed Call – The worst Asian horror adaptation yet, this story of evil telephone calls is so unrelenting mediocre it's almost impressive.


5. Punisher: War Zone – Marvel's third attempt to make their vigilante superhero a cinematic success meets with the same disastrous (if unintentionally hilarious) results.


6. Mamma Mia! – Physically pummeling adaptation of the popular Broadway ABBA spectacular might just be the worst Hollywood musical I've ever had the displeasure to endure.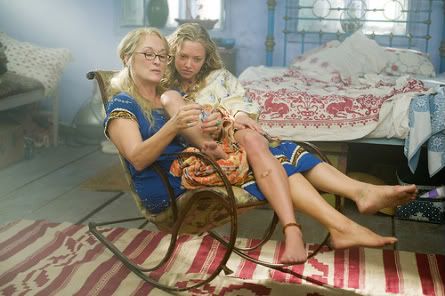 Meryl Streep and Amanda Seyfried contemplate the disaster that is Universal Pictures' Mamma Mia!


7. Untraceable – Disgusting horror/thriller shows onetime Academy Award-nominated actress Diane Lane trading in a shot at an Oscar for a chance to star in a cheap techno Saw knockoff.


8. Prom Night – Remake of the popular 1980's slasher film forgets to be scary, suspenseful, thrilling or tense. It's also horribly acted and disgracefully implausible, too.


9. The Day the Earth Stood Still – Reprehensible remake of the timeless 1951 sci-fi classic that grinds that earlier picture's themes into dust with an avalanche of contrivances and pointless special effects.


10. Step Brothers – Will Ferrell abomination proving even good actors (John C. Reilly, Richard Jenkins, Mary Steenburgen) can be made to look like fools. Saying it stinks would probably be a compliment.

John C. Reilly and Will Ferrell are the only two smiling about Sony Pictures' Step Brothers
Dishonorable Mentions (in alphabetic order)
21, Beverly Hills Chihuahua, Blindness, The Children of Huang Shi, College Road Trip, Cthulhu, Death Race, Deception, Drillbit Taylor, The Duchess, First Sunday, Fly Me to the Moon, Fool's Gold, The Forbidden Kingdom, Four Christmases, George A. Romero's Diary of the Dead, Hancock, Harold & Kumar Escape from Guantanamo Bay, How to Lose Friends & Alienate People, The Incredible Hulk, Jumper, The Love Guru, Mad Money, Made of Honor, Max Payne, Meet Dave, Miracle at St. Anna, Mother of Tears, The Mummy: Tomb of the Dragon Emperor, Nights in Rodanthe, Nim's Island, Over Her Dead Body, Postal, Pride and Glory, Righteous Kill, Seven Pounds, Sex and the City, Shrooms, Shutter, Speed Racer, Star Wars: The Clone Wars, Street Kings, The Tale of Despereaux, Vantage Point, Welcome Home Roscoe Jenkins, What Happens in Vegas, Witless Protection, The Women
Article posted on Dec 25, 2008 | Share this article | Top of Page
Copyright © 1999-infinity MovieFreak.com
---