FEATURE ARTICLE

2009 Top Ten

Rating: Various

Distributor: Various

Released: Various

Written by Sara Michelle Fetters
Senior Theatrical Editor
www.moviefreak.com
2009's Best and Worst
In the Loop and Hurt Locker Lead the Independent Landslide
I've been hearing a lot lately about how 2009, much like 2008, is a down year at the cinema, that while there have been plenty of good movies but a scant few of great ones. While I agree this is more or less true from a major studio standpoint I cannot help but feel the opposite in regards to foreign and independent releases. On that front this year has been outstanding, so many exemplary titles to choose from trying to decide which one is best a virtual impossibility.

Russell and Carl in Walt Disney Pictures/Pixar's Up
Not that Hollywood didn't deliver solid pieces of entertainment. The Hangover emerged as the most successful R-rated comedy in movie history, providing more than enough laughs to warrant at least the majority of its fuss. Director J.J. Abrams successfully rebooted Gene Roddenberry's Star Trek, and even if I wasn't completely satisfied the potential for future greatness is certainly there. Taken, Duplicity, State of Play, Monsters vs. Aliens, Fast & Furious, Drag Me to Hell, The Princess and the Frog, Zombieland, Law Abiding Citizen, District 9, Sherlock Holmes and Invictus while all different still hit the spot, each offering up varying degrees of enjoyment as long as the viewer allowed themselves an open mind.
The year's biggest movie was also its most reviled, Michael Bay's Transformers: Revenge of the Fallen may be the first $400-million smash that almost nobody admits to liking. Paramount also had their hand in G.I. Joe: The Rise of Cobra, and while that film was a major box office success as well viewing it in a theater was akin to watching CGI paint dry. The studio did have Paranormal Activity to crow about, their viral word-of-mouth marketing of that low budget horror masterpiece a template other Hollywood majors are sure to follow in the future.
Women showed up at the box office this year in force, both Meryl Streep and Sandra Bullock the primary beneficiaries of their largess even if the pair's four respective films – Julie & Julia, It's Complicated, The Proposal and The Blind Side (the best of the bunch) – were strictly mezzo-mezzo as far as quality. Stephenie Meyer also owes a debt of gratitude to the ladies of America, Team Edward and Team Jacob going all out to transform The Twilight Saga: New Moon into a $200-plus million phenomenon.
The multiplex was also the home of serious risk taking by some high profile director like Judd Apatow (Funny People), Zack Snyder (Watchmen), Jody Hill (Observe and Report), Spike Jonze (Where the Wild Things Are), Frances Ford Coppola (Tetro), John Hillcoat (The Road) and Lars von Trier (Antichrist), but while that sounds good in theory sadly for most of them those risks didn't always payoff. Only James Cameron saw his risky 3-D gamble Avatar completely rise to the occasion, naysayers who felt the Titanic Oscar-winner had been out of the game for too long forced to eat their words in lieu of the film's incredible December box office windfall.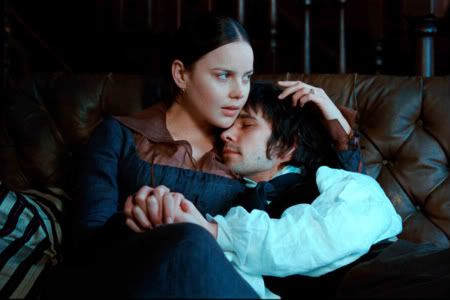 Abbie Cornish and Ben Whishaw in Apparition's Bright Star
There's plenty more I could talk about including how Emily Blunt deserves to be involved in Academy Award talk for both her performances in Sunshine Cleaning and The Young Victoria or how the brilliant coming of age sagas An Education and Bright Star deserved wider audiences then they sadly achieved. But that's a road better left un-traveled for now and I should probably just get on with my picks for the year's ten best and ten worst films. In fact, without further ado, that's exactly what I'm going to do.
TOP TEN
1. In the Loop – The funniest movie of the year, this profanely hilarious satire is also one of its smartest. Director Armando Iannucci's bracing comedy of political incompetence and error is a biting look at the Middle East quagmire that had me rolling in the aisles, and like Network, M*A*S*H and Dr. Strangelove I can see this one being talked about for decades to come.


Peter Capaldi and James Gandolfini in IFC Films' In the Loop
2. The Hurt Locker – Kathryn Bigelow's The Hurt Locker is everything you've heard and more. This powder keg of a thriller is fueled with adrenaline, the pre-season award's favorite (10 Best Picture wins from a variety of critics groups) powered by a volcanic sense of pace and dripping in raw fury and sweat-stained terror. To quote my own review, this film "is the real-deal in action theatrics, Bigelow delivering a pulse-pounding dynamo that puts all of Hollywood's meager summer 2009 offerings to shame."

Jeremy Renner and Anthony Mackie in Summit Entertainments' The Hurt Locker
3. A Serious Man – Joel and Ethan Coen's brutally dark comedy of religion and personal responsibility is one of their most complex and daring to date. It's also one of the pair's most innately personal, this 1960's saga of a man dealing with a crisis of faith as his life crumbles around him one of the a profound – and profoundly hilarious – film I couldn't get enough of.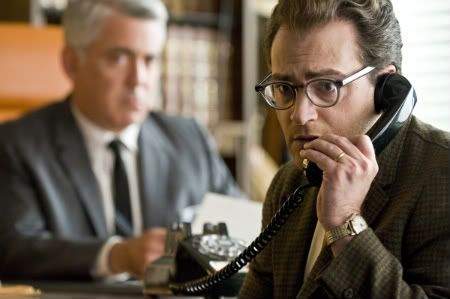 Alan Arkin and Michael Stuhlbarg in Focus Features' A Serious Man
4. -tie- Fantastic Mr. Fox and Up – In a year of fine animated features Wes Anderson's stop-motion creature fable and Pixar's sweetly enchanting tale of an old man, a young fatherless boy and a talking dog easily topped them all. These two movies, both as outlandish and as fantastical as any I could imagine, were grounded in a humanity that is compelling and heartfelt. Both transported me well beyond the boundaries of the theatre and into the realm of the timeless, each climbing to an emotional plateau I almost wish I could take up residence in permanently.

Animals unite in Fox Searchlight's Fantastic Mr. Fox
5. Everlasting Moments – Swedish director Jan Troell is no stranger to perfection, his 1971 classic The Emigrants proof enough there. This time out the two-time Academy Award-nominee crafts a heartbreaking and reflective polemic on family and friendship that's stopped my breath cold. Ultimately this is a movie that refuses to fade to black, the photographs taken by its heroine nearly as indelible as a person's own memories.

Jesper Christensen and Maria Heiskanen in IFC Films' Everlasting Moments

6. An Education - Nick Hornby's literate adaptation of Lynn Barber's coming of age might be the year's most satisfying screenplay. Add that to Lone Scherfig's immaculate direction and sensational work by the film's superb all-star supporting cast and I couldn't ask for anything more. But what really puts An Education over the top is the spellbinding performance of newcomer Carey Mulligan, comparisons to a Roman Holiday era Audrey Hepburn not too far off the mark.

Carey Mulligan and Peter Sarsgaard in Sony Pictures Classics' An Education




7. Paris – To say I adored filmmaker Cédric Klapisch's stirring love letter to the City of Lights would be an understatement. Love, laughter, tragedy and tears this multi-story epic has it all, and by the time it was over my heart was so filled with emotion I was almost afraid it would burst. Its French all-star cast reeks of that certain je ne sais quoi, and to say the overall product is anything less than c'est magnifique is a decided understatement.





Juliette Binoche and Romain Duris in IFC Films' Paris

8. -tie- Bright Star and The Time Traveler's Wife – For those who think romance can't be found at the movies, here's the pair of heartrending winners I choose as examples to prove them wrong. From the profound beauty of Jane Campion's poetic stunner, to Robert Schwentke's time-bending parable, these two dive straight to the heart, each delivering on their promise to craft tales of love bordering on the divine.


Rachel McAdams and Eric Bana in New Line Cinema's The Time Traveler's Wife
9. Broken Embraces – The run of success that Pedro Almodóvar has been on this decade is something else. His movies run the gamut of genres, push boundaries that dare an audience to keep up with their fervent pace and bold switches in tone. His latest is no exception, the talented Spaniard turning once more to muse Penélope Cruz crafting a melodrama about love, death and making movies that's as joyous as it is tragic.


Penélope Cruz in Sony Pictures Classics' Broken Embraces

10. Sunshine Cleaning - Director Christine Jeffs' Sunshine Cleaning deserved better. This poignant and jubilant family drama bristled with life and laughter, Amy Adams, Emily Blunt, Alan Arkin, Clifton Collins Jr. and Mary Lynn Rajskub all turning in superlative performances. Lazily compared by many to Little Miss Sunshine this inspired feature was both sinisterly macabre and emotionally sincere, discovering it back in March about as pure a pleasure as any I've had all year.


Emily Blunt and Amy Adams in Overture Films' Sunshine Cleaning
What About Red Cliff? – I adore John Woo's Red Cliff, so much I even named it one of my favorite films of the past decade. And yet I am not including it here. Why? Because even though I've seen Woo's epic five times I still feel I have yet to truly see it, the domestically released version significantly shorter than the massive, almost five-hour version that played in much of the rest of the world. Silly? Probably, but that doesn't make my sentiments any less true. Without question, though, the Red Cliff I saw in theaters is a magnificent motion picture, and if I didn't know this longer version existed it easily would have taken a place in my 2009 top ten.

The battle begins in Magnet Releasing's Red Cliff
[page 2]
Article posted on Jan 15, 2010 | Share this article | Top of Page
Copyright © 1999-infinity MovieFreak.com
---