Editor-in-Chief
www.movifreak.com
2010 Fall Preview
Too Much 3D Dominates an Otherwise Intriguing Fall Calendar
Ah, Fall. It's the time of year when Hollywood begins to back off from all of the pointless sequels, remakes and comic book and/or video game adaptations and actually gets a wee bit serious in hopes of earning an all important Oscar. They assume audiences actually have a brain and program serious-minded films for the serious-minded filmgoer, the last months of the year a peon to cinematic quality everyone can be proud of.

Milla Jovovich kicks more zombie butt Resident Evil: Afterlife © Sony Pictures
Yeah. Right. While those aforementioned statements aren't exactly false, it isn't like there aren't a ton of pictures aiming low dotting the release schedule. Milla Jovovich is back for another round of zombie killing, this time in 3D, in Resident Evil: Afterlife, while MTV's famously flatulent fall guys return in three dimensions as well unleashing Jackass 3D upon an unsuspecting populace. The makers of Alien vs. Predator: Requiem return with the Independence Day rip-off Skyline, while horror-thriller Case 39 starring Renée Zellweger somehow manages to get a wide release even though it apparently stinks so bad it's been sitting on Universal's shelf for almost three years.
Also in 3D is Disney's 28-years later sequel Tron: Legacy, 300 director Zack Snyder's foray into digital animation The Legends of the Guardians: The Owls of Ga'Hoole, the Hayden Panettiere and Christina Ricci voiced Alpha & Omega, Jigsaw's reportedly final killing spree Saw 3D, DreamWorks Will Ferrel/Brad Pitt led animated Megamind, the latest trip into author C.S. Lewis' religiously inspired fantasyland The Chronicles of Narnia: The Voyage of the Dawn Treader, the pic-a-nic basket loving Yogi Bear and the golden-haired animated adventure Tangled.
As if that weren't enough (and, trust me, as tired as I am of 3D this is more than enough), the final adventure of everyone's favorite boy wizard Harry Potter and the Deathly Hallows: Part I will also be presented in the format on both regular and IMAX screens everywhere. In all honesty this kind of blows my mind as the reactions to Warner Bros. 2D to 3D conversions of both Clash of the Titans and that awful Cats & Dogs sequel met with almost total disdain, the fact they're willing to risk the same kind of backlash on their biggest cash cow (and, I almost hesitate to say this, a potential Academy Award nominee) downright flabbergasting.
There are plenty of bright spots, of course, major releases from Clint Eastwood (Hereafter), David Fincher (The Social Network), Danny Boyle (127 Hours), James L. Brooks (How Do You Know), Zhang Yimou (A Woman, a Gun and a Noodle Shop), Sofia Coppola (Somewhere), Woody Allen (You Will Meet a Tall Dark Stranger), Florian Henckel von Donnersmarck (The Tourist), Julian Schnabel (Miral), Edward Zwick (Love and Other Drugs), Darren Aronofsky (Black Swan), David O. Russell (The Fighter), Julie Taymor (The Tempest), Stephen Frears (Tamara Drew), Davis Guggenheim (Waiting for "Superman"), Mark Romanek (Never Let Me Go), Mike Leigh (Another Year) and the Coen Brothers (True Grit) all dotting the release schedule. As to whether or not any or all of these will prove to be worthy of their ticket prices, your guess is sadly as good as mine.
The following is a list of what is scheduled to be hitting screens from now until the end of the year. As always, release dates are tentative and subject to change.
Sept. 10
Bran Nue Dae – Australian musical-comedy hybrid starring the great Geoffrey Rush and involves itself with the 1969 love affair between two aboriginal teenagers partaking in their fair share of youthful rebellion.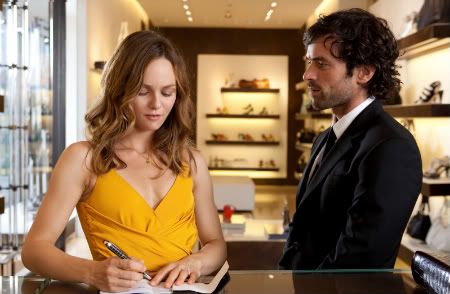 Vanessa Paradis and Romain Duris in Heartbreaker © IFC Films
Heartbreaker – Saga of professional break-up artist Alex Lippi (Romain Duris) who accidentally falls in love with his latest target Juliette (Vanessa Paradis), a beautiful, young and free-spirited heiress.
I'm Still Here – Casey Affleck's maybe serious, maybe satirical documentary on the retirement and subsequent hip hop career of former Oscar-nominee (Gladiator) Joaquin Phoenix. Expect lots and lots of bad facial hair.
Legendary – WWE produced coming of age sports epic staring wrestler John Cena concerning a teenage boy's attempts to reunite is dysfunctional family ten years after the death of their collegiate wrestling legend father. The fact it wasn't screened for critics speaks volumes.
Resident Evil: Afterlife - Paul W.S. Anderson returns to the director's chair for the first time since the 2002's initial adventure of zombie fighter Alice (Mila Jovovich) and unleashes a 3D post-apocalyptic scenario he hopefully will be the start of a new trilogy. Just thinking about it is making me as undead as the majority of this film's flesh-eating cast.
The Romantics – Drama about seven friends who reunite for a wedding, an old rivalry between the bride (Anna Paquin) and her maid of honor (Katie Holmes) jeopardizing the nuptials.
The Virginity Hit – the description in the production notes for this film is as follows: "It's four guys, one camera, and their hilarious experience chronicling the exhilarating and terrifying rite of passage – losing your virginity." Consider yourselves warned.
Sept. 17
Alpha and Omega – Another 3D animated effort, this one coming from Lionsgate and featuring the voice talents of Hayden Panettiere, Christina Ricci, Justin Long, Danny Glover and the late, great Dennis Hopper about a pair of wolves making a dangerous cross country trek.
Catfish – Creepy yet highly entertaining documentary about a New York artist making friends with a talented 8-year-old artist on Facebook while potentially falling for her sexy older sister at the same time.
Devil – M. Night Shyamalan (in producer/writer mode) and Quarantine director John Erick Dowdle (sharing credit with his brother Drew) team up for a fable about a group of strangers trapped in an elevator with one of them secretly being Satan. Yes. Satan (and no, the Church Lady is not involved in any way whatsoever).
Easy A – Emma Stone's star continues to rise as she plays a wise beyond her years teen who decides to help her school's most unfortunate by pretending to be the woman who took their collective virginity. The all-star cast includes Amanda Bynes, Lisa Kudrow, Stanley Tucci, Malcolm McDowell, Patricia Clarkson, and Thomas Haden Church.
Jack Goes Boating – Oscar-winning actor Philip Seymour Hoffman makes his directorial debut with this brilliantly acted (if dramatically uneven) tale of a shy New York limo driver (Hoffman) who is pushed by his best friend (John Ortiz) into dating an equally quiet woman (Oscar-nominee Amy Ryan) who is just afraid of romance as he is.
Never Let Me Go – The movie I am looking forward to seeing this Fall more than any other, director Mark Romanek (One Hour Photo) tackles author Kazuo Ishiguro's amazing novel about three friends reuniting to face an uncertain destiny hopefully doing it justice in the process.

Carey Mulligan and Keira Knightley (both center) Never Let Me Go © Fox Searlight Films
The Town – Ben Affleck's follow up to his grand directorial debut Gone Baby Gone is the gritty story of a team of Boston thieves who slowly fall apart at the seams when their leader professes a desire to go straight after falling in love with the one woman who could send them all to prison for the rest of their lives.
Sept, 22
You Will Meet a Tall Dark Stranger – Woody Allen returns for another darkly comedic merry-go-round and he's brought along Anthony Hopkins, Naomi Watts, Josh Brolin, Antonio Banderas and Slumdog Millionaire beauty Freida Pinto for the ride.
Sept. 24

Ryan Reynolds in Buried © Lionsgate
Buried – Ryan Reynolds is a U.S. contract worker stationed in Iraq who is kidnapped and then buried alive inside a coffin with only a low on power cell phone to help him escape. Obviously, his cell provider is not AT&T.
Legend of the Guardians: The Owls of Ga'Hoole – Look! In the sky! It's another 3D CG animated movie! This one about owls! Fighting for survival! Directed by 300 and Watchmen mastermind Zack Snyder! With extremely loud trailers that continually shout at us! Aren't we excited!?!
Waiting for "Superman" – An Inconvenient Truth director Davis Guggenheim turns his attentions to the state of the Public School System in the United States and does not like what he finds. Leave no child behind, indeed.
Wall Street: Money Never Sleeps – Strong, stirring and unbelievably timely sequel to Oliver Stone's 1987 original marking the return of Gordon Gekko (still played with glorious smarmy bravado by Michael Douglas) to the New York City street he lusts to be master and commander of. Greed, for him at least, remains very, very good.
You Again – Jaime Lee Curtis, Sigourney Weaver, Kristin Bell, Odette Yustman and Betty White in a romantic comedy about two sets of former rivals forced to try and reconcile thanks to a wedding. I have to admit, I'm actually kind of excited to see this one.
- Portions of this article reprinted courtesy of the SGN in Seattle