FEATURE ARTICLE

2010 Fall Movie Preview (Oct)

Rating: Various

Distributor: Various

Released: Various

Written by Sara Michelle Fetters
Oct. 1
Case 39 – The first time I saw a trailer for this Renée Zellweger horror effort was all the way back in 2008. Universal is now giving it a release. I don't think anything more needs to be said.
Cell 211 – Sensational Spanish import about a prison riot can horribly wrong and the guard who poses as a prisoner in order to hopefully survive.
Douchebag – Two brothers on a quest to find the whereabouts of the younger one's fifth grade girlfriend even though he's about to be married to the supposed love of his life. I can feel the yawns coming on already.
Freakonomics – Acclaimed documentary filmmakers Heidi Ewing, Alex Gibney, Seth Gordon, Rachel Grady, Eugene Jarecki and Morgan Spurlock attempt to look at the "hidden side of everything." What that exactly means I'm not entirely sure. Maybe they'll be an expose on why people are so fascinated with "Jersey Shore" or continue to think voting Republican is a good idea.
Hatchet II – The sequel nobody asked for but that we're all going to get is being released unrated by its distributor because, you know, that's what all the fans of the first blood-soaked slasher fest were screaming for. Wait. The first Hatchet actually has fans? Who knew?

Chloe Moretz in Let Me In © Overture Films
Let Me In – Cloverfield director risks the wrath of fanboys everywhere with his remake of the freaky and sinister vampire in child's clothing Let the Right One In. Kick-Ass darling Chloe Moretz and The Road wanderer Kodi Smit-McPhee star.
The Social Network – Acclaimed director David Fincher takes on the world of Facebook with this look at its birth as seen through the eyes of its controversial co-founder Mark Zuckerberg.
Oct. 8
Inside Job – If one weren't already furious about the current economic situation facing the U.S. at the moment, it goes without saying that Charles Ferguson's documentary looking at the meltdown will make a person even more so.
It's Kind of a Funny Story – Half Nelson writer and director tandem Anna Boden and Ryan Fleck return for this wonderfully quirky comedy about a clinically depressed teenager who checks himself into an adult psychiatric ward. Emma Roberts knocks it out of the park in a key supporting role.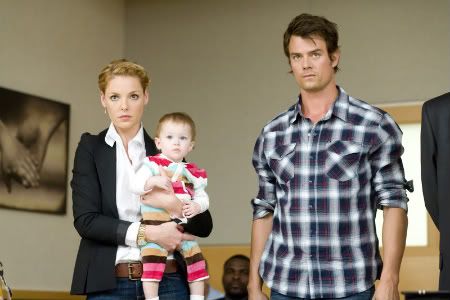 Katherine Heigl and Josh Duhamel in Life as We Know It © Warner Bros.
Life as We Know It – Katherine Heigl and Josh Duhamel hate one another but find themselves forced to live in the same house after a tragedy leaves them the caregivers for a recently parentless baby. There are poop jokes. Lots and lots of poop jokes.
My Soul to Take – Horror master Wes Craven's latest is another 2D to 3D conversion about a serial killer stalking seven teens whose birthdays are the same day as he was supposedly executed.
Nowhere Boy – Biopic about a young pre-Beatles John Lennon staring Aaron Johnson, a.k.a. Kick-Ass. Missed this at this year's SIFF but the buzz regarding it wasn't exactly euphoric.
Secretariat – Disney goes to the inspirational sports story well one more time this time offering up the tale of the famous titular horse and the woman (a supposedly quite good Diane Lane) who defied the odds guiding him to the 1973 Triple Crown.
Stone – Edward Norton is a killer on the verge of parole. Robert De Niro is the parole officer brought out of retirement to hear his case. Milla Jovovich is the woman who will make things very, very interesting for the both of them.
Tamara Drewe – Stephen Frears (The Queen, The Grifters) latest concerns a young journalist (Gemma Arterton) returning to her childhood home to find it up for sale.
Oct. 15
Conviction – Hilary Swank and Sam Rockwell Oscar fodder based on the true story of Betty Ann Waters, a working mother who tirelessly puts herself through law school in order to defend her brother, wrongfully accused of murder.
The Freebie – Independent effort about a young married couple who decide to give one another the night off from their normal lives, apparently unaware of the normal rom-com consequences of doing just that very thing.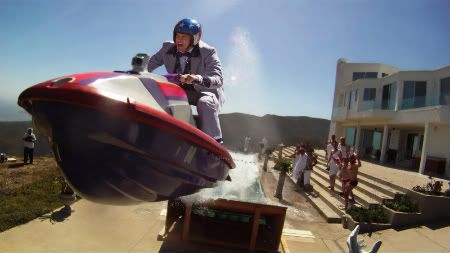 Johnny Knoxville takes to the sky in Jackass 3D © Paramount Pictures
Jackass 3D – Do I really need to say anything about this one? I didn't think so as it sort of speaks for itself.
Red – Bruce Willis, Morgan Freeman, John Malkovich and Helen Mirren, yes, that Helen Mirren, team up as retired CIA assassins brought out of retirement against their wishes when someone deep inside the agency marks them for death. To no one's surprise, this thriller is based on a comic book.
Oct. 22

Bryce Dallas Howard and Matt Damon in Hereafter © Warner Bros.
Hereafter – Clint Eastwood's latest is described as an emotional drama of loss and regret with supernatural undertones written by Peter Morgan (The Queen) starring Matt Damon and Bryce Dallas Howard. As it's directed by Eastwood, I could care less what it's actually about as I'd be first in line to see it even if he were making an expose on underwater basket weaving.
Paranormal Activity 2 – What, you thought Paramount would be satisfied to have an underground horror hit last year that they never expected would make over a $100-million and then leave well enough alone? Think again, the requisite (and probably pointless) sequel opening just in time for Halloween.
Oct. 29
The Company Men – Drama about recent economic events and effects it has on the lives of various corporate workers and their families as played by Tommy Lee Jones, Ben Affleck, Maria Bello and Kevin Costner.

Noomi Rapace in The Girl Who Kicked the Hornet's Nest © Music Box Films
The Girl Who Kicked the Hornet's Nest – The final chapter in the late Stieg Larsson's Millennium Trilogy finds Lisbeth Salander (Noomi Rapace) recuperating from her injuries and plotting her revenge while journalist Mikael Blomkvist (Michael Nyqvist) struggles to get her off the hook for three different murders.
Monsters – After an alien invasion has left parts of the globe off-limits a journalist escorts a tourist through the infected portions of Mexico to the safety of the U.S. border. The trailer is pretty good, other than that I've got nothing much to say.
Saw 3D – Jigsaw's supposed last trek around the mousetrap will apparently wrap up all of the loose ends left by the previous six installments in the bizarrely popular torture-filled series.
- Portions of this article reprinted courtesy of the SGN in Seattle
Article posted on Sep 8, 2010 | Share this article | Top of Page
Copyright © 1999-infinity MovieFreak.com
---