FEATURE ARTICLE

2010 Fall Movie Preview (Nov)

Rating: Various

Distributor: Various

Released: Various

Written by Sara Michelle Fetters
Nov. 5
127 Hours – Director Danny Boyle and actor James Franco team up to tell the true story of Aron Ralston, a mountain climber who got himself trapped inside a gigantic crevice and had to resort to means beyond the pale in order to free himself. Definitely not for the squeamish, especially if you don't know what Ralston did to cut himself free.
Due Date – Robert Downey, Jr. and Zach Galifianakis on the road trip from Hell as constructed by The Hangover director Todd Philips. Jaime Foxx and Michelle Monaghan costar.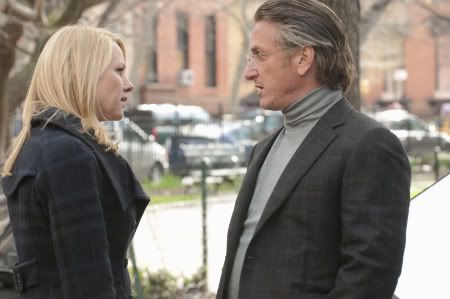 Naomi Watts and Sean Penn in Fair Game © Summit Entertainment
Fair Game – No, Doug Liman's (The Bourne Identity) is not a remake of the Cindy Crawford action bomb, but is instead a dramatic thriller based on the events surrounding CIA spy Valerie Plame's outing by White House officials. Naomi Watts and Sean Penn star. Expect Fox News to cry foul. A lot. And very, very loudly.
Megamind – DreamWorks 3D animated epic about two alien beings, one heroic, one not so much, battling out for the attentions of the Earth's populace. Will Ferrell, Brad Pitt and Tina Fey provide the voices.
Tyler Perry's For Colored Girls Who Have Considered Suicide When the Rainbow is Enuf – It's a Tyler Perry movie. It will not screen for critics. It features a large all-star African American cast. It will be a hit. It will also probably be terrible.
Welcome to the Riley's – Sundance favorite with James Gandolfini and Kristen Stewart that apparently proves he's got more inside him than Tony Soprano and that she's much more that a one trick Twilight pony. Granted, some of us already knew both of those things.
Nov. 12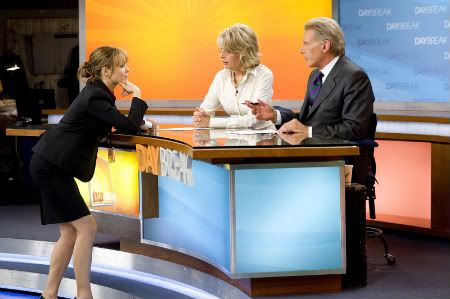 Rachel McAdams, Diane Keaton and Harrison Ford in Morning Glory © Paramount Pictures
Morning Glory – Diane Keaton, Rachel McAdams, Jeff Goldblum, Jeff Goldblum, Patrick Wilson and Harrison Ford team up for a television newsroom comedy under the direction of Roger Michell, the man behind such multifaceted winners as Notting Hill, Changing Lanes and Venus.
Skyline – In what looks like a cheap Syfy Channel doomsday knockoff but with better effects, the guys behind Alien vs. Predator: Requiem spin a yarn about bright lights in the sky foreshadowing an alien invasion we apparently asked for.
Unstoppable – Director Tony Scott and actor Denzel Washington re-team for the fifth time bringing us a thriller about an out of control locomotive carrying combustible materials and the dedicated engineer driven to stop it before it causes city-wide devastation.
Waste Land – Director Lucy Walker's (Countdown to Zero) superb documentary about music, art and community and the transformational power all of them can have on the human condition.
Nov. 19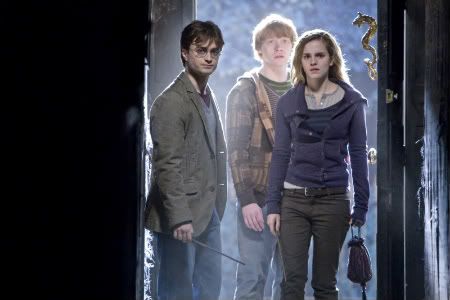 Daniel Radcliffe, Rupert Grint and Emma Watson in Harry Potter and the Deathly Hallows: Part I © Warner Bros.
Harry Potter and the Deathly Hallows: Part I – The Boy Who Lived faces off against He Who Cannot Be Named for the final time. Sort of. The climax of their showdown doesn't actually happen until the sequel, released next July.
Made in Dagenham – A dramatization of the 1968 strike at the Ford Dagenham car plant starring Miranda Richardson, Bob Hoskins, Sally Hawkins, Rosamund Pike and Rupert Graves that I have heard absolutely nothing about.
The Next Three Days – A whirlwind murder mystery directed by Oscar-winner Paul Haggis (Crash) and starring Russell Crowe, Liam Neeson, Elizabeth Banks and the always great Brian Dennehy.
Vision – Independent horror offering about a lethal DVD. Hey, remember when they told this same story, only it was a VHS tape and involved a reaaaaallllllllllly creepy little girl with incredibly stringy hair?
Nov. 24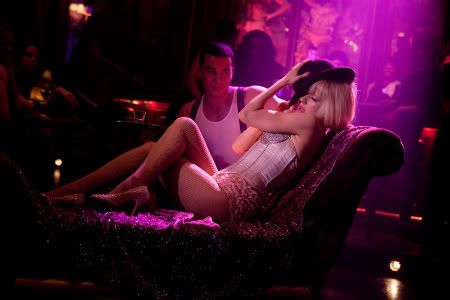 Christina Aguilera in Burlesque © Sony Pictures/ScreenGems
Burlesque – Cher. Christina Aguilera. Alan Cumming. Stanley Tucci. Kristen Bell. Cam Gigandet. Music. Costumes. Makeup. Feathers. Right now, every single musical loving gay man (as well as a fair share of lesbians and Drag Queens) just doubled over in ecstatic hyperkinetic euphoria. As for the rest of us? We're looking to buy some earplugs.
Faster – The Rock returns to his down and dirty action roots teaming up with Billy Bob Thornton for a supposedly very violent story about an ex-con looking to avenge his younger brother's death.
The King's Speech – Oscar buzz is all over this one, everyone from Venice to Telluride to Toronto screaming that director Tom Hooper's follow up to The Damned United is only the year's second Best Picture lock next to Chris Nolan's Inception. I kind of hope this is true, because if so that means star Colin Firth has a great shot at picking up the Best Actor award he lost out to Jeff Bridges last year.
Love and Other Drugs – More Oscar bait, this time one featuring Anne Hathaway as a young Parkinson's sufferer who enters into a quirky, unpredictable romance with a self-centered drug company rep played by Jake Gyllenhaal.
Tangled – Rapunzel finally lets down her hair in this 3D CG animated effort from Disney. Mandy Moore and Zachary Levi provide the voices.
Nov. 26
Marwencol – Simply awesome documentary about Mark Hogancamp, a man who loses his memory after a brutal attack and then proceeds to create the fictional WWII world of Marwencol using Barbie and G.I. Joe dolls as tools to hopefully recover it.
- Portions of this article reprinted courtesy of the SGN in Seattle