FEATURE ARTICLE

2010 Fall Movie Preview (Dec)

Rating: Various

Distributor: Various

Released: Various

Written by Sara Michelle Fetters
Dec. 1

Natalie Portman in Black Swan © Fox Searchlight
Black Swan – Have you seen the trailer for Darren Aronofsky's (The Wrestler) latest? I swear it looks like The Red Shoes but on acid. Natalie Portman reportedly gives a brilliant performance in a film I'm absolutely aching right down into my marrow to get a chance to see.
Dec. 3
I Love You, Philip Morris – Delayed for what seems like an eternity, this Jim Carrey/Ewan McGregor prison romance-drama-comedy hybrid finally gets a domestic release, more than likely for about a week before its distributor unceremoniously shuffles it off to DVD.
Miral – The Diving Bell and the Butterfly director Julian Schnabel tackles Arab-Israeli conflict by centering his story on an orphaned Palestinian girl thrust right into the center of all the carnage.
The Warrior's Way – Eastern meets Western in this tale of an Asian assassin trying to find peace and tranquility in the wilds of the American west.
Dec. 10
The Chronicles of Narnia: The Voyage of the Dawn Treader – The third foray into author C.S. Lewis's mystical world, only this time it is Fox, not Disney, holding the purse strings while director Michael Apted (Gorky Park, Gorillas in the Mist) takes over for the departing Andrew Adamson who helmed the previous two adventures.
The Fighter – Biopic about boxer 'Irish' Mickey Ward starring Mark Wahlberg, Christian Bale, Amy Adams and Melissa Leo and directed by the fiery and controversial David O. Russell (Three Kings, Spanking the Monkey).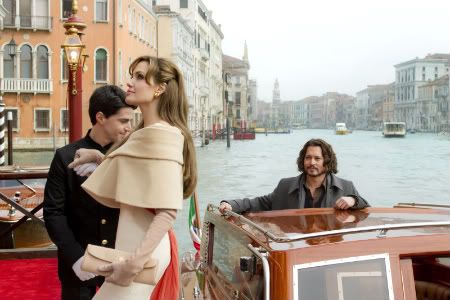 Angelina Jolie and Johnny Depp in The Tourist © Sony Pictures
The Tourist – In his first film since the remarkable The Lives of Others, director Florian Henckel von Donnersmarck ensnares Johnny Depp and Angelina Jolie in a Hitchcockian web of mistaken identity, espionage and romance where nothing is as it seems and everything is in question. One of December's most intriguing titles.
White Material – French auteur Claire Denis (Chocolate, Nenette and Boni) returns with another African adventure this one filled with civil and racial conflict and starring the always incomparable Isabelle Huppert.
Dec. 17
How Do You Know – Typically crazy James L. Brooks (Broadcast News, Terms of Endearment) stew involving a former star softball player (Reese Witherspoon), a self-centered pro baseball sensation (Owen Wilson) and a corporate stooge in the middle of a midlife crisis (Paul Rudd). Jack Nicholson also stars, and considering this is a Brooks film he'll probably get an Oscar nomination just for showing up.
The Tempest – Director Julie Taymor (Titus, Across the Universe) tackles one of Shakespeare's craziest plays casting Helen Mirren (in a bit of a gender switch) in the title role.

Jeff Bridges surveys his digital domain in Tron: Legacy © Walt Disney Pictures
Tron: Legacy – Almost three decades after the original changed computer graphics in film forever, Disney returns to the gaming grid with this a filmed in 3D epic starring a returning Jeff Bridges in guises both young and old.
Yogi Bear – Dan Aykroyd is Yogi. Justin Timberlake is Boo-Boo. Anna Farris is just picking up a paycheck. You don't have to be smarter than the average bear to know this one's going to be a disaster.
Dec. 22
Gulliver's Travels – A new take on the Jonathan Swift classic featuring Jack Black and Emily Blunt. Monsters vs. Aliens director Rob Letterman makes his live action debut.

A scene from Sylvain Chomet's The Illusionist © Sony Pictures Classics
The Illusionist (2010) – Another probable animated wonder from the dexterous mind of Sylvain Chomet (The Triplets of Belleville) with a sprinkle of the late Jacques Tati's whimsy mixed in for good measure.
Little Fockers – Part three in the ongoing war of wills between Ben Stiller and Robert De Niro. Apparently, everyone, including Dustin Hoffman and Barbara Streisand, return for what will hopefully be the Focker Family's last focking adventure.
Somewhere – Another drifty mood piece about celebrity and, well, I'm not quite sure, from Lost in Translation director Sofia Coppola, and based on the buzz out of Venice I'm not sure those who have seen it know either.
Dec. 26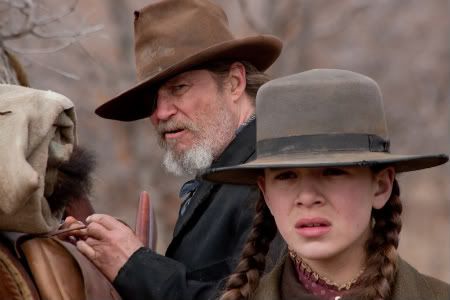 Jeff Bridges and Hailee Steinfeld in True Grit © Paramount Pictures
True Grit (2010) – Coen Brothers remake of the John Wayne's 1969 Oscar-winning classic will supposedly steer closer to Charles Portis' source material. The actors along for the roundup include Jeff Bridges, Josh Brolin, Matt Damon and newcomer Hailee Steinfeld.
Dec. 29
Another Year – Mike Leigh (Happy-Go-Lucky, Vera Drake) returns with another working class dramatic comedy that's been picking up accolades and kudos at every festival its been shown at. Jim Broadbent and Imelda Staunton star.
The Debt – Helen Mirren, Tom Wilkinson, Sam Worthington and Ciarán Hinds in a thriller about three former Israeli Mossad agents who must discover whether or not they killed the wrong man by mistake thirty years prior.
Dec. 31
Blue Valentine – Cryptic, non-linear romantic saga about a married couple's (Ryan Gosling, Michelle Williams) highs and lows as seen through the spiraling kaleidoscope of time.
- Portions of this article reprinted courtesy of the SGN in Seattle