FEATURE ARTICLE

2010 Recap (The Best)

Rating: Various

Distributor: Various

Released: Various

Written by Sara Michelle Fetters
Senior Theatrical Editor
www.moviefreak.com
2010's Best and Worst
In a Year of Self-Perception at the Multiplex Winter's Bone Stands Tall
Who are we? What makes us what we are? How do things combine to produce the perception we put forth for the world to see? Essentially, what is self, how is it defined and how do we maintain a balance between sanity and insanity as we go about figuring it all out?
If any theme in 2010 has risen to the top of cinema, self perception and how it is created has to be it. Filmmakers from around the world have tackled it this year, and from Shutter Island to Black Swan, Enter the Void to Inception, The Fighter to Carlos, Mother and Child to The Social Network, Winter's Bone to Eat Pray Love picture after picture (including numerous more I don't have the space to name) has attempted to show insights into the human condition speaking to the very nature of who we are and what we hope to become.
Why this year? Was there something in the air and everyone just took it upon themselves to reach for that particular bauble not knowing other filmmakers would be doing the same? Does it really matter? The simple truth is that, while I'm not going to say 2010 has been a great year at the multiplex, thanks to so many writers and directors taking these sorts of intensely psychological challenges it's still been a quite wonderful one. Over the past twelve months I've seen films that have challenged me, moved me, taken me to heights I could never have imagined beforehand, and even if the finished product didn't always leave me breathless the journey itself was one I was continuously eager to be a part of.
With that in mind, here a few of 2010's motion pictures that truly got my blood racing. While it is impossible to see everything, I still feel pretty comfortable about my highs and my lows as far as this year is concerned. Whether or not you want to agree is, like all choices in life, completely and uniquely your own.
THE BEST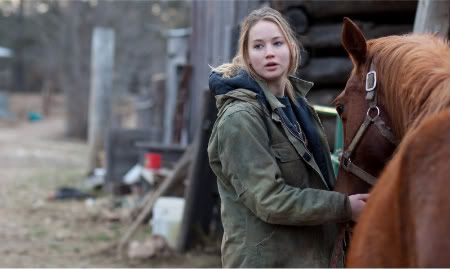 Jennifer Lawrence in Winter's Bone © Roadside Attractions
1. Winter's Bone
Director Debra Granik's sizzling adaptation of author Daniel Woodrell's marvelous backwoods novel is an intensely satisfying character-driven thriller I haven't been able to get out of my mind since I first saw it during the Seattle International Film Festival. Superbly acted across the board by Jennifer Lawrence, John Hawkes and Dale Dickey, this movie digs into corners and crevices impossible to let go of. [Read my interview with director Debra Granik]
Édgar Ramírez (left) in Carlos © IFC Films
2. Carlos
Olivier Assayas' five-plus hour Carlos is the kind of crazy, wildly exuberant and exhilaratingly audacious achievement most directors dream of attempting but would never in their right mind actually make. The story of international terrorist Carlos "The Jackal," the movie is an historical whirligig of intrigue, emotion and action, everything grounded thanks to a titanic central performance by Édgar Ramírez. When they say they don't make them like the used to, this is the kind of movie that puts that saying to shame and shows that, when the right filmmaker puts their mind to, they still can; brilliantly at that.

Pierce Brosnan and Ewan McGregor in The Ghost Writer © Summit Entertainment
3. The Ghost Writer
Roman Polanski's ingenious cat and mouse political noir could possibly be the legendary Oscar-winning filmmaker's best in almost three decades, recalling past masterworks like Repulsion, Rosemary's Baby and most obviously Chinatown. Building to the year's most indelibly awesome climactic image, this little thriller is so of the here and now you can see the ghosts of political leaders British and American in every frame. Ewan McGregor, Pierce Brosnan and especially Olivia Williams give superlative performances deserving of far more recognition than they've sadly been given.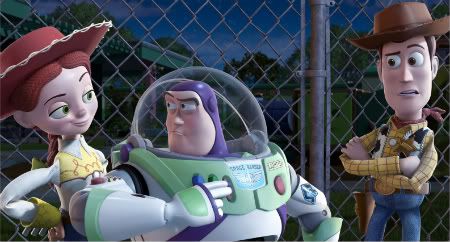 The toys are back in town in Toy Story 3 © Disney / Pixar
4. Toy Story 3
Just when you think they can't possibly do it again, the folks over at Pixar go about and prove everyone wrong crafting another instant classic people will be talking about for generations. This third chapter in the story of Woody, Buzz and the rest of the toy box gang is as pure and as emotionally honest as anything released this year. Melding an exquisite story with picture-perfect animation, Pixar took me on a journey right into the very heart of my own childhood memories, proving once again sometimes going home against isn't such a bad thing after all.

Jesse Eisenberg in The Social Network © Sony Pictures

5. The Social Network
Who knew a movie about Facebook founder Mark Zuckerberg could end up being one of the most fascinating and intriguing character studies released in ages? Director David Fincher for one and screenwriter Aaron Sorkin for another, the two joining forces to craft a modern day Citizen Kane. This is a movie about genius, creation and the price of not being able, or maybe not even wanting, to relate with people on an emotional level, the irony being the man who figured out how to connect the world together on the internet at the end of the day is the loneliest one of all.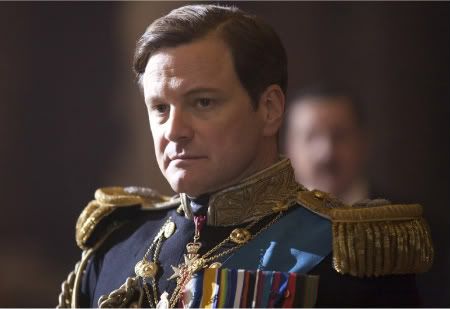 Colin Firth in The King's Speech © The Weinstein Company
6. The King's Speech
Watching Tom Hooper's The King's Speech for the first time might have been the most fun I had sitting in a theatre in all of 2010. A delightfully old fashioned period piece done as only the British can do it, this story of King George VI and the Aussie speech therapist who helps him get over a stutter is a total, blissful joy, featuring arguably the best ensemble cast (Colin Firth, Helena Bonham Carter, Geoffrey Rush, Guy Pearce, Michael Gambon) of the year, all of whom are working at the top of their respective games.

Natalie Portman in Black Swan © Fox Searchlight
7. Black Swan
Director Darren Aronofsky's psycho-sexual head-trip takes the elegant heartbreak of the ballet classic The Red Shoes and then brazenly crosses it with the surreal emotional insanity of 1999's Fight Club. It goes into internal places of the subconscious that trigger all-to-real transformations. Part Kafka, part Tchaikovsky, all Aronofsky, the movie is a dynamic sensory experience that ravishes the mind and pummels the soul, all of it coming together in a climactic series of events that are as exhilarating as they are tragic.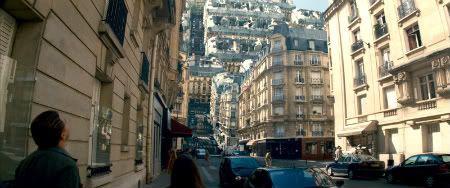 The world turns upside down in Inception © Warner Bros.
8. Inception
Chris Nolan's impressive mega-budget thriller is like a James Bond adventure set in the interior of the human mind. The deeper and deeper it descends into the dream world the more the adventure becomes more emotionally complex and dazzling, everything building to a final sequence of events that grows in power and intensity the further into the subconscious it falls. Unforgettable, Nolan proving again he just might be the most adventurous Hollywood director working today.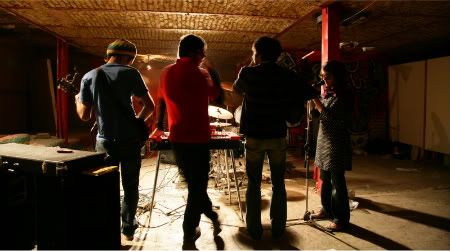 The bands all here in No One Knows About Persian Cats © IFC Films
9. No One Knows About Persian Cats
Freewheeling and off the rails, this Rock and Roll journey into the heart of Tehran and into the lives of young musicians in the throws of their own kind of revolt is a refreshing underground miracle made with precision and skill by noted Iranian director Bahman Ghobadi. It is a movie that grants intimate insights into a world, a culture and a people we here in the U.S. hardly ever get the chance to see, showing once again that a mean guitar lick or the right emotional lyric is enough to plant the seeds of revolution all on their own.

James Franco in 127 Hours © Fox Searchlight
10. 127 Hours
The saga of Aron Ralston is far more than that of a man who, after a solo climbing accident gone hopelessly wrong, cut off his own arm in order to save his life. Danny Boyle's latest is instead a kinetic and viscerally euphoric story of survival, of how the act of asking for help can be the most difficult and yet triumphant victory of them all. It is a story told through the eyes of a man whose own sense of self is rapidly trying to escape his mental grasp, the final tendons keeping him in purgatory not the ones within his arm but instead the ones wrapped malignantly around his mind.
BEST 2009 FLICKS RELEASED DOMESTICALLY IN 2010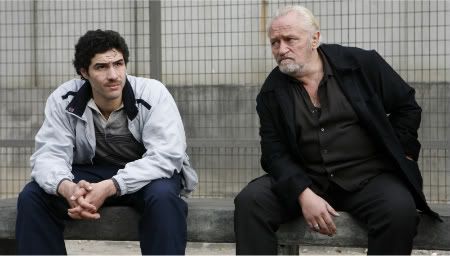 Tahar Rahim and Niels Arestrup in A Prophet © Sony Pictures Classics
A. A Prophet - Jacques Audiard's spectacular French prison saga about a young man of Middle Eastern descent who from behind bars goes from timid teenager to cutthroat crime lord in only a matter of a few years.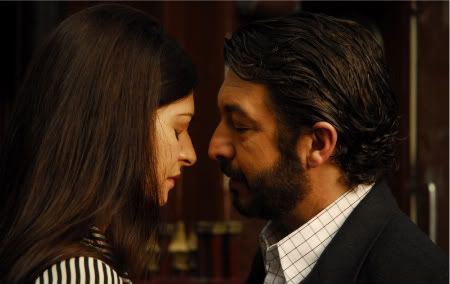 Soledad Villamil and Ricardo Darin in The Secret in Their Eyes © Sony Pictures Classics
B. The Secret in Their Eyes – Stunning Argentinian thriller, and the 2010 Academy Award winner for Best Foreign Language Film, showing how an unsolved crime's lingering and lasting effects fundamentally change the lives of all who once tried – and are maybe still trying – their best to solve it.
- Portions of this feature reprinted courtesy of the SGN in Seattle
Article posted on Dec 24, 2010 | Share this article | Top of Page
Copyright © 1999-infinity MovieFreak.com
---