FEATURE ARTICLE

2010 Recap (The Worthwhile)

Rating: Various

Distributor: Various

Released: Various

Written by Sara Michelle Fetters
A SECOND FIFTEEN (in alphabetic order)

Alexander Siddig and Patricia Clarkson in Cairo Time © IFC Films
Cairo Time – Hypnotic adult drama with Patricia Clarkson delivering an award-worthy performance as a married woman waiting in Cairo for husband who ends up having a near-romance with his sexy and charming former security chief (the dashing Alexander Siddig).
Cyrus – Jay and Mark Duplass' first studio effort is a sometimes abrasive, always hilarious and surprisingly poignant coal-black comedy with John C. Reilly, Marisa Tomie and scene-stealing Jonah Hill. [Read my interview with Jay Duplass]
Fair Game – The Valerie Plame saga assuredly and confidently handled by The Bourne Identity director Doug Liman and featuring a sensational star turn by Naomi Watts that ranks as one of the finest performances of the entire year.
The Fighter – Awesomely acted and directed true-life boxing saga about "Irish" Mickey Ward's rise to the Middleweight title and his close-knit, if completely messed-up, family. Christian Bale is going to win the Oscar for Best Supporting Actor.

Robert Duvall, Lucas Black and Bill Murray in Get Low © Sony Pictures Classics
Get Low – Robert Duvall, Bill Murray, Sissy Spacek and Lucas Black in an inspired drama about an elderly hermit who decides to throw himself a living funeral party in the Tennessee backwoods circa 1938.
The Girl with the Dragon Tattoo – The first chapter of the late Stieg Larsson's massively popular trilogy comes to life in all its disturbing and mesmerizing glory and features a tour de force star-making performance from Noomi Rapace that's going to be talked about for quite some time.
Going the Distance – Highly underrated romantic comedy with Drew Barrymore and Justin Long that was frank, vulgar and utterly refreshing that sadly underperformed both at the box office and with critics. Here's hoping people give it a second chance at home because this one is close to perfect.
Greenberg – Noah Baumbach's darkly comic saga starring Ben Stiller as a thoroughly unlikable adult drifting through his own life while also making those who come in contact with him distinctly uncomfortable, this is a film that sticks to your guts and grows on you over time.
How to Train Your Dragon – Winning adaptation of Cressida Cowell's massively popular children's book might just be the best animated effort DreamWorks has ever produced and is easily one of the most smoothly entertaining motion pictures of 2010. [Read my interview with co-director and co-writer Dean DeBlois]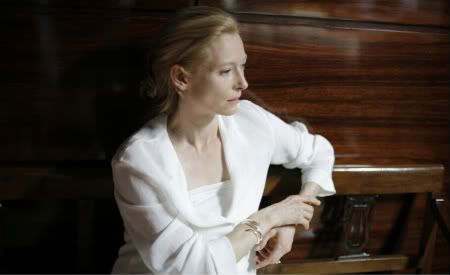 Tilda Swinton in I Am Love © Magnolia Pictures
I Am Love – Operatic and over the top Italian melodrama from the mind of Luca Guadagnino and starring Tilda Swinton is a sweeping, searing sexually-charged excursion into the surreal that I think I could watch a good dozen or so more times and never grow tired of.
The Kids Are All Right – Lisa Cholodenko's independent sensation about a lesbian couple and their two teenage children coming face-to-face with the sperm donor who made their family possible and the complications that suddenly ensue. [Read my interview with Cholodenko]
Made in Dagenham – Utterly beguiling working-class drama based on the real 1968 strike at the Ford Motor Company factory in Dagenham, England by less than 200 women and the lasting impact their actions would have on a large portion of the industrialized world.
Morning Glory – Enchanting newsroom relationship comedy that both tickles the funny bone and warms the heart. In a perfect world, stars Rachel McAdams and Harrison Ford would be getting talked up for Oscar right about now.
Rabbit Hole – Emotionally assured and confident drama of a couple dealing with the aftermath left behind after the tragic death of their only child, magnificently directed by John Cameron Mitchell and bracingly acted by Nicole Kidman, Aaron Eckhart and Diane Weist. [Read my interview with Mitchell]
Tangled – Enchanting Disney computer animated marvel that instantly puts a new figure into their pantheon of princesses and proves to be the studio's best, most classically-inclined (non-Pixar) effort since Beauty and the Beast. An instant masterpiece.
TOP FIVE DOCUMENTARIES (in alphabetic order)
The Art of the Steal, Exit Through the Gift Shop, Marwencol, The Tillman Story, Waiting for "Superman"
GOOD FILMS WORTHY OF A PERSON'S TIME (in alphabetic order)

Hailee Steinfeld and Jeff Bridges in True Grit © Paramount Pictures
Agora, Ajami, The American, Catfish, Centurion, The Concert, Conviction, The Crazies, The Disappearance of Alice Creed, Easy A, Eclipse, Edge of Darkness, Enter the Void, Four Lions, Frozen, Get Him to the Greek, The Greatest, Harry Brown, Hereafter, Hot Tub Time Machine, Hubble 3D, I'm Still Here, Inside Job, It's Kind of a Funny Story, Joan Rivers: A Piece of Work, The Joneses, Knight and Day, Last Train Home, Lebanon, Let Me In, Love & Other Drugs, Mesrine: Killer Instinct, Mademoiselle Chambon, Mid-August Lunch, Mother, Mother and Child, Oceans, Ondine, Paranormal Activity 2, Please Give, Ramona and Beezus, Rare Exports: A Christmas Tale, The Red Riding Trilogy, Restrepo, Salt, Scott Pilgrim vs. the World, The Secret of Kells, Somewhere, Soul Kitchen, The Square, Stone, Stonewall Uprising, The Tempest, True Grit, Valhalla Rising, Wall Street: Money Never Sleeps, Waste Land, Wonderful World, Youth in Revolt
- Portions of this feature reprinted courtesy of the SGN in Seattle