Senior Theatrical Editor
www.movifreak.com
2010 Summer Preview
Sequels, Remakes and Re-boots Galore as Hollywood Flexes its Box Office Muscle
Ready for Summer? Hollywood is. Even with solid performances from the likes of Alice in Wonderland, How to Train Your Dragon and Clash of the Titans there is nothing like months five, six, seven and eight to get Tinseltown's box office juices flowing. These are the days when the grosses flow into their coffers like rivers into an ocean, each weekend an event every studio is praying will become a bona fide sensation.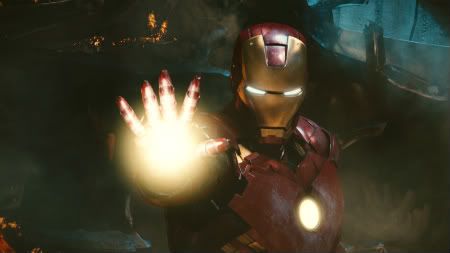 A superhero returns in Paramount Pictures' Iron Man 2
All of which means that when looking ahead to the release calendar audiences can pretty much expect more or less the same sort of product they've been heading to the multiplexes to enjoy for years now. Big budget sequels like Iron Man 2, Shrek Forever After, The Twilight Saga: Eclipse, Sex and the City 2 and Toy Story 3? Check. Star-driven romantic comedies featuring ample amounts of humor and action like Knight and Day, Killers and Going the Distance? But of course! High profile remakes, comic book adaptations, video game spin-offs and reboots like The A-Team, Robin Hood, Predators, The Karate Kid, Prince of Persia: The Sands of Time, Scott Pilgrim vs. the World, Piranha 3-D and Jonah Hex? What would Summer be without them.
As always, there are some bright spots for those looking for films with a bit more on their mind than the box office bottom line. Robert Duvall courts Oscar with 2009 Toronto Film Festival favorite Get Low, Jean-Pierre Jeunet's wildly inventive Micmacs is sure to annoy just as many as it delights and Phillip Noyce's Salt sounds just like the Bourne-style popcorn thriller intelligent audiences have been hoping for.
On a purely local front for my money the thing I am most excited about is the return of the Seattle International Film Festival. While this year's lineup isn't as exciting on paper as 2009's event was (there is no immediate standout like The Hurt Locker, (500) Days of Summer, In the Loop or The Cove) year-in and year-out this 25-day marathon is a movie lover's dream. I can't imagine this year will be an exception, opening night offering The Extra Man just the type of glorious sounding enterprise that can't help but get me excited about what the programmers have in store for the remainder of the festival.
With all that said, here's what's on tap to hit theatres throughout the Summer. As always, release dates are tentative and subject to change so check your local listings before heading out to the multiplex.
May 7
Babies – One year in the life of four babies on four different continents. As cutesy as you'd think it would be but one heck of a lot more poignant and emotionally stirring then you'd probably imagine as well.
Casino Jack and the United States of Money – The world of disgraced Washington, D.C. super-lobbyist Jack Abramoff as seen through the eyes of award-winning documentarian Alex Gibney (Taxi to the Darkside).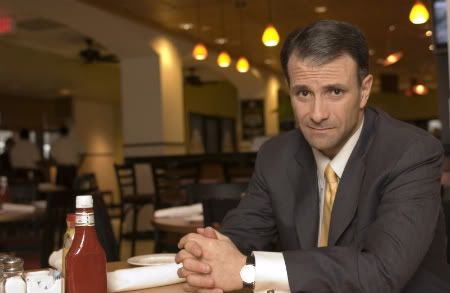 Jack Abramoff in Magnolia Pictures' Casino Jack and the United States of Money
Iron Man 2 – Robert Downey Jr. returns as the titular egomaniacal superhero this time facing off against Russian Ivan Vanko (Mickey Rourke), known to many by his electromagnetic alter ego Whiplash. Could be entertaining (maybe more so than the surprisingly effective first film), but is anyone else a little worried they've overstuffed this sequel a la X-Men: The Last Stand or Batman and Robin?
Mother and Child – Three women (Annette Benning, Naomi Watts and Kerry Washington) and their personal dealing with motherhood, each of them interconnected in ways none can imagine. Strongly acted (Benning is Oscar worthy) but director Rodrigo García can't quite bring things all the way home in a way that is completely satisfying.
Multiple Sarcasms – Initially intriguing but ultimately tiresome melodrama starring Timothy Hutton as an unlikable architect going through a mid-life crisis and channeling his insecurities and depression into the writing of a play using the women (including Mira Sorvino and Dana Delaney) in his life as inspiration.
OSS 117: Lost in Rio – French secret agent Hubert Bonisseur de La Bath (Jean Dujardin) returns in this sequel to the 2006 international smash OSS 117: Cairo, Nest of Spies.
May 14
Daddy Longlegs – Comedic melodrama about a father (Ronald Bronstein) spending two weeks with his two estranged young sons trying to learn the difference between being their fiend and being their parent.
Just Wright – Queen Latifah stars as a physical therapist who falls in love with a professional basketball player (Common) currently under her care. As silly as it sounds, the trailer actually makes this one look pretty darn good. Color me intrigued.
Letters to Juliet – Verona, Italy set love story about a young woman (Amanda Seyfried) who takes it upon herself to reunite the author (Vanessa Redgrave) of a lost letter with love of her life. It's probably going to be a soapy mess, but if only because of the cast (which also includes Gael García Bernal) I'm kind of excited to see if Gary Winick (Tadpole, Bride Wars) can get his directorial career back on track.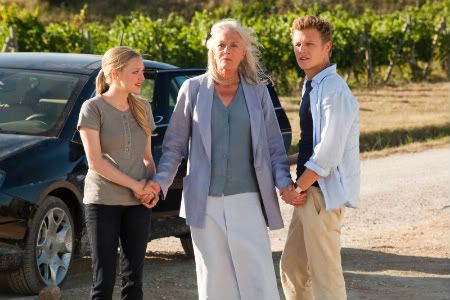 Amanda Seyfried, Vanessa Redgrave and Christopher Egan in Summit Entertainment's Letters to Juliet
Looking for Eric – British director Ken Loach's latest follows a soccer fanatic whose world falls to pieces until he comes into contact with a famous life coach. Considering this somewhat amusing sounding frolic is from the man who made The Wind that Shakes the Barley and Bread and Roses don't expect to be uplifted.
Princess Kaiulani – Based on fact story of a Hawaiian princess (Q'orianka Kilcher) who attempts to keep her island's independence from American imperialism. Might be interesting, but considering there are 50 States currently in the Union I think we know how things turn out.
Robin Hood – Once upon a time director Ridley Scott and star Russell Crowe had the intriguing idea to revisit Sherwood Forest as through the eyes of the Sheriff of Nottingham. This Gladiator-like spectacle is nothing like said idea.
May 21
Father of My Children – French drama about successful film producer trying to balance work and family all while his business slowly crumbles around him. Met with much acclaim at the 2009 Cannes Film Festival and has received solid reviews amongst members of the international press.
Holy Rollers – Based on fact story of a young member of the Orthodox Jewish community in New York who is persuaded to become an Ecstasy dealer, movie wasn't exactly a sensation at Sundance but is made worthwhile thanks to the presence of Zombieland and Adventureland star Jesse Eisenberg.
Magruber – A very R-rated feature-length adaptation of the supremely unfunny "Saturday Night Live" skit with Will Forte and Kristen Wiig that somehow, someway actually looks kind of appealing. Go figure.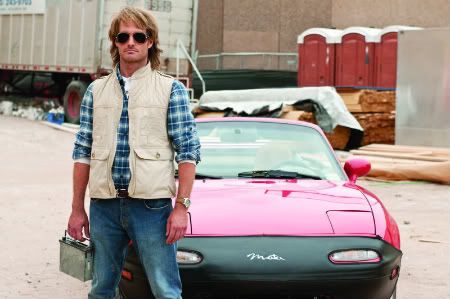 Will Forte in Universal Pictures' Magruber
Racing Dreams – Go Kart racing! Up on the big screen! Is there really anything else that needs to be said (Well, maybe that it's a documentary and, in all seriousness, is supposed to be quite excellent.)
Shrek Forever After – The green ogre returns for what is reported to be the last time coming face-to-face with an alternate It's a Wonderful Life-style reality where he and Fiona have never met and Far Far Away is ruled by the magically maniacal Rumpelstiltskin. Somebody wake me when it's over.
May 27
Sex and the City 2 – Carrie (Sarah Jessica Parker), Miranda (Cynthia Nixon), Charlotte (Kristin Davis) and Samantha (Kim Cattrall) return in this sequel to 2008's surprise box office smash journeying to Morocco in order to showcase American materialism is alive and well even during a crappy economy. Never a huge fan, this is one Middle East frolic I could easily do without.
May 28
George A Romero's Survival of the Dead – The zombie maestro returns following up 2008's Diary of the Dead with a saga about a group of National Guardsmen who mistakenly think they've found sanctuary on an island just off the coast of Delaware.
Micmacs – Very, very odd French farce about weapons dealers and junk merchants from visual wunderkind Jean-Pierre Jeunet that recalls the director's early efforts like Delicatessen and Amélie. No question about it, I'll not see anything else even remotely like this one for the remainder of this year.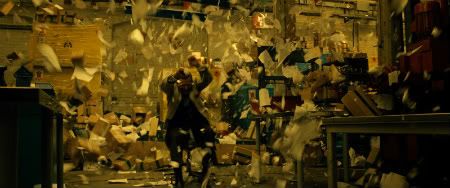 A scene of surreal visual chaos in Sony Pictures Classics' Micmacs
Prince of Persia: The Sands of Time – Director Mike Newell (Harry Potter and the Goblet of Fire, Four Weddings and a Funeral), producer Jerry Bruckheimer (Pirates of the Caribbean trilogy, Top Gun) and star Jake Gyllenhaal (Brokeback Mountain) attempt to break the video game adaptation curse with this sword and sandal adventure. Anyone out there holding their breath they succeed?
- Portions of this article reprinted courtesy of the SGN in Seattle