The King's Speech Rules with 12 Nominations
True Grit, The Social Network and The Fighter All Close Contenders for Oscar's Top Honor
The King's Speech was the big winner when the 83rd Annual Academy Award nominations were announced this morning, the chronicle of the King George VI of England's battle with being a chronic stutter the runaway leader with 12 including nods for Best Picture, Original Screenplay, Best Director Tom Hooper and Best Actor Colin Firth. Both Helena Bonham Carter and Geoffrey Rush received supporting nominations for their work in the film, while the well-reviewed feature also got notices for its Art Direction, Cinematography, Costume Design, Editing, Original Score and Sound Mixing.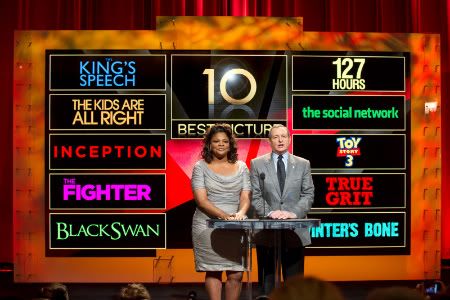 Oscar®-winning actress Mo'Nique (left) and Academy President Tom Sherak announced the nominees for the 83rd Annual Academy Awards in the Academy's Samuel Goldwyn Theater.
Photo: Todd Wawrychuk / ©A.M.P.A.S.
The up-to-now frontrunner The Social Network came away with eight nominations, including expected nods for Best Director David Fincher, Adapted Screenplay and of course Best Picture of the year. But in something of a surprise the popular saga of Facebook founder Mark Zuckerberg only received a single acting nomination, Jesse Eisenberg getting singled out as a Best Actor candidate while supposed supporting contenders Andrew Garfield, Justin Timberlake and Armie Hammer were all left out in the cold.
In something of a minor surprise, Joel and Ethan Coen's remake of the 1969 classic True Grit wrangled up ten nominations including notices for Best Picture, Best Director(s), Adapted Screenplay, Best Actor Jeff Bridges and Best Support Actress Hailee Steinfeld. The Coen's last won top honors in 2008 for their film No Country for Old Men, while Bridges was honored just last year for Best Actor for his performance in Crazy Heart. If he were to win again, he would become only the second actor to win the award in back-to-back years (Spencer Tracy and Tom Hanks being the others) and the first to do so playing the role already responsible for landing an actor an Oscar (John Wayne).
There were plenty of other surprises, not the least of which was Christopher Nolan being left out of the Best Director race. While his massively successful summertime thriller Inception received eight nominations in total including Best Picture and Best Original Screenplay, it failed to land a single acting nomination while Nolan himself was also overlooked for his behind-the-camera stewardship. Instead Black Swan helmer Darren Aronofsky and The Fighter cornerman David O. Russell took the categories final two slots, a move sure to annoy fanboys and girls everywhere who already feel like the Hollywood hitmaker was overlooked once already for his direction of The Dark Knight.
Speaking of The Fighter and Black Swan, both films managed six and five nominations respectively including nods for supporting actors Christian Bale, Amy Adams and Melissa Leo in the former and for lead actress Natalie Portman in the latter. Those pining for one of these to pull off a Best Picture upset would be better served to put their money on The Fighter than they would Black Swan, the lack of a screenplay nomination for Aronofsky's freaky and surreal ballet epic usually a pretty good indicator that the film lacks momentum as far as the top category is concerned.
More surprises? Ben Affleck's The Town was almost completely ignored by the Academy, the box office favorite receiving only a single nomination for Supporting Actor Jeremy Renner. On the flip side, independent darling Winter's Bone walked away with four noms, Best Picture, Best Actress Jennifer Lawrence, Supporting Actor John Hawkes and Adapted Screenplay, while both Danny Boyle's 127 Hours and Disney / Pixar's Toy Story 3 had far better showings than expected with six and five nominations respectively. Also in a bit of a stunner, both highly acclaimed documentaries Waiting for "Superman" and The Tillman Story failed to earn nominations, barely released indies Gasland and Waste Land taking their supposed slots while expected favorites Exit Through the Gift Shop, Inside Job and Restrepo rounded out the category.
There were other minor surprises, like Mark Ruffalo earning his first nomination for his supporting performance in The Kids Are All Right while costar Julianne Moore was left out in the cold and Australian actor Jacki Weaver getting a Supporting Actress nod for her work in Animal Kingdom, but by and large everything went pretty close to as expected (although Hereafter getting a nom for Best Visual Effects over TRON: Legacy and Scott Pilgrim vs. the World is something of a head scratcher). Overall, however, this year's race for Oscar continues to appear to be a battle between The King's Speech and The Social Network, the ultimate victor not to be decided until the final moments 83rd Annual Academy Awards telecast on Sunday, Feb. 27.
Complete List of Nominees
Best Picture

127 Hours
Black Swan
The Fighter
Inception
The Kids Are All Right
The King's Speech
The Social Network
Toy Story 3
True Grit
Winter's Bone
Lead Actor

Javier Bardem, Biutiful
Jeff Bridges, True Grit
Jesse Eisenberg, The Social Network
Colin Firth, The King's Speech
James Franco, 127 Hours
Lead Actress

Annette Bening, The Kids Are All Right
Nicole Kidman, Rabbit Hole
Jennifer Lawrence, Winter's Bone
Natalie Portman, Black Swan
Michelle Williams, Blue Valentine
Supporting Actor

Christian Bale, The Fighter
John Hawkes, Winter's Bone
Jeremy Renner, The Town
Mark Ruffalo, The Kids Are All Right
Geoffrey Rush, The King's Speech
Supporting Actress

Amy Adams, The Fighter
Helena Bonham Carter, The King's Speech
Melissa Leo, The Fighter
Hailee Steinfeld, True Grit
Jacki Weaver, Animal Kingdom
Directing

Darren Aronofsky, Black Swan
Joel & Ethan Coen, True Grit
David Fincher, The Social Network
Tom Hooper, The King's Speech
David O. Russell, The Fighter
Screenplay (Adapted)

Michael Arndt, Toy Story 3
Simon Beaufoy & Danny Boyle, 127 Hours
Joel & Ethan Coen, True Grit
Aaron Sorkin, The Social Network
Debra Granki, Anne Rosellini, Winter's Bone
Screenplay (Original)

Mike Leigh, Another Year
Lisa Cholodenko, Stuart Blumberg, The Kids Are All Right
Christopher Nolan, Inception
David Seidler, The King's Speech
Scott Silver, Paul Tamasy, Eric Johnson, Keith Dorrington, The Fighter
Foreign Language Film

Biutiful - Mexico
Dogtooth - Greece
In a Better World - Denmark
Incendies - Canada
Hors la Loi ("Outside the Law") – Algeria
Animated Feature Film
How To Train Your Dragon
The Illusionist
Toy Story 3
Art Direction

Alice in Wonderland
Harry Potter and the Deathly Hallows: Part One
Inception
The King's Speech
True Grit
Cinematography

Black Swan
Inception
The King's Speech
The Social Network
True Grit
Costume Design

Alice in Wonderland
I Am Love
The King's Speech
The Tempest
True Grit
Documentary Feature

Exit Through the Gift Shop
Gasland
Inside Job
Restrepo
Waste Land
Documentary Short Subject

Killing in the Name
Poster Girl
Strangers No More
Sun Come Up
The Warriors of Qiugang
Film Editing

127 Hours
Black Swan
The Fighter
The King's Speech
The Social Network
Makeup

Barney's Version
Music (Score)

A.R. Rahman, 127 Hours
John Powell, How To Train Your Dragon
Hans Zimmer, Inception
Alexandre Desplat, The King's Speech
Trent Reznor, Atticus Ross, The Social Network
Music (Song)

"Coming Home", Country Strong
"I See the Light", Tangled
"If I Rise", 127 Hours
"We Belong Together", Toy Story 3
Short Film (Animated)

Day & Night
The Gruffalo
Let's Pollute
The Lost Thing
Madagascar, a Journey Diary
Short Film (Live Action)

The Confession
The Crush
God of Love
Na Wewe
Wish 143
Sound Editing

Inception
Toy Story 3
Tron: Legacy
True Grit
Unstoppable
Sound Mixing

Inception
The King's Speech
Salt
The Social Network
True Grit
Visual Effects

Alice in Wonderland
Harry Potter and the Deathly Hallows: Part One
Hereafter
Inception
Iron Man 2