FEATURE ARTICLE

2011 Academy Awards Recap

Rating: Various

Distributor: Various

Released: Feb 27, 2011

Written by Sara Michelle Fetters
Editor-in-Chief
www.moviefreak.com
83rd Annual Academy Awards Recap
King's Speech Reigns Supreme as Oscar's Big Winner
The monarch with a stutter period drama The King's Speech was crowned the big winner at the 83rd annual Academy Awards taking home Oscars for Best Picture, Best Director Tom Hooper, Best Actor Colin Firth and Best Original Screenplay. In his acceptance speech Hooper singled out screenwriter David Seilder for thanks proclaiming that he found his, "extraordinary journey from childhood stammerer to the stage of the Kodak… so profoundly moving."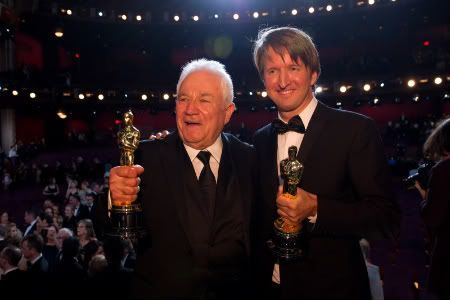 Best Original Screenplay winner David Seidler and Best Director winner Tom Hooper, The King's Speech
PHOTO: Richard Harbaugh / ©A.M.P.A.S.
Christopher Nolan's mind-bending box office smash Inception also took home four Oscars including statues for Best Sound Editing, Best Sound Mixing and Visual Effects. The film also won Best Cinematography in something of an upset, Wally Pfister beating out presumed True Grit frontrunner Roger Deakins, the latter going home a bridesmaid for the ninth time. "Good God, what have you done?" said a surprised Pfister. "I got to take a breath here for a minute. Breathe it in for a second."
The year's most critically acclaimed and lauded motion picture, the birth of Facebook drama The Social Network, ended up winning three Oscars for Best Editing, Best Adapted Screenplay and Best Original Score. "It's impossible to describe what it feels like to be handed the same award that was given to Paddy Chayefsky 35 years ago for another movie with 'network' in the title," proclaimed writer Aaron Sorkin when accepting his award. "I wrote this movie, but David Fincher made this movie and he did it with an ungodly artfulness. Someone this talented has no business being the nicest guy in the world, but he is and he made the movie of any screenwriter's dreams…"
For the most part, other than Pfister beating out Deakins the night offered up very little in the way of a surprise. As expected, Natalie Portman won Best Actress for her work in Black Swan while The Fighter costars Christian Bale and Melissa Leo took home both of the Supporting Actor awards, the latter dropping an enthusiastic F-bomb during her acceptance speech. Alice in Wonderland won for Best Production Design and Best Costumes, Toy Story 3 captured Best Animated Feature and Best Original Song, Denmark's In a Better World ran away with Best Foreign Language Film while Charles Ferguson's hard-hitting Wall Street doc Inside Job was the victor for Best Feature Documentary. "Forgive me," said Ferguson before accepting his Oscar. "I must start by pointing out that three years after a horrific financial crisis caused by massive fraud, not a single financial executive has gone to jail and that's wrong."

James Franco and Anny Hathaway, hosts of the 83rd annual Academy Awards
PHOTO: Michael Yada / ©A.M.P.A.S.
By and large this was one of the more streamlined and quite uneventful Oscar telecasts in recent memory. Hosts Anne Hathaway and James Franco gave it their all, the former in particular, but both seemed a bit out of their element save for a few precious moments here and there. Probably the most excitement and energy generated during the evening came from legendary Hollywood superstar Kirk Douglas, 94, who drew out his presentation of the Best Supporting Actress Award nearly as long as he could. Otherwise the show didn't offer up a lot to talk about, and other than Leo's already mentioned profane outburst it's doubtful many will be talking about this year's show at any point in the foreseeable future.
Complete List of Winners & Nominees
Best Picture

127 Hours
Black Swan
The Fighter
Inception
The Kids Are All Right
The King's Speech *WINNER!*
The Social Network
Toy Story 3
True Grit
Winter's Bone
Lead Actor

Javier Bardem, Biutiful
Jeff Bridges, True Grit
Jesse Eisenberg, The Social Network
Colin Firth, The King's Speech *WINNER!*
James Franco, 127 Hours
Lead Actress

Annette Bening, The Kids Are All Right
Nicole Kidman, Rabbit Hole
Jennifer Lawrence, Winter's Bone
Natalie Portman, Black Swan *WINNER!*
Michelle Williams, Blue Valentine
Supporting Actor

Christian Bale, The Fighter *WINNER!*
John Hawkes, Winter's Bone
Jeremy Renner, The Town
Mark Ruffalo, The Kids Are All Right
Geoffrey Rush, The King's Speech
Supporting Actress

Amy Adams, The Fighter
Helena Bonham Carter, The King's Speech
Melissa Leo, The Fighter *WINNER!*
Hailee Steinfeld, True Grit
Jacki Weaver, Animal Kingdom
Directing

Darren Aronofsky, Black Swan
Joel & Ethan Coen, True Grit
David Fincher, The Social Network
Tom Hooper, The King's Speech *WINNER!*
David O. Russell, The Fighter
Screenplay (Adapted)

Michael Arndt, Toy Story 3
Simon Beaufoy & Danny Boyle, 127 Hours
Joel & Ethan Coen, True Grit
Aaron Sorkin, The Social Network *WINNER!*
Debra Granki, Anne Rosellini, Winter's Bone
Screenplay (Original)

Mike Leigh, Another Year
Lisa Cholodenko, Stuart Blumberg, The Kids Are All Right
Christopher Nolan, Inception
David Seidler, The King's Speech *WINNER!*
Scott Silver, Paul Tamasy, Eric Johnson, Keith Dorrington, The Fighter
Foreign Language Film

Biutiful - Mexico
Dogtooth - Greece
In a Better World - Denmark *WINNER!*
Incendies - Canada
Hors la Loi ("Outside the Law") – Algeria
Animated Feature Film
How To Train Your Dragon
The Illusionist
Toy Story 3 *WINNER!*
Art Direction

Alice in Wonderland *WINNER!*
Harry Potter and the Deathly Hallows: Part One
Inception
The King's Speech
True Grit
Cinematography

Black Swan
Inception *WINNER!*
The King's Speech
The Social Network
True Grit
Costume Design

Alice in Wonderland *WINNER!*
I Am Love
The King's Speech
The Tempest
True Grit
Documentary Feature

Exit Through the Gift Shop
Gasland
Inside Job *WINNER!*
Restrepo
Waste Land
Documentary Short Subject

Killing in the Name
Poster Girl
Strangers No More *WINNER!*
Sun Come Up
The Warriors of Qiugang
Film Editing

127 Hours
Black Swan
The Fighter
The King's Speech
The Social Network *WINNER!*
Makeup

Barney's Version
The Way Back
The Wolfman *WINNER!*
Music (Score)

A.R. Rahman, 127 Hours
John Powell, How To Train Your Dragon
Hans Zimmer, Inception
Alexandre Desplat, The King's Speech
Trent Reznor, Atticus Ross, The Social Network *WINNER!*
Music (Song)

"Coming Home", Country Strong
"I See the Light", Tangled
"If I Rise", 127 Hours
"We Belong Together", Toy Story 3 *WINNER!*
Short Film (Animated)

Day & Night
The Gruffalo
Let's Pollute
The Lost Thing *WINNER!*
Madagascar, a Journey Diary
Short Film (Live Action)

The Confession
The Crush
God of Love *WINNER!*
Na Wewe
Wish 143
Sound Editing

Inception *WINNER!*
Toy Story 3
Tron: Legacy
True Grit
Unstoppable
Sound Mixing

Inception *WINNER!*
The King's Speech
Salt
The Social Network
True Grit
Visual Effects

Alice in Wonderland
Harry Potter and the Deathly Hallows: Part One
Hereafter
Inception *WINNER!*
Iron Man 2