Editor-in-Chief
www.moviefreak.com
2011's Best and Worst
A Separation, The Descendants Best of the Best in a Good, Not Great, Year for Motion Pictures
Iím not sure a case can be made that 2011 was a great year at the movies. At the same time, I do think you can make one for it being very, very good, full of strong motion pictures that might not necessarily be extraordinary yet still worthwhile all the same. Trying to come up with a ten best is surprisingly difficult, so many well made and entertaining features vying for spots trying to put them in a discernable order borders on the impossible.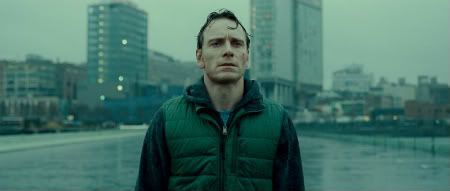 Michael Fassbender, who had a 2011 to remember, in Shame
© Fox Searchlight
Not that Iím saying this has been a year worthy of remembrance like say 2007, 1999 or the ultimate glory year of 1939 were. While filmmakers did a good job of producing a quality product, they didnít craft features weíre going to be talking about for decades down the line. Sure chances were taken, risks were made and plenty of writers and directors did the unexpected but the number of them doing it wasnít exactly huge. I think there are roughly 15 features that I saw that did just that, and of that number weíre going to be lucky if weíre still waxing poetic about half of them ten, twenty years down the line.
And Iím just fine with that. Sure there were way too many remakes, sequels, reboots and comic adaptations. Yes, the prevalence of 3D (especially all of the brutally poor post-conversations) drove me round the bend. But for every Conan the Barbarian there was a Fright Night, every Green Lantern a Captain America: The First Avenger, and as bad as The Twilight Saga: Breaking Dawn Ė Part I was the genuinely enchanting magnificence of Harry Potter and the Deathly Hallows: Part II more than made up for the stench left by that vampire abomination.
Then there are the breakout stars, the actors and actresses where felt like they were just about everywhere who gave superb performance after superb performance. Michael Fassbender (Shame, Jane Eyre, X-Men: First Class, A Dangerous Method), Ryan Gosling (Drive, The Ideas of March, Crazy, Stupid, Love) and Jessica Chastain (The Debt, The Help, The Tree of Life, Take Shelter, Texas Killing Fields, Coriolanus) appeared in movies so diverse and different it boggles the mind, each of them delivering staggering portraits that were mesmerizing cementing themselves as talents certain to be drawing our attentions for quite some time.
Thereís so much more one could talk about, like how so many films challenged their audiences with enigmatic finales forcing them to figure out what happens next for themselves. Additionally, while some legendary directors rose to the challenge (Terrence Malick with The Tree of Life, Woody Allen with Midnight in Paris, Martin Scorsese with Hugo) others dropped the ball by making flicks that felt mechanical and by the numbers (Steven Spielberg with The Adventures of Tintin and War Horse, Wayne Wang with Snow Flower and the Secret Fan, Michel Gondry with The Green Hornet, Ron Howard with The Dilemma).
Overall, though, I canít help but feel like 2011 was a winner. Thereís a lot of great stuff to talk about and savor, so much fodder for debate discussions about what film was the best and which filmmakers took the most chances could last for days and never grow tiring. With that said, here are my picks for the best the year had to offer.
THE BEST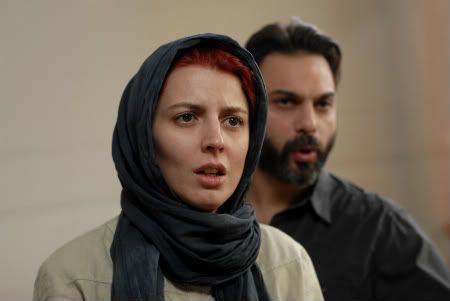 Leila Hatami and Peyman Maadi in A Separation © Sony Pictures Classics
1. A Separation
Impossible to forget, this Iranian import is one of the more devastatingly tragic yet emotionally beautiful motion pictures that Iíve seen in years. The multilayered drama never goes where you expect it to, never takes the well-traveled path, everything leading to a denouement that held my spellbound all the way through to the end. Asghar Farhadiís effort is an instant classic, the final product a haunting stunner Iíll be contemplating for a long time to come.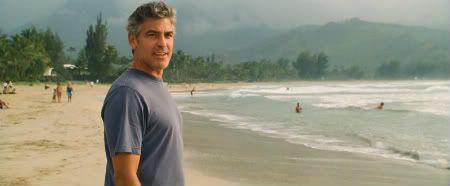 George Clooney in The Descendants © Fox Searchlight Pictures
2. The Descendants
Alexander Payneís The Descendants is an honest, heartbreaking, funny and poignant examination of a family dealing with the specter of parental death, the movie anchored by a multifaceted, deeply personal performance by star George Clooney that arguably ranks as the best of his entire career.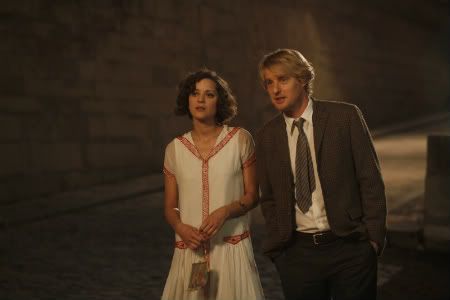 Marion Cotillard and Owen Wilson in Midnight in Paris
© Sony Pictures Classics
3. Midnight in Paris
Woody Allen hasnít made a movie this great in arguably three decades, and this is coming from someone who has grown to consider Vicky Cristina Barcelona as something of a minor masterpiece. Whatís more, this time-bending dramatic comedy is a testament to self-reliance, about embracing the now, about being comfortable with who you are and the era in which you live, all attributes Iíd never have imagined the man behind Annie Hall and Hannah and Her Sisters would ever be extolling.

Christopher Plummer and Ewan McGregor in Beginners © Focus Features
4. Beginners
Borderline perfection, Mike Mills' second feature is a stunning examination of family, relationships, sexuality and forgiveness that speaks universal truths everyone and anyone can relate to. Christopher Plummer is Oscar-worthy, but in many ways so is Ewan McGregor, the two of them crafting a dynamite father-son dynamic thatís as endearing as it is heartbreaking. [Read my Interview with mike Mills and Ewan McGregor]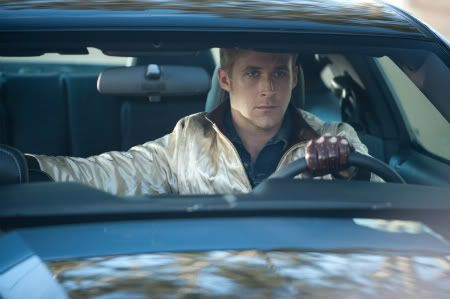 Ryan Gosling in Drive © FilmDistrict
5. Drive
Back in September I wrote, ďNicolas Winding Refnís Drive is an ambient mood piece that his you like a shot of nitroglycerine enhanced adrenaline yet goes down as smoothly as an expensive slug of single-malt.Ē Nothingís changed, this movie an unforgettable stunner the refuses to let go of me. Thereís been little else like it this year, the movie defying expectation at every turn, and after three viewings the only thing I want to do is head back to the theatre and see it again. Albert Brooks deserves to win the Oscar.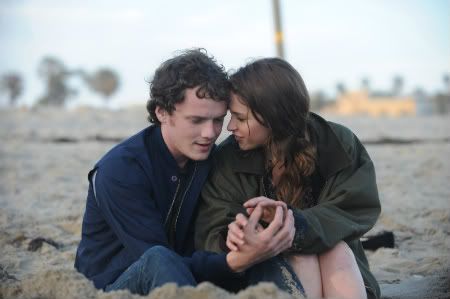 Anton Yelchin and Felicity Jones in Like Crazy © Paramount Pictures
6. Like Crazy
Director Drake Doremusí Like Crazy got to me. Filled with sublime moments, reveling in emotionally complex authenticity, this relationship melodrama about two twenty-somethings navigating the minefield of feelings they have for one another and the outside forces attempting to keep them apart is a total stunner. Anton Yelchin proves once again heís a star on the rise, while Felicity Jones instantly makes a name for herself as an actress of supreme merit. Unforgettable, this is a movie to cherish. [Read my Interview with actress Felicity Jones]

Masachika Ichimura and Koji Yakusho in 13 Assassins © Magnet Releasing
7. 13 Assassins
To call Japanese legend Takashi Miikeís 13 Assassins magnificent would be a serious understatement. Character-driven, methodical, meticulous in its precision to create a sense of time, place and situation, the movie is almost Kurosawa-like in its attention to detail before exploding into a final 50-plus minutes of carnage and bloodletting unlike anything else 2011 had to offer. Borderline perfection, action fans and Asian pulp cinema cultists will be beside themselves in glee after this one comes to an end.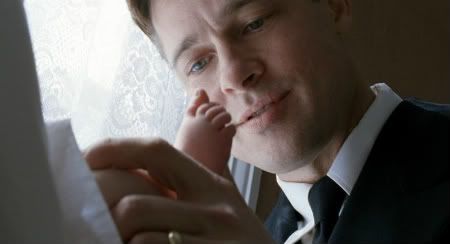 Brad Pitt in The Tree of Life © Fox Searchlight Pictures
8. The Tree of Life
Terrence Malickís fifth motion picture is a treatise on life, aging, faith, family and the universe that goes into realms and digs into corners as esoteric and bewildering as they are intimate and self-revelatory. This is the kind of movie that keeps you at armís length only to pull the viewer in slowly one strand of hair at a time, everything building to the type of conclusion that blows the mind and stirs the soul in almost equal measure.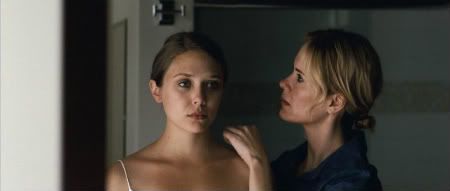 Elizabeth Olsen and Sarah Paulson in Martha Marcy May Marlene
© Fox Searchlight Pictures
9. Martha Marcy May Marlene
Another movie to feature a breakout performance by a rising female star (in this case Elizabeth Olsen), writer/director Sean Durkinís debut is a powerful drama of sisterly love and forgiveness in the face of unspeakable psychological trauma that asks tough questions and then leaves the answers up to the audience to figure out for themselves. Beautifully realized, the filmís enigmatic final image is one I canít stop talking about, and in the end has proven to be one of the more unsettlingly terrific ones of this or any other year. [Read my Interview with Sean Durkin and Elizabeth Olsen]

Charlize Theron in Young Adult © Paramount Pictures
10. Young Adult
If there were any justice in the world actress Charlize Theron would win the Oscar for her fearless, nakedly raw performance in director Jason Reitman and writer Diablo Codyís latest comedic descent into the human maelstrom. But the movie is more than just a performance piece, the filmmakers putting up a mirror to our current celebrity-obsessed culture giving us insights into who we are and where we might be going that arenít remotely comforting or cathartic and that, my friends, is a very good thing indeed.
FAVORITE 2010 FILMS INEXPLICABLY RELEASED DOMESTICALLY IN 2011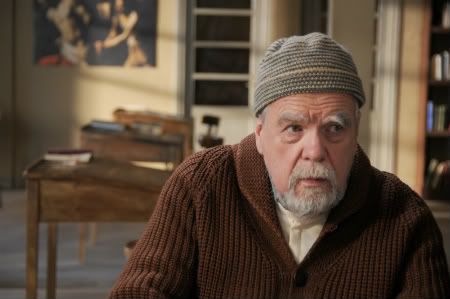 Michael Lonsdale in Of Gods and Men © Sony Pictures Classics
In a Better World, Incendies, Of Gods and Men, Tucker & Dale vs. Evil
- Portions of this feature reprinted courtesy of the SGN in Seattle