FEATURE ARTICLE

2011 Recap (Best of the Rest)

Rating: Various

Distributor: Various

Released: Various

Written by Sara Michelle Fetters
A SECOND TEN (because I can)

Brad Pitt in Moneyball © Sony Pictures
11. Moneyball
Dynamite adaptation of the bestselling book with a performance by Brad Pitt that easily ranks as one of his all-time best. Not to be cliché, but this drama hits a homerun.
12. Win Win
Paul Giamatti is at his best in this sports-themed comedic drama from writer/director Tom McCarthy that never quite goes where you expect it to. Amy Ryan gives one of the best performances of the entire year, and sadly no one but me seems to remember this fact.
13. The Artist
Michel Hazanavicius' deliriously delightful ode to the days of silent moviemaking a ebullient gem of a motion picture that just gets better and better the more I think about it. Movie features my absolute favorite scene of the entire year, yet one I refuse to talk about here so as not to ruin the surprise.
14. Hanna
Darkly violent thriller from director Joe Wright filled with performances and moments that constantly defy expectation and consistently surprise. Actress Saoirse Ronan continues to prove herself to be a special talent from which great things will blossom.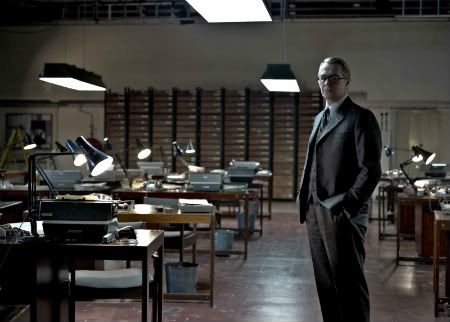 Gary Oldman in Tinker, Tailor, Soldier, Spy © Focus Features
15. Tinker, Tailor, Soldier, Spy
Gary Oldman's fascinatingly calm portrayal of John le Carré's ace spy George Smiley is consistent cause for amazement, director Tomas Alfredson's adaptation a mesmerizing Cold War thriller that shows substance and style can indeed coexist within the same motion picture.
16. Attack the Block
A glorious melding of Assault on Precinct 13, Escape from New York, Gremlins and The Goonies, writer/director Joe Cornish's debut is a popcorn flick for the ages and a gnarly old school B-movie gem certain to become a cult favorite. [Read my Interview with Joe Cornish and actor John Boyega]
17. The Girl with the Dragon Tattoo
Rooney Mara explodes off the screen as antihero Lisbeth Salander in director David Fincher's English language take an author Stieg Larsson's massively popular novel. A descent in the darker nether regions of the human condition that I couldn't take my eyes off of.
18. The Adjustment Bureau
This adaption of a Philip K. Dick short story offers up so many divine delicacies it's impossible to mention them all here. Stars Matt Damon and Emily Blunt are the romantic pairing of the entire year, while director George Nolfi showcases an almost Hitchcockian touch reminiscent of North by Northwest or The Lady Vanishes.
19. Bellflower
The devastating aftermath of a failed relationship has never looked or sounded so amazing, writer/director/star Evan Glodell's debut an emotional firestorm of visceral melancholia that slapped me across the face, punched me in the stomach and then ran over my flailing carcass just for good measure. [Read my Interview with Evan Glodell]

Jeremy Renner and Tom Cruise in Mission: Impossible - Ghost Protocol
© Paramount Pictures
20. Mission: Impossible - Ghost Protocol
Pure, unabashed popcorn euphoria, director Brad Bird and producer/star Tom Cruise reinvigorate a tired franchise while also manufacturing the best Hollywood-financed action film of the entire year. See it in IMAX.
HONORABLE MENTIONS (in alphabetic order)
50/50, Black Death, Captain America: The First Avenger, Carnage, Contagion, Harry Potter and the Deathly Hallows: Part II, The Housemaid, Hugo, Life, Above All, Margin Call, Pariah, Poetry, Point Blank, Rango, Scream 4, The Trip, Tyrannosaur, We Are the Night, Weekend, The Whistleblower
FIVE FAVORITE DOCUMENTARIES
Bill Cunningham New York, Buck, Cave of Forgotten Dreams, The Interrupters, We Were Here

The biggest of the beasts in Trollhunter © Magnet Releasing
ENTERTAININGLY WORTHWHILE (in alphabetic order)
Another Earth, Arthur Christmas, The Beaver, The Big Year, Blackthorn, Bridesmaids, Cars 2, Cedar Rapids, Circumstance, A Dangerous Method, The Debt, Don't Be Afraid of the Dark, Dream Home, Fright Night, Gun Hill Road, Happy Feet Two, The Help, Higher Ground, I Saw the Devil, The Ides of March, Immortals, J. Edgar, Jane Eyre, The Last Circus, The Lincoln Lawyer, Monte Carlo, The Muppets, My Week with Marilyn, Our Idiot Brother, Paranormal Activity 3, Paul, Phase 7, Puss in Boots, Queen to Play, Rise of the Planet of the Apes, Salvation Boulevard, Shame, The Sitter, Source Code, Submarine, Super, Thor, Trollhunter, Warrior, We Are What We Are, We Bought a Zoo, Winnie the Pooh, Winter in Wartime, Wrecked, X-Men: First Class, YellowBrickRoad
SADLY HAVEN'T SEEN
Albert Nobbs, Anonymous, A Better Life, Certified Copy, Everything Must Go, Extremely Loud & Incredibly Close, The Guard, In the Land of Blood and Honey, Into the Abyss, The Iron Lady, Life in a Day, Love Crime, Margaret, Meek's Cutoff, Melancholia, The Mill and the Cross, The Music Never Stopped, Mysteries of Lisbon, Oranges and Sunshine, Potiche, Project Nim, Rampart, Red State, The Rum Diary, Sarah's Key, Senna, The Skin I Live In, Take Shelter, Viva Riva!, We Need to Talk About Kevin
- Portions of this feature reprinted courtesy of the SGN in Seattle