Editor-in-Chief
www.moviefreak.com
2012 Mid-Year Report Card
Now that June has come to an end, it's time to look at the first half of 2012 and assess its highs and lows. There have been many of both, to be sure, and with 93 theatrical reviews under my belt I feel like I've had the opportunity to get a good feel for quite a few of them. Of those, we've had a number of solid contenders for both my best and worst of the year lists, a handful of which I'm relatively certain will be amongst those top and bottom tens come December.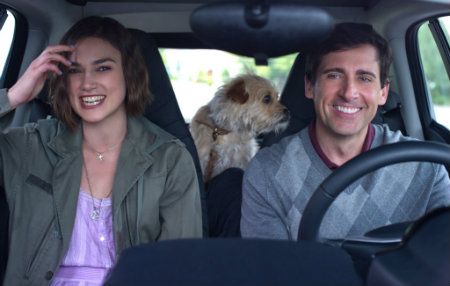 Keira Knightley and Steve Carell in Seeking a Friend for the End of the World
© Focus Features
And what are those titles? Which ones did I love? Hate? What disappointed me? What has the potential to grow on me as the year heads deeper into its final half? Read on and discover for yourself, and feel free to leave comments on our Facebook page to let me know where you agree and disagree.
Top Ten List Contenders
· Seeking a Friend for the End of the World (««««) – Chances of making top ten: 99%
· Moonrise Kingdom («««1/2) – Chances of making top ten: 85%
· Kill List («««1/2) – Chances of making top ten: 75%
· The Secret World of Arrietty («««1/2) – Chances of making top ten: 70%
· Safety Not Guaranteed («««1/2) – Chances of making top ten: 60%
· The Hunger Games («««1/2) – Chances of making top ten: 60%
· Haywire («««1/2) – Chances of making top ten: 50%
· Sound of Noise («««1/2) – Chances of making top ten: 45%
· Sound of My Voice («««1/2) – Chances of making top ten: 40%
· Your Sister's Sister («««1/2) – Chances of making top ten: 30%
· John Carter («««1/2) – Chances of making top ten: 20%
· Cabin in the Woods («««1/2) – Chances of making top ten: 15%
· The Intouchables («««1/2) – Chances of making top ten: 15%
· Magic Mike («««1/2) – Chances of making top ten: 10%
Great 2011 Titles Released Domestically in 2012
· Margaret (««««)
· Bullhead («««1/2)
· Pina («««1/2)
· In Darkness («««)
· King of Devil's Island («««)
Slowly Growing on Me
· 21 Jump Street («««)
· Jeff, Who Lives at Home («««)
· Silent House (2012) («««)
· Tonight You're Mine («««)
· Chronicle (««1/2)
· The Grey (««1/2)
· The Innkeepers (««1/2)
Just Plain Good
· The Avengers («««)
· Bernie («««)
· Big Miracle («««)
· Brave («««)
· Chimpanzee («««)
· Friends with Kids («««)
· Grassroots («««)
· The Kid with a Bike («««)
· The Pirates! Band of Misfits («««)
· The Salt of Life («««)
Mildly Disappointing
· Beasts of the Southern Wild (««1/2)
· Damsels in Distress (««1/2)
· Dark Shadows (««1/2)
· Lola Versus (««1/2)
· Prometheus (««1/2)
· The Raid: Redemption (««1/2)
· Salmon Fishing in the Yemen (««1/2)
· To Rome with Love (««1/2)
· One for the Money (««)
· Red Tails (««)
· Ted (««)
Guilty Pleasures
· Men in Black 3 («««)
· Safe (2012) («««)
· Snow White and the Huntsman («««)
· The Vow («««)
· Detention (««1/2)
· God Bless America (««1/2)
· Mirror Mirror (««1/2)
· Underworld Awakening (««1/2)
· The Woman in Black (««1/2)
Just Plain Bad
· Abraham Lincoln: Vampire Hunter («)
· Lockout («)
· Project X (2012) («)
· This Means War («)
· Act of Valor («1/2)
· The Cup («1/2)
· The Woman in the Fifth («1/2)
· American Reunion (««)
· Battleship (««)