FEATURE ARTICLE

2012 Recap (The Best)

Rating: Various

Distributor: Various

Released: Various

Written by Sara Michelle Fetters
Editor-in-Chief
Moviefreak.com
Top Ten of 2012
Zero Dark Thirty, Amour Best of the Best of Stellar Year
Back at the tail end of June I wasnít too sure 2012 was going to be all that great a year for cinema. Sure there were some terrific and ballsy flicks that I liked one heck of a lot (Seeking a Friend for the End of the World, Kill List, Moonrise Kingdom, Safety Not Guaranteed, a handful of others) but there wasnít a ton I was completely over the moon about. I loved The Hunger Games. I enjoyed John Carter more than most. But other than some intriguing foreign titles, and the emergence of Channing Tatum, of all people, as a bona fide superstar with legitimate talent to burn, I wasnít crowing about much, and I was starting to think coming up with ten titles to list as the yearís best was going to be an impossibility.

Channing Tatum in Magic Mike © Warner Bros
Fast forward through the next six months and how things have changed. By my count there are 52 films worthy of discussion and debate in regards to being amongst the yearís top efforts. More than that, at any given moment there are 15 or so titles that could easily enter in my own best-of countdown. For my money, that doesnít make 2012 a great year it makes it a borderline spectacular one, and Iím more or less positive that weíre going to be talking about a number of these releases for many years to come.
With that in mind, here are my picks as the best movies to hit theatres in 2012. Iím more or less happy with the list, if not with actual placements, and at any given moment films just outside of the upper echelon could easily sneak in displacing some of those currently in residence within. Like all art, oneís feelings and interpretations are fluid and in a constant state of flux, and while Iím content at the moment whoís to say five, ten years from now when I look back on all of this Iíll have rearranged things considerably. With that out of the way, onto the list!
TOP TEN

Jessica Chastain in Zero Dark Thirty © Sony Pictures
For me, picking director Kathryn Bigelow and writer Mark Boalís Zero Dark Thirty as the yearís best film was a no-brainer. I knew the instant it was over that Iíd just watched something close to an absolute masterpiece, their emotionally complex, morally ambiguous thriller chronicling the hunt and eventual killing of Osama bin Laden one of the most harrowing experiences Iíve ever had sitting in a movie theatre during my time as a professional critic. They fact they dare to bring up touchy subject matter and make you think about it in detail, the way they do not beat around the bush but instead show you the murky minefield of international intelligence and terror in absolute minutia, all of it adds up to something beyond extraordinary. Anchoring it all is the quiet, driven, confidently self-assured grace of Jessica Chastain, her blistering, unsentimental performance one for the ages.
2. Amour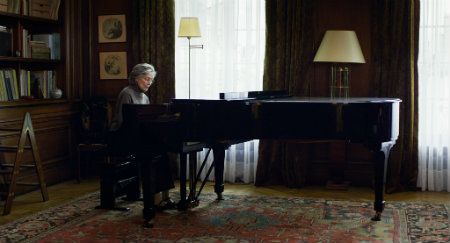 Emmanuelle Riva in Amour © Sony Pictures Classics
Michael Haneke does not make easy movies, anyone who has ever watched the auteurís The White Ribbon or Funny Games could tell you that, but that doesnít mean he canít illicit sympathy or wax poetic about complex emotions with the best of them when he sets his mind to it. His latest more than lives up to its title, its chronicling of a married couple (the superb Jean-Louis Trintignant and Emmanuelle Riva) in their 80ís dealing with a sudden illness and the effect it has on their relationship as startling as it is profound.
3. The Perks of Being a Wallflower

The cast of The Perks of Being a Wallflower reflects on their journey
© Summit Entertainment
No movie spoke to me on a more personal level than writer/director Stephen Chboskyís adaptation of his own novel The Perks of Being a Wallflower. I knew these Pittsburgh kids, could relate to just about everything they were going through, understood their day-to-day lives on about as intimate a level that there is. Chobsky raises the bar by never pushing the innate melodrama hidden within his coming-of-age narrative, instead letting the characters and the actors (Logan Lerman, Emma Watson and Ezra Miller, three of 2012ís best performances) portraying them do all the talking for themselves. As close to an instant classic as anything Iíve seen this year.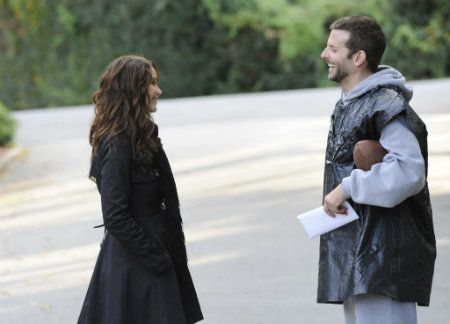 Jennifer Lawrence and Bradley Cooper in Silver Linings Playbook
© The Weinstein Company
David O. Russellís adaptation of Matthew Quickís novel is constantly on the verge of teetering out of control which is perfect considering its main character, bi-polar former High School substitute American History teacher with anger management issues Pat Solatano (Bradley Cooper), is constantly on the precipice of doing the very same thing. Itís a startling high-wire act that is as beautiful and invigorating as it is honest and profound, the movie having a confident lived-in esthetic thatís close to perfection. Add in Jennifer Lawrenceís amazing, free-spirited and emotionally-centered performance as the woman who might just win Patís heart if he gives her half a chance and you have, not just the best romantic comedy of the past year, but maybe the best one to hit theatres in over a decade.

An archival image of defiance from How to Survive a Plague © IFC Films
Journalist David Franceís breathtaking documentary about the early days of the AIDS crisis and the rise of activist organizations with a mission to fight it plays more like All the Presidentís Men than it does your typical retrospective think piece. The filmmaker digs right into the marrow of this story, never flinching and never wavering, easily crafting one of the more entertaining, yet still informative, non-fiction narratives Iíve had the privilege to see in quite some time.
6. The Master

Joaquin Phoenix in The Master © The Weinstein Company
Getting a handle on Paul Thomas Andersonís The Master is purposely difficult, the filmmaker weaving a tale of abuse, addiction, friendship and seduction that is as ephemeral and as obtuse as they come. But the level of filmmaking on display is of such a staggeringly high caliber, while the performances of Joaquin Phoenix, Philip Seymour Hoffman and Amy Adams are so monumentally extraordinary, one dismisses The Master at their own peril. This is a movie we are surely going to be discussing and debating for many years to come, its treatise on discourse key to deciphering a great deal many of its cryptic, labyrinthine layers.
7. Argo

Ben Affleck in Argo © Warner Bros
Ben Affleck comes into his own as a director with Argo, as giddily entertaining a historical suspense procedural as any a viewer ever could have hoped for. While Zero Dark Thirty has (understandably) stolen some of its thunder, that doesnít make this examination of the rescue of six Americans from Tehran during the 1979 Iranian hostage crisis any less wonderful. Filled with strong character turns from a crackerjack cast (including Alan Arkin, John Goodman and Scoot McNairy), the movie moves with a tense, all-encompassing energy that lingers on long after it has come to an end. A triumph.

Kara Hayward and Jared Gilman in Moonrise Kingdom © Focus Features
Wes Andersonís beguiling triumph of the romance between two 12-year-olds on a secluded New England island is one of the more honest and invigorating examinations of young love to see the light of day in quite some time. While packed with a superstar cast, including Bruce Willis, Bill Murray, Frances McDormand, Edward Norton and Tilda Swinton, it are the fresh faces of Jared Gilman and Kara Hayward who resonate the most here, their refined, delicately nuanced performances a sunny sojourn through complex emotions that held be completely, and happily, spellbound.
9. Compliance

Ann Dowd in Compliance © Magnolia Pictures
Can you handle the truth? Thatís what writer/director Craig Zobelís Compliance is asking, the movie wanting to know that if it presents you with the facts will the supreme gullibility, some might even say stupidity, of the protagonists lead you to refuse to believe that anything taking place could in actuality ever have happened. Unsettling, uncompromising, engineered to make the viewer to feel as uncomfortable in their own skin as humanly possible, this movie is an unflinching exercise in control that is as disgusting and despicable as it is essential.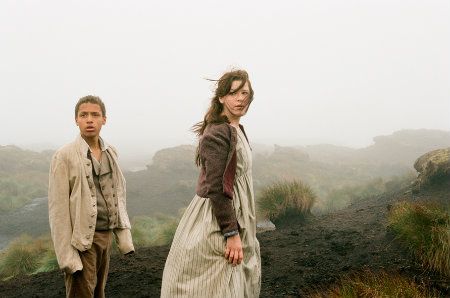 Solomon Glave and Shannon Beer in Wuthering Heights
© Oscilloscope Pictures
Much to my surprise, Andrea Arnoldís bleak, barren and emotionally obtuse adaptation of Emily BrontŽís Wuthering Heights has latched hold of my psyche in a way I cannot entirely comprehend. Filled with unforgettable images, moving with a hardened grace difficult to embrace let alone find captivating, the movie is nonetheless a staggering work of a meditative romantic drama I couldnít forget even if I wanted to. Not for the faint of heart, and certainly not for those who expect their BrontŽ gussied up in a classic BBC shine, this Wuthering Heights is a work of striking resonance made for the here and now. Personally, I wouldnít have it any other way.
FAVORITE 2011 FILMS RELEASED (MORE OR LESS) DOMESTICALLY IN 2012

Anna Paquin in Margaret © Fox Searchlight
Margaret Ė Kenneth Lonerganís Margaret got an amazingly short shrift from its studio in 2011, and if not for the passionate support from a handful of ardent admirers itís doubtful it would have ever seen the light of day. Thank goodness it did, because Lonerganís drama is nothing less than spectacular, this sprawling, deeply personal and highly emotional drama traveling paths lesser films fear to tread. If this movie had been released in 2012 I would have been hard-pressed not to name it my favorite of the entire year. Make of that what you will.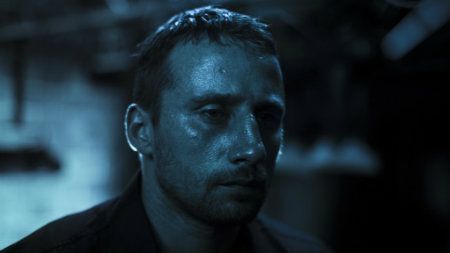 Matthias Schoenaerts in Bullhead © Draft House Films
Bullhead Ė This Academy Award Nominee for Best Foreign Language Film lives up to its reputation, director Michael R. Roskam delivering a harrowing drama of fate and redemption thatís as surprising as it is original. Stunning.

Dancers embrace in Wim Wender's Pina © IFC Films
Pina Ė Wim Wenderís 3D documentary, nominated for an Academy Award, is a mesmerizing whirlwind of imagination and movement that celebrates its subject matter, the late German choreographer Pina Bausch, with passion and precision. Transcendent.
- Portions of this article reprinted courtesy of the SGN in Seattle
Additional Links
Article posted on Dec 26, 2012 | Share this article | Top of Page
Copyright © 1999-infinity MovieFreak.com
---