FEATURE ARTICLE

85th Annual Academy Awards - The Predictions

Rating:

Distributor: A.M.P.A.S.

Released: February 24, 2013

Written by Sara Michelle Fetters
Editor-in-Chief
www.moviefreak.com
85th Annual Academy Awards Predictions
Argo Best Picture Frontrunner, Lincoln, Life of Pi and Silver Linings in Contention
It's been a strange road to the 85th annual Academy Awards, this
Sunday's telecast and presentation one of the more unusual the Academy of Motion Pictures Arts and Sciences has ever encountered. By attempting to move up the nomination deadline to presage influence by various critics organization, artists guilds and other awards shows (namely the Golden Globes and the BAFTAs), the Academy inadvertently through things into all kinds of disarray, creating an atmosphere of odd uncertainty this year that has many perplexed.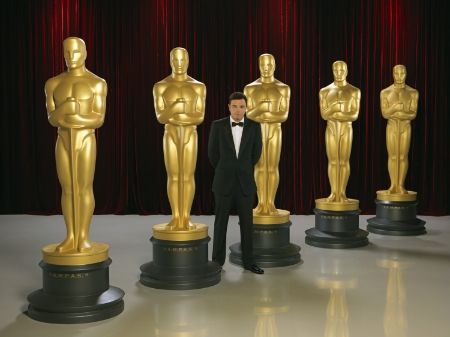 Seth McFarlane hosts the 85th Annual Oscars
PHOTO: ABC/Bob D'Amico / ©A.M.P.A.S.
You'd think this uncertainty would be a good thing, but in the case of the 85th Oscars you'd be hard-pressed to find many who think so. The reason can be summed up in one word (or title): Argo. While the movie received a healthy seven nominations including a nod for Best Picture, Ben Affleck was left out of the Best Director race leading many to assume it's chances for the top award were suddenly D.O.A. But then came a weird sympathetic backlash decrying this perceived 'snubbing,' Affleck and Argo going on to win a seemingly never-ending series of awards from critics and artist guilds alike including taking home the BAFTA for Best Picture, the WGA for adapted screenplay and the SAG for best ensemble.
Why is this such a controversy? In this history of the Academy Awards, while other movies have won Best Picture without a Best Director nomination (Driving Miss Daisy being the last to do so), thanks to the fact there are nine nominees in the top category coupled with the fact nomination voting was scheduled so early many in the industry look at the historical stats and are perplexed by what is going on. Argo winning would break the mold in numerous ways and some, not everyone, of course, don't believe this is a good thing, the prestige of an Oscar sullied and dulled by the way this whole process has worked itself out.
Is that true? Will Argo winning damage the Oscar beyond repair? Personally, I don't see a gigantic problem. The Academy pushed themselves into a corner thanks to a frantic push to beat all other movie awards to the punch, forcing their members to vote at a frenzied pace without ample time to see all the contenders using a new system (online voting was instituted for the first time) that a number of Academy members didn't know how to use. Studios didn't have time to set up screenings or get screeners to everyone allowing entertainments like Lincoln, Life of Pi and Silver Linings Playbook, considered rightly or wrongly more audience-friendly and 'safe' than the majority of their competitors, to take home the majority of nominations and be instantly proclaimed frontrunners.
We haven't gotten into the politicking and mudslinging the presaged much of the voting process, unfairly sullying the reputations of movies like Zero Dark Thirty, Django Unchained, Les Misérables and The Master in ways none of the films were entirely able to overcome (all still received a number of nominations yet none are expected to do all that well come Sunday night). But that's a discussion for another day as the real question remains what does Argo winning mean to the future perception of the Academy Award? On that front I don't have an answer at this point, but as a longtime cinephile and professional critic I'd be lying if I wasn't extraordinarily curious to find out.
The following are my predictions for which films will win Oscars this Sunday night. With the unpredictability factor of this year's ceremony so incredibly high I suggest you copy my guesses – because, for once, that's exactly what they are, guesses – at your own peril.
BEST PICTURE
THE NOMINEES: Amour, Argo, Beasts of the Southern Wild, Django Unchained, Les Misérables, Life of Pi, Lincoln, Silver Linings Playbook, Zero Dark Thirty
WILL WIN: Argo
SHOULD WIN: Zero Dark Thirty, Amour or Silver Linings Playbook
BEST DIRECTOR
THE NOMINEES: Michael Haneke (Amour), Ang Lee (Life of Pi), David O. Russell (Silver Linings Playbook), Steven Spielberg (Lincoln), Benh Zeitlin (Beasts of the Southern Wild)
WILL WIN: Michael Haneke
SHOULD WIN: Michael Haneke or David O. Russell
BEST ACTOR
THE NOMINEES: Bradley Cooper (Silver Linings Playbook), Daniel Day-Lewis (Lincoln), Hugh Jackman (Les Misérables), Joaquin Phoenix (The Master), Denzel Washington (Flight)
WILL WIN: Daniel Day-Lewis
SHOULD WIN: Denzel Washington
BEST ACTRESS
THE NOMINEES: Jessica Chastain (Zero Dark Thirty), Jennifer Lawrence (Silver Linings Playbook), Emmanuelle Riva (Amour), Quvenzhané Wallis (Beasts of the Southern Wild), Naomi Watts (The Impossible)
WILL WIN: Jennifer Lawrence
SHOULD WIN: Emmanuelle Riva
BEST SUPPORTING ACTOR
THE NOMINEES: Alan Arkin (Argo), Robert De Niro (Silver Linings Playbook), Philip Seymour Hoffman (The Master), Tommy Lee Jones (Lincoln), Christoph Waltz (Django Unchained)
WILL WIN: Christoph Waltz
SHOULD WIN: Philip Seymour Hoffman
BEST SUPPORTING ACTRESS
THE NOMINEES: Amy Adams (The Master), Sally Field (Lincoln), Anne Hathaway (Les Misérables), Helen Hunt (The Sessions), Jacki Weaver (Silver Linings Playbook)
WILL WIN: Anne Hathaway
SHOULD WIN: Amy Adams
BEST ADAPTED SCREENPLAY
THE NOMINEES: Argo, Beasts of the Southern Wild, Life of Pi, Lincoln, Silver Linings Playbook
WILL WIN: Argo
SHOULS WIN: Lincoln
BEST ORIGINAL SCREENPLAY
THE NOMINEES: Amour, Django Unchained, Flight, Moonrise Kingdom, Zero Dark Thirty
WILL WIN: Amour
SHOULD WIN: Moonrise Kingdom
BEST ANIMATED FEATURE
THE NOMINEES: Brave, Frankenweenie, ParaNorman, The Pirates! Band of Misfits, Wreck-It Ralph
WILL WIN: Wreck-It Ralph
SHOULD WIN: Wreck-It Ralph
BEST DOCUMENTARY FEATURE
THE NOMINEES: 5 Broken Cameras, The Gatekeepers, How to Survive a Plague, The Invisible War, Searching for Sugar Man
WILL WIN: Searching for Sugar Man
SHOULD WIN: How to Survive a Plague
BEST FOREIGN LANGUAGE FILM
THE NOMINEES: Amour, Kon-Tiki, No, A Royal Affair, War Witch
WILL WIN: Amour
SHOULD WIN: Amour
BEST CINEMATOGRAPHY
THE NOMINEES: Anna Karenina, Django Unchained, Life of Pi, Lincoln, Skyfall
WILL WIN: Skyfall
SHOULD WIN: Anna Karenina
BEST COSTUME DESIGN
THE NOMINEES: Anna Karenina, Les Misérables, Lincoln, Mirror Mirror, Snow White and the Huntsman
WILL WIN: Anna Karenina
SHOULD WIN: Anna Karenina
BEST EDITING
THE NOMINEES: Argo, Life of Pi, Lincoln, Silver Linings Playbook, Zero Dark Thirty
WILL WIN: Argo
SHOLD WIN: Zero Dark Thirty
BEST MAKEUP
THE NOMINEES: Hitchcock, The Hobbit: An Unexpected Journey, Les Misérables
WILL WIN: Les Misérables
SHOULD WIN: Les Miséerables
BEST ORIGINAL SCORE
THE NOMINEES: Anna Karenina, Argo, Life of Pi, Lincoln, Skyfall
WILL WIN: Mychael Danna (Life of Pi)
SHOULD WIN: Dario Marianelli (Anna Karenina)
BEST ORIGINAL SONG
THE NOMINEES: "Before My Time" from Chasing Ice, "Everybody Needs a Friend" from Ted, "Pi's Lullaby" from Life of Pi, "Skyfall" from Skyfall, "Suddenly" from Les Misérables
WILL WIN: "Skyfall" from Skyfall
SHOULD WIN: "Skyfall" form Skyfall
BEST PRODUCTION DESIGN
THE NOMINEES: Anna Karenina, The Hobbit: An Unexpected Journey, Les Misérables, Life of Pi, Lincoln
WILL WIN: Life of Pi
SHOULS WIN: Anna Karenina
BEST SOUND EDITING
THE NOMINEES: Argo, Django Unchained, Life of Pi, Skyfall, Zero Dark Thirty
WILL WIN: Zero Dark Thirty
SHOULD WIN: Zero Dark Thirty
BEST SOUND MIXING
THE NOMINEES: Argo, Les Misérables, Life of Pi, Lincoln, Skyfall
WILL WIN: Skyfall
SHOULD WIN: Life of Pi
BEST VISUAL EFFECTS
THE NOMINESS: The Hobbit: An Unexpected Journey, Life of Pi, Marvel's The Avengers, Prometheus, Snow White and the Huntsman
WILL WIN: Life of Pi
SHOULD WIN: Prometheus
BEST DOCUMENTARY SHORT
THE NOMINEES: Inocente, King's Point, Mondays at Racine, Open Heart, Redemption
WILL WIN: Inocente
SHOULD WIN: Redemption
BEST LIVE ACTION SHORT
THE NOMINEES: Azad, Buzkashi Boys, Curfew, Death of a Shadow (Dood van een Schaduw), Henry
WILL WIN: Curfew
SHOULD WIN: Curfew
BEST ANIMATED SHORT
THE NOMINEES: Adam and Dog, Fresh Guacamole, Head Over Heels, Maggie Simpson in "The Longest Daycare", Paperman
WILL WIN: Paperman
SHOULD WIN: Paperman
- Portions of this article reprinted courtesy of the SGN in Seattle
Article posted on Feb 22, 2013 | Share this article | Top of Page
Copyright © 1999-infinity MovieFreak.com
---