FEATURE ARTICLE

Top 10 Anticipated Films of 2010

Rating: Various

Distributor: Various

Released: Various

Written by Rachel Sexton
Contributing Writer
www.moviefreak.com
2010 Preview
Rachel's Top Ten Most Anticipated Movies
You all know by now that I like to do this every year, choose the ten films I am most excited about seeing. I imagine for many film fans the list can't be that different so in random order I offer up my choices for a new year.

1. Harry Potter and the Deathly Hallows: Part 1 (Nov 19)
Even non-Potter enthusiasts know that this is it, the first of the two films that will end the franchise that has been an unparalleled critical and financial success (Part 2 is scheduled to be released July 2011). A bonus is the fact that this finale is probably the best of J.K. Rowling's series, a book filled with epic action set-pieces and intimate emotion. The first glimpse on the recently released Harry Potter and the Half-Blood Prince DVD and Blu-ray suggests that the best has indeed been saved for this two-part grand conclusion.

Daniel Radcliffe, Rupert Grint and Emma Watson return for Warner Bros' Harry Potter and the Deathly Hallows: Part One

2. The Twilight Saga: Eclipse (June 30)
Also raking in astounding sums of money is this female-centric franchise about vampires and werewolves based on Stephenie Meyer's four book series. This third installment is a summer release, and it escalates the battle for the affections of heroine Bella (Kristen Stewart) between vampire Edward (Robert Pattinson) and werewolf Jacob (Taylor Lautner). Stewart is an overrated actress and the material veers toward the melodramatic but there is a potent pull in the backstory while the continued development of the love triangle helps give this entry its potential.

Robert Pattinson and Kristen Stewart continue their romance in Summit Entertainment's The Twilight Saga: Eclipse

3. Iron Man 2 (May 7)
Given the unpredictable ending of the first installment in which billionaire inventor and playboy Tony Stark (a perfectly cast Robert Downey Jr.) admitted to the world "I am Iron Man," what could possibly happen next? Well, how about two villains played by Mickey Rourke and Scarlett Johansson? How about Stark's friend Jim Rhodes (played by Don Cheadle, taking over for Terrence Howard) strapping into a suit himself? Oh, and of course, there's Tony, keeping his cool insouciance as he does it all. [Theatrical Trailer]

Robert Downey Jr. is back courting danger in Paramount Pictures' Iron Man 2

4. Prince of Persia: The Sands of Time (May 28)
The second part of the title is a giveaway that the size and cost of this video game adaptation from Disney has everyone hoping for a franchise. Jake Gyllenhaal's buffness in the lead role certainly won't hurt in bringing in the ladies, a demographic an action-blockbuster like this doesn't usually cater to. Plot-wise, Gyllenhaal's title character helps a Princess save the world. The trailer footage released so far offers vast visuals and a bit of romance, so this film could very well be something for everyone. [Theatrical Trailer]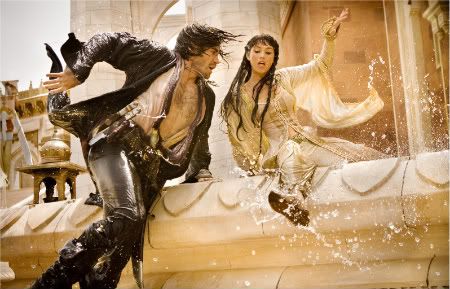 Jake Gyllenhaal and Gemma Arterton in Walt Disney Pictures' The Prince of Persia: The Sands of Time

5. Clash of the Titans (March 26)
In 1981, Harry Hamlin and Burgess Meredith starred in the original Clash of the Titans alongside a robed Laurence Olivier as Zeus. This remake, based on the trailer footage, looks to be thoroughly more violent and epic. Sam Worthington, an actor I've liked since Bootmen and who recently impressed in Avatar, takes the lead role of Perseus. He must go on an expedition to find the only way to stop the sacrifice of his love Andromeda, played here by Alexa Davalos. Liam Neeson as Zeus and Ralph Fiennes (Voldemort to Harry Potter fans) as Hades costar. [Theatrical Trailer]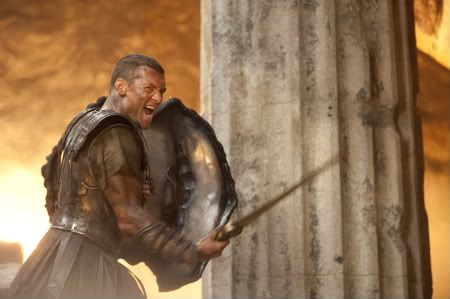 Sam Worthington in Warner Bros' Clash of the Titans

6. Robin Hood (May 14)
Yes, countless versions of the rebel of Sherwood Forest have been filmed, but this May, Ridley Scott and Russell Crowe take their turn. It also doesn't hurt that one of the best actresses alive, Cate Blanchett, is playing Maid Marian. The clips released so far reveal all the action you'd expect but also a mature tone that should blend well with the medieval setting. Brian Helgeland (the writer behind L.A. Confidential) penned the script, so chances are excellent that this Robin Hood will be something special. [Theatrical Trailer]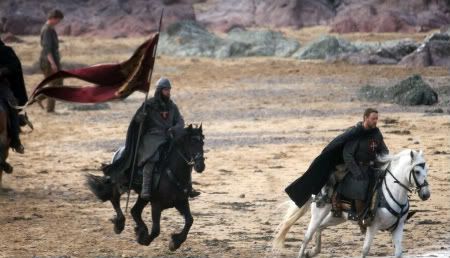 Russell Crowe is an outlaw in Universal Pictures' Robin Hood

7. Never Let Me Go (Fall TBD)
Kazuo Ishiguro's unforgettable novel gets adapted for the big screen by director Mark Romanek and stars Keira Knightley and Carey Mulligan, two actresses who previously played sisters in 2005's Pride and Prejudice. This is Mulligan's chance to play the lead, and she is ripe for it given her recent awards success for An Education. I won't give away too much about the plot, but it is haunting and unpredictable, and it should say a lot that I am including this fall release on this list without having seen one frame of footage.

8. Toy Story 3 (June 18)
Buzz Lightyear and Woody are back! And so are Tim Allen and Tom Hanks to voice them in this third adventure from Disney and Pixar. The original Toy Story was the first computer-animated film in history released by a major studio, and Pixar has now cultivated that medium into an art form in which it can do no wrong. Fans will remember that when we last left the toys, Woody had met the rest of his cowboy toy set and Buzz found out that Emperor Zurg was his father. Oh, and Barbie showed up! [Theatrical Trailer]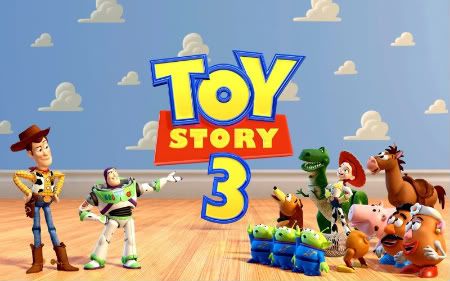 The toys are back in town in Walt Disney Pictures/Pixar's Toy Story 3

9. Alice in Wonderland (March 5)
Director Tim Burton once again lends his unique dark and wondrous visual aesthetic to a children's classic and also, once again, Johnny Depp is with him, this time starring as the Mad Hatter. Anne Hathaway and Helena Bonham-Carter are also in the cast for this adaptation that promises to be at least the most eye-popping release in March. Early footage hints at spectacle that justifies the release in IMAX and 3-D making March 5 a very important date indeed. [Theatrical Trailer]

Mia Wasikowska enters a strange new world in Walt Disney Pictures' Alice in Wonderland

10. Leap Year (January 8)
My guilty pleasure and most unexpected pick of 2010 is this January romantic comedy. The infinitely endearing Amy Adams stars (always a good thing) and British cutie Matthew Goode (last seen in Watchmen) is her leading man. Adams' character goes to Ireland to propose to her boyfriend on Leap Day (an old Irish tradition) but has misadventures along the way that lead her to Goode's Irish innkeeper. The clips look funny, romantic and a bit sexy which is definitely not bad for an early January release. [Theatrical Trailer]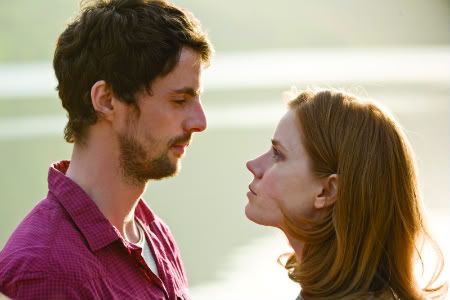 Matthew Goode and Amy Adams in Universal Pictures' Leap Year