Senior Theatrical Editor
www.moviefreak.com
Decade in Review, Part Three (30–21)
I look at the work Pedro Almodóvar has done this decade and I am in awe. Sure, other filmmakers have had a pretty decent run (I'm talking about you Christopher Nolan, Peter Jackson, Alfonso Cuarón, Wong Kar Wai, Steven Soderbergh, Brad Bird and Ang Lee), but the guy I keep thinking about is the esteemed filmmaker from Spain.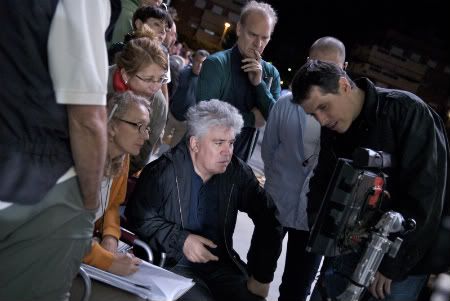 Pedro Almodóvar (center) on the set of Sony Pictures Classics' Broken Embraces
I say this the day after watching his latest genre-busting opus Broken Embraces and I'm still having trouble verbalizing the effect it's had on me. It is another spectacular achievement for the filmmaker, moving between comedy and drama and thriller and all things in-between with such relative ease my mouth is still slightly open in astonishment.
Almodóvar hasn't been sitting on his laurels. Back in 1997 he emerged from a period of relative decline with the stunning sexually charged thriller Live Flesh. From that point on he has been re-energized, and from All About My Mother to Talk to Her to Bad Education to Volver to Broken Embraces the level of creativity he's maintained is phenomenal. No other filmmaker has come close in my opinion, and while many have had fantastical highpoints few have managed to belt it out of the park each and every time.
I've not always been the Spaniards biggest fan. I look at his early efforts and only Women on the Verge of Nervous Breakdown stands out to me, and even if I've always appreciated Almodóvar's fearlessness that doesn't mean I'm going to sing the laurels of Matador or Labyrinth of Passion just because they defy convention.
But what I have always appreciated is the man's cinematic skill. Even lesser efforts like The Flower of My Secret or High Heels sparkle with innovation, while Tie Me Up! Tie Me Down! gloriously takes no prisoners while daring its audience to not turn away. Almodóvar is also as master at handling actors, Carmen Maura, Antonio Banderas and Penélope Cruz all giving their best performances under his direction.
That's why Pedro Almodóvar is my director of the decade. Right now I've got three of the four films he's made during this period on this list, and I can imagine if I were to revisit it again in a couple years that missing fourth one would probably make the grade as well.
With all that said, here are my picks for 30 thru 21:
30. House of Flying Daggers (2004)
Zhang Yimou's amazing saga of love and destiny is a passionately romantic martial arts masterwork defying both gravity and convention. While Ang Lee's Crouching Tiger, Hidden Dragon stole most of the genre's thunder back in 2000, looking back this is the movie I think where all the elements ultimately came together in near-perfect fusion.

Zhang Ziyi in Sony Pictures Classics' The House of Flying Daggers
29. The Prestige (2006)
What is truth? What is fiction? Those are the central questions haunting the characters trying to make their way through the twisted labyrinth of Christopher Nolan's beautiful The Prestige. Heroes become villains while mentors discover tragedy in the hearts of their best pupils. The whole script is a gigantic puzzle box of deceit and deception, while Wally Pfister's stunning cinematography adds mesmerizing layers to this film's intoxicating mysteries.

Christian Bale and Hugh Jackman in Touchstone Pictures' The Prestige
28. Bad Education (2004)
My final Almodóvar entry, this delightfully nasty gender-bending noir gets better the more I think about it. A fever dream of lust and larceny, this film both celebrates its genre while also busting it to pieces on its sequin strewed floor. There is sex. There is violence. There is love and desperation. The melodrama is fueled with emotions of all shapes, colors and sizes, all of it coming together to create a glorious Spanish stew that titillates and devastates in a single, staggeringly tragic bite.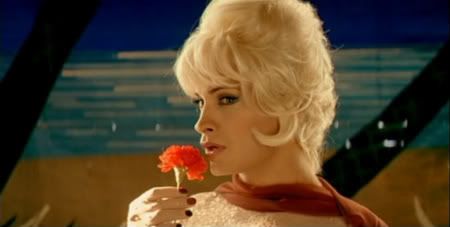 Gael Garcia Bernal in Sony Pictures Classics' Bad Education
27. The Hurt Locker (2009)
Here's what I said about Kathryn Bigelow's Iraq War masterpiece The Hurt Locker back in June: "Fueled with adrenaline, powered by an almost volcanic sense of pace, the raw visceral power of this intense thriller is a powder keg of raw fury and sweat-stained terror." Having seen the film three times in the theater I still think that quote sums it up best, the acclaimed filmmaker crafting a masterpiece maybe even rivaling her underappreciated 1995 sci-fi classic Strange Days.

Things get explosive in Summit Entertainment's The Hurt Locker
26. The Edge of Heaven (2008)
In my opinion, director Fatih Akin is flying much too far under the radar, his 2008 stunner The Edge of Heaven arguably his best effort yet. This multigenerational three-part stunner knocked me out when I saw it at that year's Seattle International Film Festival at a press event, so much so I ended up attending both of its public screenings during the festival. Its poignant final image has left a haunting imprint, the debates that climax generated some of my favorite from this decade.

Patrycia Ziolkowska and Nurgul Yesilçay in Strand Releasing's The Edge of Heaven
25. Far From Heaven (2002)
In my mind, Douglas Sirk was standing in his grave cheering the moment Todd Haynes' incredible Far From Heaven had its first screening. This magnificent epic of loss, racism, homophobia and regret is a startling peon to a 1950's style of filmmaking that many have tried to emulate but very few have succeeded in doing so. Star Julianne Moore's heartbreaking performance is to my mind her finest hour, while Dennis Quaid and Dennis Haysbert are so good in support of her they virtually disappear inside their complicatedly conflicted characters.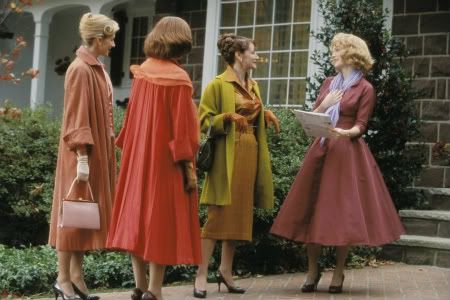 Julianne Moore (far right) in Focus Features' Far From Heaven
24. Moulin Rouge! (2001)
Why did gonzo Australian director Baz Luhrmann make a wild a crazy musical like Moulin Rouge!? Because he can, can, can, that's why. In all seriousness, if you want to start a discussion about how the musical reemerged as a viable genre this decade you can start here. While not a massive success, I seriously doubt movies like Chicago, Mamma Mia!, Hairspray and the upcoming Nine would have even seen the light of day had Luhrmann not unleashed the green fairy upon a luminous Nicole Kidman and a dynamite Ewan McGregor. Relentlessly over the top, this movie is nonetheless a strikingly romantic achievement that's unforgettable, and almost ten years later the joy I feel while watching it a raucous tango I don't ever want to end.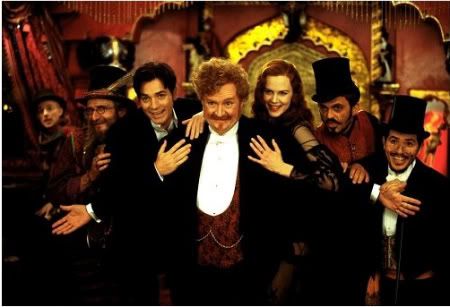 It's spectacular, spectacular in 20th Century Fox's Moulin Rouge
23. The Incredibles (2004)
Is there a better depiction of pure bliss then the look on youngster 'Dash' Parr's face as he realizes he's literally running on water? I vote no, and this is only one moment of many in director Brad Bird's remarkable computer animated achievement that makes this movie so worth celebrating. I could go on and on, but the simple fact is this Pixar marvel celebrates the heroism of being a family like nothing else this decade. Oh. One more thing. No capes!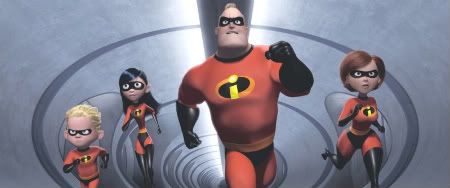 The Parr family sprints into action in Walt Disney Pictures/Pixar's The Incredibles
22. The Bourne Ultimatum (2007)
Both Batman and James Bond got themselves reinvented this decade, but as great as those reboots turned out to be neither of them could live up to the standard set by one-time Cold War literary antihero Jason Bourne. While all three chapters of this series are worthy of applause, this third one to my mind the best, director Paul Greengrass, star Matt Damon and screenwriters Tony Gilroy, Scott Z. Burns and George Nolfi achieving a balance between action, drama and suspense that's awfully tough to equal let alone surpass. A modern marvel, as franchises go the saga of Jason Bourne is the one to which all others are going to be judged against for quite some time.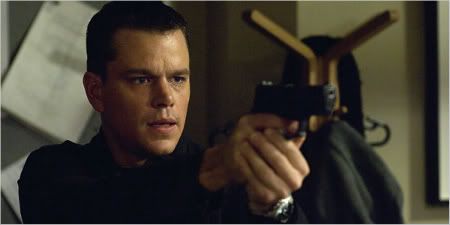 Matt Damon takes aim in Universal Pictures' The Bourne Ultimatum
21. In the Mood for Love (2001)
While I personally find Wong Kar Wai's Chunking Express to be his most invigorating effort, In the Mood for Love is so lyrically mesmerizing taking my eyes off of it proves to be an impossibility every time out. Both Maggie Cheung and Tony Leung steam up the screen, while Christopher Doyle's sumptuous photography is as dreamlike and ephemeral as the central romance is sizzling and passionate. Moving at its own methodical pace this movie raises my temperature to boiling within the first 15 minutes, its romantic lyricism a thing I willingly revel in.

Maggie Cheung and Tony Leung in October Films' In the Mood for Love