FEATURE ARTICLE

New Blu's On the Block - 10/19/10

Rating: Various

Distributor: Various

Released: Oct 19, 2010

Written by Sara Michelle Fetters
Editor-in-Chief
www.moviefreak.com
New Blu's On the Block
Blu-ray and DVD Releases for Oct 19, 2010
There are six major releases hitting Blu-ray today, and according to who you speak to any one of them could be the week's number one highlight. The film that almost killed Frances Ford Copolla? Without question. An Akira Kurosawa classic that many feel is one of the most influential motion pictures of all time? Certainly. An Alfred Hitchcock shocker with much-talked about mid-movie twist and a shower scene to die for? I'm not sure that's even a question. A pair of Baz Luhrmann favorites one of which helped revive the moribund movie musical genre? It's a song with a very strong melody, that's for sure. A midnight sensation that made doing the "Time Warp" in high heels and fishnets kosher the world over? I may not understand the fascination but a person can't deny its continued influence and importance.
So which one to lead with? For me it comes down to legacy and pedigree, and with Kurosawa, Hitchcock and Copolla you're talking about three of the most important filmmakers to ever take up a place behind the camera.
Criterion's Blu-ray release of the 1954 Akira Kurosawa masterpiece Seven Samurai is simply out of this world. The upgrades in both picture and sound over all previous releases is revelatory, and in many ways watching it for review (Seven Samurai Blu-ray Review) was like seeing it for the very first time. There's so much one could say about the film and its importance, but the simple fact is that even at a lengthy 209-minutes the movie is spectacularly entertaining, moving from scene to scene with mesmerizing grace. It is a character-driven action film with an emotional core that grabs hold of the viewer by the throat and then refuses to let go. One of my favorite films, this is a motion picture anyone with even just a passing interest in quality entertainment should do their darndest to see.
This two-disc collection comes packed with special features, most of them carried over from the previous standard definition release, including a pair or audio commentaries, three outstanding documentaries and a 60-page booklet containing essays and insights from critics, historians and filmmakers including Sidney Lumet, Kenneth Turan, Arthur Penn and Toshiro Mifune.
Psycho (1960)
Just about everything I wrote about Seven Samurai could be transposed to Alfred Hitchcock's mesmerizing psychological horror classic Psycho. This is one of those motion pictures where people who haven't seen it know just about everything about it, getting scared by just the very thought of what happens to one of its main characters in the shower even if they've never witnessed the raw power of the scene for themselves. It's a film just about every modern horror filmmaker has borrowed – if not outright stolen – from, and a movie whose lingering, almost melancholy beats sends shivers up and down my spine just sitting here now thinking about them.
Universal Pictures brings Psycho to Blu-ray with apparently somewhat mixed results. While everyone is an agreement this is the best the film has ever looked and sounded, Jeffrey Welles over at Hollywood Elsewhere can't stop complaining about the aspect ratio while Jeffrey Kaufman and Blu-ray.com takes minor issues with the studio's visual transfer of their catalog classic. But overall the word on this one is still quite strong, and as Universal didn't send it to us for review I'm not even slightly ashamed to admit I've already pre-ordered this title over at Amazon so I can add it to my own personal library.
Apocalypse Now (Three-Disc Full Disclosure Edition)

Frances Ford Copolla's mind-blowing 1979 sort-of adaptation of Joseph Conrad's Heart of Darkness is a movie that simply must be seen to be believed. Again, this is a motion picture where elements have entered the public lexicon to the extent I know teenagers who quote Robert Duvall's famous, "I love the smell of napalm in the morning," line without even knowing what movie it actually belongs to. Containing the greatest performance of Martin Sheen's career as well as one of the most bizarre and sensationalistic ones ever given by the great Marlon Brando (which, in my opinion, suits the hyper-realistic and mentally disintegrating tone of the film perfectly), this is a war picture that really does go straight into the mouth of madness and refuses to blink.

Available in two different editions, the one I'd urge people to pick up is the massive three-disc edition that contains a copious amount of special features (many of which have never been released before) but also Fax Bahr and George Hickenlooper's fascinating 1991 documentary Hearts of Darkness: A Filmmaker's Apocalypse. By all accounts this is close to being the Blu-ray event of the year, and a collection I am just aching to get a look at.

Read more in Mitchell's Apocalypse Now - Two-Disc Special Blu-ray Review.
William Shakespeare's Romeo + Juliet

Say what you will about Aussie director Baz Luhrmann, but one thing's for certain the guy makes movies with an distinctive stamp all his own. Moulin Rouge! and William Shakespeare's Romeo + Juliet are arguably his two most popular motion pictures, both hitting Blu-ray for the very first time today. In regards to his 2001 Oscar-winning musical, this Ewan McGregor/Nicole Kidman treasure has a visual flair and a kinetic energy difficult to dismiss. More than that, though, it is an emotionally compelling tragic love story that swept me completely off my feet and is a movie I can return to again and again without ever growing tired of. In fact, I listed it twenty-fourth on my list of Top 50 Favorite Films of 2000-2009, and in retrospect if I had to write that column again I'd probably move it up into the top 20.

As for his 1996 adaptation of Shakespeare's timeless classic, I'm not about to say that this Leonardo DiCaprio/Claire Danes tragedy is one of my favorites. What I will say is that it does have a compulsive energy I did respond to and a performance by Danes that breaks my heart every time I watch the film. But the movie is extremely wild, and not always in a good way, and much of the time I feel like the actors are all shouting the lines to one another instead of expressing them in any sort of emotionally meaningful way. But the movie did signal that Luhrmann was a director who was more than a one trick Strictly Ballroom pony, and even though it's not a movie I'm completely happy with it's one I can still watch again and again with little to no effort whatsoever. I've been informed we just received both these titles from Fox so expect full reviews of each very, very soon.
Here's what I said about director Nimród Antal and producer Robert Rodriguez's Predators back in July (read my full review here): "[Predators] is fun and I did have a good time, and as matinee entertainment is concerned [it] does deliver on a fairly respectable scale. Just don't go in expecting anything more than a moderately enjoyable diversion, those rushing into the theatre with higher aspirations then that will only have themselves to blame when at the end disappointment is the prey they're ultimately able to hunt down."
Oceans is the second DisneyNature documentary, the first being Earth, an exploration of the Earth's five oceans and the ocean animals inhabiting them in directors Jacques Perrin and Jacque Cluzaud's film that is just as mesmerizing visually as the BBC's Planet Earth series. While comparisons could be drawn, depending on the individual viewer's perceptions, the documentary was shot independently of the series. Pierce Brosnan lends his voice to the narration. Furthermore, this Disney release features an edited-down version of Oceans, which is twenty minutes shorter than the international cut. You can read Sara's highly positive theatrical review of Disney's domestic cut of the film by clicking here.
-written by Dennis Crane
The Rocky Horror Picture Show (35th Anniversary, Blu-ray Book)

This thirty-fifth anniversary edition of the 1975 midnight sensation is a collection Rocky Horror Picture Show fanatics are going to want to snatch up immediately. While not one of my personal favorites (and a movie I've never really understood the fascination behind), Fox's Blu-ray presentation of the film is nonetheless extraordinary. Picture and sound quality are out of this world, while the special features are so extensive I'm almost inclined to change my opinion of the film itself. While that's not going to happen, what is undeniable is the influence this underground Rock and Roll musical continues to have almost four decades after its original release. I'll have a full review of the Blu-ray soon so expect more on all of that, as well as this discs fantastic extras, very soon.
I imagine Nicole Holofcener's Please Give is a title that will grow on me more and more in time. When I reviewed if back in June (read it here) I commented that the movie offered up, "a twisted narrative structure featuring a flurry of characters going through various states of emotional turmoil that just about everyone at some point in their lives can relate to. Good morals, parental responsibility, personal character, romantic entanglements, lust, obsession and good old fashioned midlife crises all come into play here, the final product at once both awkwardly funny and unexpectedly moving." Definitely worthy of a look, especially for fans of the great Catherine Keener and the criminally underrated Oliver Platt, I hope to have more to say about this Blu-ray release soon as I was informed the disc just arrived in our office for review over the weekend.
Wallander: Season 2 (Faceless Killers/The Man Who Smiled/The Fifth Woman)
Based on the popular Kurt Wallander books by Swedish author Henning Mankell, Kenneth Branagh returns as the sensitive but brilliant detective in three new, 90-minute movies, tackling different but equally challenging cases. Branagh is sensational as Wallander in a melancholy type of way, a commanding performance that keeps the viewer engaged and rooting for him; a man whose sense of justice means he will stop at nothing in his discovery of the truth, more often than not at the expense of his own health, and his relationship to his daughter and his ailing father.
While not quite as powerful as the stories in the first season, the second season stories remain interesting and highly suspenseful; the brutal murder of an elderly couple sparks vigilantism against a local community of migrant workers as Wallander and his partner try to uncover the mystery in Faceless Killers; Wallander is asked to investigate the apparent suicide of a friend's father that happened under odd circumstances, but finds resentment from his colleague for intruding on the case in The Man Who Smiled; a series of torture-murders that had no obvious connection at first leave Wallander and his colleagues wondering if they might be dealing with a serial killer after more victims are found, and outside of work Wallander grows fond a dejected woman, a potential suspect, in The Fifth Woman.
Wallander is an extremely engaging drama series that is beautifully photographed on location in Sweden, and excellently written and directed, not to mention expertly acted. Simply put, it's a great mystery series that comes highly recommended, a must-own for those with an affinity for the mystery genre.

The second season of Wallander is the first that's being released on Blu-ray, and hopes are high that the slightly more superior first season will see a high-def release here in the States, preferably sooner than later; it's available in Region 2. Unfortunately BBC was not able to supply us with a review copy (our request is still pending), so we cannot comment on the high-def picture/audio quality or bonus materials.
-written by Dennis Crane
If anyone wondered what happened to "Greatest American Hero" star William Katt, apparently he is stranded acting in straight-to-DVD horror titles like this week's Mirrors 2. I was quite fond of the Kiefer Sutherland starring, Alexandre Aja (Piranha 3D, The Hills Have Eyes) directed 2008 original until it went wildly off the rails during the climax, but even so if any movie called for a sequel less than it I'm not exactly sure what that title might be. Still, I'm intrigued to give this one a look if only because this collection includes the 2003 Korean film Into the Mirror (Geoul sokeuro) as a bonus feature. The movie on which Aja's was based upon, I'm extremely interested to see this horror opus directed by Sung-ho Kim, and as I'm expecting to get this collection from Fox any day now hopefully that glance will happen soon.
Night of the Demons (2009)
In this remake, Edward Furlong, Monica Keena and Shannon Elizabeth party hearty at a decadent Halloween event at the infamous Broussard Mansion in New Orleans. When the police break up the fun, some guests stay behind, trapped inside the locked mansion gates. They soon uncover a horrifying secret and one by one fall victim to seven violent, blood-thirsty demons. If you're a horror fan, this one might be of interest. Doug Alpern will be covering the Blu-ray next week.
-written by Dennis Crane
The Crimson Wing: The Mystery of the Flamingos

Released in conjunction with Oceans, this DisneyNature production takes viewers to the isolated shores of Lake Natron in northern Tanzania for a birds-eye view of the mysterious lives of flamingos. The footage I've seen from the film looks extraordinary, and I was really hoping Disney would send us this title for review as I absolutely adored Oceans and have heard this one is nearly as wonderful. As this didn't happen, I guess it will have to go into the Netflix queue and I'll hopefully get around to watching it sometime in the very near future.
Harry Potter and the Prisoner of Azkaban (Ultimate Edition)
Harry Potter and the Goblet of Fire (Ultimate Edition)
Well, the fans are certainly not going to buy these sets, the general consensus being that they feel cheated, as evidenced by comments over at Amazon. The studio has upset them dearly, opting for some reason (more on that in a bit) not to release the third and fourth films in "extended editions" like the previous two and slapping the 'Ultimate Edition' label on the box anyhow, and that is just inaccurate; an extended version of a movie would fall into that 'ultimate' category.
Both are 3-disc sets, only the third disc holding any kind of new bonus material, made up of various featurettes and 'additional scenes', quite possibly the same scenes that fans complain were not edited back into the movie as 'extended editions'. In terms of the "collectibles" aspect of these boxed sets, Azkaban features a 48-page Creates photo book and Goblet a 44-page Sound & Music photo book with rare images from years 1-7. I suppose those who don't own ANY of the previous releases might want pick up these sets, but is there anyone left on this planet that does?
-written by Dennis Crane
OTHER NOTABLE RELEASES
NOTABLE DVD RELEASES
If any film being released on DVD this week deserved a Blu-ray edition as well it has to be Alejandro Amenábar's visually resplendent Agora. This is a film that popped right off the screen when I saw it in a theatre, its combination of exquisite production design, eye-popping sets, stupendous visual effects, elegant costumes and sumptuous cinematography was almost without par, the very look and feel of everything so immersive it came very close to blowing my mind. As for the film itself, I wrote back in May (read my full review here) that, "For all its massive scope, the message Agora chooses to deliver is in the end a relatively simple one. It looks at religion with a remarkably cynical eye, going out of its way to showcase how intolerance can lead to unimaginable bloodshed and persecution is almost always the precursor to a civilizations downfall." A movie that I certainly feel should be seen, I just as strongly wish it would have gotten a hi-def showcase in order to showcase its chief assets to their fullest potential.
Accidentally on Purpose: The First Season
Broadcast on ABC and distributed by Paramount, Accidentally on Purpose is a half-hour comedy series that revolves around Billie (Jenna Elfman), a San Francisco film critic, being knocked up by a young man named Zach (Jon Foster) after a hard breakup with her boss James (Grant Show). Together, Billie and Zach make a nontraditional arrangement to live together platonically and raise the child, but when his friends turn her place into a frat house, Billie wonders if the plan has any chances of working out.
-written by Dennis Crane
Pee-Wee's Playhouse: The Complete Collection
Fans can now see Miss Yvonne, Cowboy Curtis, Jambi the Genie, Captain Carl, Reba the Mail Lady, Tito, the King of Cartoons and the rest of the gang in all 45 episodes of Pee-Wee's Playhouse collected in Volumes 1 and 2, plus the Christmas Special. The show that enchanted millions of children and adults alike won 22 Emmy Awards during its six-year run. Sorry if I can't say more about this, but I've never seen a single episode. Yep, crazily enough, true story. Essentially it's the fans who will be interested in this collection, and it doesn't matter what I say, or don't say. Haha.
-written by Dennis Crane
Dario Argento's (Suspiria, Tenebre) latest stars Adrien Brody as an Italian police inspector who aids a woman find her missing sister he fears has been abducted by a serial killer known only as, "Yellow," because of his jaundice skin. Argento hasn't made anything worthy of note in eons, but that doesn't mean I still won't give this one a look. His stylish horror films, even the horrible ones, are always good for at least a moment or two of extreme shock and spine-tingling awe, and even though the buzz isn't exactly good for this one I'm still throwing it into the Netflix queue all the same.
Director Leon Gast's (When We Were Kings) new documentary focuses on the life and career of Ron Galella, a famous paparazzi who was sued by Jacqueline Kennedy Onassis and saw his jaw broken by Marlon Brando. I've heard great things about this one but sadly was never able to give it a look. I'll add it to the Netflix queue and hopefully remedy that before the end of the year.
The Sun Behind the Clouds: Tibet's Struggle for Freedom

Another documentary, this time one I have seen but for whatever reason never felt compelled to write a full review about back during its limited theatrical release, this one concerns the ongoing plight of Tibet 50 years after its fall to the Chinese and the exiling of the Dalai Lama. A lot of it is unquestionably fascinating, and the quality of the interview subjects the filmmakers have been able to lineup is without par. For those interested to know more about the history of the Tibet-China confrontation and what the current status of any sort of solution (if any) there might be this movie is without question worthy of a look, just don't expect it to blow you away or tell you a heck of a lot you probably didn't know going in.
Dolph Lundgren directs, and stars as Edward Genn, a divorced Vancouver father and investment broker who also happens to be the infamous KGB-trained assassin known as Icarus . But when his two worlds collide in a storm of bullets, bloodshed and betrayal by the Russian Mob, Icarus reloads for the most personal and punishing contract of his entire career. When revenge is not enough, how far will a one-man death squad go to get even?
-written by Dennis Crane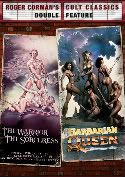 The Warrior and the Sorceress / Barbarian Queen
Another B-movie double-feature from the Roger Corman vault via our friends at Shout! Factory, this release is only available via their website for the time being. It's easy to see why, of course, as this pair of post Conan the Barbarian low budget fantasy schlock epics aren't exactly mindblowers. The Warrior and the Sorceress is nothing more than a Yojimbo / Fistful of Dollars remake filled to the brim with nudity galore and very little blood to speak of featuring a performance by star David Carradine that's more or less intentionally a take on his Caine character from "Kung Fu." It's all rather boring, and other than the fact Maria Socas wanders around the whole thing practically naked for the entire running time there's not a lot to recommend it.
As for Barbarian Queen, this one's at least a tiny bit more fun. Starring the late B-movie goddess Lana Clarkson the film revolves around a peaceful community ransacked by an evil warlord and the well proportioned princess, Amethea (Clarkson), who assembles a team of fellow female survivors to exact their revenge upon him and hopefully free their surviving male compatriots in the process. The movie is pulpy, grossly sensationalistic fun that revels in its own glorious depravity. The film also features a rousing score by James Horner and Christopher Young of all people, all of which helps up the enjoyment level to a whole other plateau entirely.
| | | |
| --- | --- | --- |
| | | |