FEATURE ARTICLE

New Blu's On the Block - 11/2/10

Rating: Various

Distributor: Various

Released: Nov 2, 2010

Written by Sara Michelle Fetters
Editor-in-Chief
www.moviefreak.com
New Blu's On the Block
Blu-ray and DVD Releases for Nov 2, 2010
November is starting off with a bang. Not only do we see the release of the top grossing film of 2010 (as well as the biggest animated hit of all-time), there are also Blu-ray debuts for a legendary musical, a David Lean masterpiece, a Bing Crosby Christmas favorite, a 1980's Steven Spielberg/Richard Donner family adventure that's had long-lasting appeal, HBO's massive return to the battlefields of WWII (also produced by Spielberg), a fantasy-adventure that made, "there can be only one," a catchphrase and a Dick Van Dyke perennial revolving around a flying car.
So it's not quite as stunning a lineup as the first Tuesday of October offered up, but it's still pretty fantastic. Better, it leads off a month filled with goodies ranging from Charlie Chaplin's Blu-ray debut to that ultimate edition of Avatar a lot of fans have apparently been clamoring for. With that out of the way, here's what's on tap for this week's edition of New Blu's On the Block.
Toy Story 3 (Two-Disc Blu-ray)

Toy Story 3 (Four-Disc Blu-ray/DVD Combo + Digital Copy)

To say I adored this movie would be an understatement. When I reviewed the film back in June (read the whole thing here) I wrote, "With the sensational Toy Story 3, Pixar has done the impossible. Not only have they crafted a tale (thanks in large part to Little Miss Sunshine scribe Michael Arndt) that's every bit as everlasting as the two previous motion pictures, they've weaved a parable about youth, young adulthood and aging that's spectacular. These characters, this story, has matured at arguably the same rate as each installment as hit theatres, the level of insight to be found bordering on the breathtaking."

None of that has changed. Without question this is one of the best films of 2010, and I imagine Disney/Pixar's Blu-ray presentation is going to be just as wondrous as their editions of the previous two Toy Story adventures were. Dennis will have a full review of the title for you soon, but until then just know that as superlative entertainment is concerned a person simply can't go wrong picking up a copy of the instantly classic Toy Story 3.
Speaking of classics, when discussing the works of the legendary David Lean his 1957 Oscar-winning masterwork The Bridge on the River Kwai is certainly a title that cannot be dismissed. If Lawrence of Arabia is his greatest achievement, than this fellow WWII drama is arguably right behind it. Put simply, this dual tale of an American serviceman (William Holden) grudgingly going back to a Japanese POW camp to blow up a bridge and of British officer Colonel Nicholson (Best Actor winner Alec Guinness) engaged in a battle of wills with the camp's commandant Colonel Saito (Sessue Hayakawa) in regards to both the treatment of his men as well as the building and design of said bridge.

The movie works on multiple levels and is easily one of the greatest epic masterpieces of all-time. By all accounts, Sony's Blu-presentation is beyond sensational. The review on Blu-ray.com is highly positive, while the one by DVD Beaver critic Gary Tooze extols the virtues of the studio's audio and visual transfers. Unfortunately, a review copy never came into our office, but based on those recommendations alone (as well as the relatively cheap $20 price currently listed at Amazon) this is one picture I'll be adding to my own library sooner rather than later, that's for sure.
I'm expecting this one to arrive any day now as I've been promised it's on its way, so expect my review to be online not too long after I get my hands on it as I can't wait to see if the hills are just as alive with the sound of music in high definition as they have been both in the theatre, on television and with previous DVD editions. In other words, I'm a huge fan of this 1965 Robert Wise classic starring the great Julie Andrews and the absolutely perfect Christopher Plummer and just the thought of seeing it on Blu-ray has my pulse racing at the speed of light. I know just about every song by heart, can recite much of the dialogue and as family epics go this, for me at least, it is easily one of the most blissfully entertaining. Here's hoping Fox's transfer of the title to high definition does it ample justice.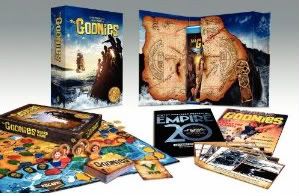 The Goonies - 25th Anniversary Ultimate Collector's Edition
The Goonies is a wonderful film, appropriate for all ages, and I remember it fondly; a group of friends on an adventure which takes them to unexpected and dangerous places. This Collector's Edition features "a pirate's hoard of collectibles" as you can see from the image above. They are: an exclusive board game, a 64-page reproduction of The Goonies 1985 souvenir magazine, a reprint of Empire Magazine's The Goonies "Where Are They Now?" article, 10 storyboard cards, and the Blu-ray disc. Besides that, no new value-added material has been created for the movie itself, unfortunately; those hoping for a retrospective documentary will be truly disappointed. Bonus material featured on the Blu-ray is a director and cast commentary, a making-of featurette and a music video. A review of the set will be posted next week.

-written by Dennis Crane
The Pacific (2010)
This amazing miniseries from HBO is all kinds of incredible, a perfect companion piece to Band of Brothers. In a span of 10 one-hour episodes, viewers will witness a most savage war being fought and soldiers enduring both hell and insurmountable pain, both mentally and physically. The Pacific is extremely graphic, as it should be, and features a compelling cast of characters, made so by the great writing of Bruce C. McKenna and the other writers. Be prepared for an emotional final episode, one that moved me to tears. The visual and auditory aspects of the Blu-ray are just superb, and the bonus material includes a making-of featurette and also offers a great deal of interesting historical background via either an interactive field guide or the enhanced viewing mode. A full Blu-ray review is forthcoming.
-written by Dennis Crane
Someone needs to explain to me the enduring appeal of 1954's White Christmas. The movie is nothing more than a thinly veiled, far less engaging remake of 1942's Holiday Inn. While both pictures star Bing Crosby and feature the music of Irving Berlin, the latter is the far more entertaining, far more heartfelt, far more romantic and, ultimately, far more emotionally rewarding motion picture. Yet this Technicolor extravaganza is the one people for some reason continue to watch, and for the life of me I've never been able to figure out why. Nonetheless, here comes Paramount's Blu-ray presentation of the film and by all accounts (check out the review at Blu-ray.com) they've done a masterful job. So, if you are a fan of White Christmas than I guess you'll want to pick this disc up. As for me, I'll keep hoping Universal will give Holiday Inn the hi-def transfer I keep hoping it will someday get.
Back in August (read my full review here) I wrote that Centurion was, "Not so much a story with heroes and villains but one more of survival against the most perilous of odds, this vibrant and alive action epic is a total kick in the pants that's a heck of a lot more fun than it probably should be… For genre fans, this is the type of film worth fawning over, and while I imagine its stay in the multiplex will sadly be short-lived the potentially massive cult following it will generate on DVD and Blu-ray will be something else entirely." Now is my chance to see if those words will come true or not as I fully expect Magnolia's hi-def presentation of the film to be more or less exemplary. Unfortunately a review copy was not sent our way.
Chitty Chitty Bang BangLike The Sound of Music, this is another Fox-released epic musical I expect to have in my grubby little hands any day now. Unlike that previous classic, I'm nowhere near as excited by that prospect. While I haven't seen this Dick Van Dyke/Sally Ann Howes family flick in decades, my memories of it aren't exactly fond ones. Still, I'm willing to give it the benefit of the doubt, the signature title tune not exactly 100-percent unappealing. Expect a full review of the title as soon as it arrives.
V: The Complete First Season (2010)
What happens when aliens arrive on Earth with huge motherships appearing over 29 major cities? People everywhere welcome them as saviors, the visitors bringing incredible gifts of healing and technology, but a resistance is on the rise, determined to reveal the shocking truth about the V's. Having never seen the original series, a comparison isn't possible, but I found this remake/ reimagining quite entertaining, the 12 episodes of the first season filled with action and intrigue. The Blu-ray features deleted scenes and four featurettes, as well as an episode commentary. A full review will be posted sometime next week, Mitchell taking a look at the season starting any day now.
-written by Dennis Crane
What can be said about Highlander that you won't already know, perhaps that there can "only be one?" (Which is true, hopefully, as the studio better not be double dipping on these! Haha.) Both films go 1080p, the first presented in a "director's cut". Lionsgate has sent both of these for review, and Mitchell will gladly take a look at these masterpieces and report back with his thoughts sometime over the next week or two.
-written by Dennis Crane
Universal brings to high-def the beloved musical directed by Sydney Lumet and starring Diana Ross and Michael Jackson. The Wiz is filled with spectacular musical nu.bers from legendary producer Quincy Jones and features an all-star cast with the likes of Lena Horne, Richard Pryor, Ted Ross and Nipsey Russel. Fans of the film may be interested in this release, especially considering the upgraded transfer.
-written by Dennis Crane
I've never heard of this independent feature, but the synopsis goes something like this: Having served five years in jail, Chance (Brian Presley) wants to start over, begin a new chapter in his life, escape his past, and make peace with his father (Ed Harris), head of the Aryan Brotherhood prison gang and serving a life sentence for murder. Chance's plan will have to wait, it seems, until he can square away a large debt his friend owes to a local mobster, which puts him back into a world of crime. However, when he falls in love with Pearl (Taraji P. Henson), the prospect of a normal life seems almost within reach, but he must first put behind him his past and come out from the shadow of his father.
-written by Dennis Crane
OTHER NOTABLE RELEASES
Car Toons: Mater's Tall Tales (a review is forthcoming)
Come Hell or High Water
Disney's WOW: World of Wonder
ExTerminators
Fallen (2006)
Rock & Roll Hall of Fame Concerts
Thomas Kinkade's Christmas Cottage
NOTABLE DVD RELEASES
You know, it's a drama about two plastic surgeons and the (mostly) crazy people they "fix", that is putting it lightly of course, as fans and casual viewers know how fvcked up the show gets over the span of six seasons. If you own the individual season sets, there's nothing of interest here. Nothing at all. The studio has not included any new value-added material to this "complete" boxed set, so there's no reason to upgrade, unless, of course, you are a Nip/Tuck newbie, in which case you might want to consider picking up this moderately priced package.
-written by Dennis Crane
The Larry Sanders Show: The Complete Series

Garry Shandling's groundbreaking "The Larry Sanders Show" ran on HBO from 1992 until 1998. In many ways it changed the face of television, proving that premium Cable channels could offer up quality programming worthy of winning Emmys. As presentations go, Shout! Factory's box set collection of the program is downright awesome. In my review of the title (read it here) I wrote that this set was "positively stunning" and that for fans of the show it was something "that should be scooped up immediately." Definitely one of the week's best releases, that's for sure.
Described in press releases as a "Faith-based Crash," this movie apparently is set in Los Angeles and features a ton of interconnected storylines all relating in some way to the Ten Commandments. The majority of these "faith-based" films are utter crap, but they do have an audience all the same, and every now and then one does come along that's a heck of a lot better than it has a right to be. Does I Am fit that description? I have no idea as Fox didn't send out a review copy, not that I would have been all that excited to watch it had they done so.
Brazilian import about a forty-something woman, Mercedes (Lília Cabral), who goes to see a therapist almost on whim and then proceeds to change every facet of her life over the next three years thanks in large to these ongoing discussions with her psychoanalyst. The movie played in a few festivals but never found enough footing to garner a domestic theatrical release. Still, the word from people I trust is positive and I'm very curious to give this one a look all the same. Into the Netflix queue it goes.
A film about five tales happening in one day, Love and Distrust follows a set of strangers searching for love, happiness and the meaning of life, featuring Amy Adams as a waitress, James Franco as a business man, and Robert Pattinson as a lusting teenager. Also, Sam Worthington appears in one story, with Michael Imperioli and (in a brief cameo) Robert Downey, Jr. in another. Reviews for this flick are unforgiving, but there's certainly some star power here to attract some viewers' interest.
-written by Dennis Crane
Not of This Earth (1988)
Charming if completely forgettable 1988 remake of the 1957 Roger Corman underground semi-classic starring Traci Lords as a nurse hired to do blood transfusions for an unusual wealthy man who just so happens to be an alien visitor from another world. From the director of Chopping Mall Jim Wynorski, the film offers up no real plot to speak of and plays more like extended skits all sewed together than an actual feature-length narrative. Yet Lords is a surprisingly amusing comedic presence, while Arthur Roberts lends a great deal of gravity and credibility to the mysterious stranger intent on using the blood of humanity to save his homeworld. Another entry in Shout! Factory's Roger Corman's Cult Classics collection, you can read my full review of this DVD by clicking here.
A WWI drama taking place at Edinburg's Craiglockhart Hospital where traumatized soldiers, scarred by the horrors of battle, try to regain their strength and sanity, Regeneration stars Jonathan Pryce as the hospital psychiatrist who might be on the edge of a nervous breakdown, and co-stars Johnny Lee Miller and James Wilby. The New York Times was quoted, saying it's a "stirring and articulate exploration of warfare."
-written by Dennis Crane
Another entry in Shout! Factory's Roger Corman's Cult Classics collection, this release doesn't quite have the same oomph or appeal as some of their previous DVD releases (like The Evil / Twice Dead double feature) have had. Still, for genre fans there is something about both of these titles that's attractive, The Terror Within (a futurist post-apocalyptic Alien clone about a group of scientists trapped by a monster deep underground) offering up the most bang for its buck. You can read my full review of the title by clicking here.
I just added this documentary to my Netflix queue, actually. Winnebago Man follows a young filmmaker on his search for "The Angriest Man in the World", or Jack Rebney (a.k.a. The Winnebago Man), an RV salesman in the 80s who recorded a series of videos, the hilarious and profanity-ridden outtakes of which became a phenomenon, passed around on VHS tapes and later finding its way onto the internet. The documentary tracks him down, following up with Jack twenty years later. Instead of explaining any more, just watch the YouTube video (age 18 restricted, sign into your account) and get ready for laughs.
-written by Dennis Crane
| | | |
| --- | --- | --- |
| | | |