FEATURE ARTICLE

2011 Seattle International Film Festival Preview

Rating: Various

Distributor: Various

Released: May 19, 2011 - June 12, 2011

Written by Sara Michelle Fetters
Editor-in-Chief
www.moviefreak.com
2011 Seattle International Film Festival Preview
Artistic Director Carl Spence On Bringing Great Film to the Emerald City as SIFF Turns 37
With the start of the 37th annual Seattle International Film Festival (SIFF) last night with the local premier of the crowd-pleasing The First Grader, I thought it would be fun to again take a moment to sit down with Artistic Director Carl Spence and talk about what audiences can expect from this year's 25-day event. "It does always seem to come around quickly," chuckled Spence as we began are chat. "We started working on this year's festival in earnest in last September, but in reality sometimes it feels like we started yesterday."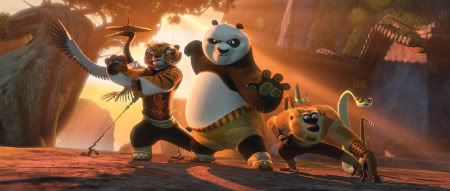 Po and the gang return in Kung Fu Panda 2 © DreamWorks Pictures
While the size and the scope are as audacious and as massive as ever (257 features, 184 shorts, 74 countries represented), there have been some changes to this year's festival that might take some filmgoers a bit of getting used to. For many, the biggest change to SIFF will be the introduction of the "Pathways," ten different categories that programmers hope will help audiences organize their film-going calendar based on their likes, interests and moods. These Pathways are split up into the likes of, "Love Me, Do!", "Sci-Fi and Beyond," "Face the Music" and "Spellbinding Stories," all fairly self-explanatory as far as describing the sorts of features might be residing within.
"We've not really changed the programming, per se," explains Spence, "but we have changed how we're trying to deliver information. We are focusing on these Pathways as an attempt to potentially diversify our audiences, trying to help people not get overwhelmed by the enormous size of the festival and the enormous amount of choices they have. How can we help the larger audience the programming better? How can we help people discover a film they might not otherwise have chosen? For the Pathways, it is about helping a person choose what type of the film they might want to see at that particular moment."
"I'm excited about films in each of the Pathways. The 'Love Me, Do!' is really interesting because it's not just about romance, it's also about love in all forms whether it be father-son relationships or relationships between lifelong friends. My favorite film, probably, Weekend from the U.K., is in [this Pathway]. It just captivated me; made me really believe in the idea of romance again. Not that I'd forgotten completely, but anyone who is married or has been in a long-term relationship it [the film] just reminds how love can be such a great journey."
One of the areas Carl is particularly proud of is this year's lineup of LGBT themed motion pictures. Running the gamut of genres and topics, this is one area of the festival the artistic director couldn't talk more exuberantly about.
"The selections this year are pretty diverse," he says. "Do You See Colors When You Close Your Eyes? made in Bellingham is an interesting film. There's Beginners with Ewan McGregor and Christopher Plummer and written and directed by Mike Mills; it's a really great film."
"We also have something interesting from Algeria, A Few Days of Respite, where a professor and his lover pursue a relationship in a place where to do so is a death sentence. There's also the amazingly titled Codependent Lesbian Space Alien Seeks Same from the U.S., and I think one people will really find interesting is Man at Bath from [director] Christophe Honoré. It's a touching poem of love and relationships; it's very French. And then there is our annual Gay-La film, August, which this year is a World Premier and one I think people will be excited about."
Carl talking about Beginners leads me to ask about this year's tribute guests, the aforementioned Ewan McGregor and esteemed extreme sports filmmaker and adventurer Warren Miller whom SIFF is bestowing a Golden Space Needle for Lifetime Achievement. Both have proven themselves in the entertainment world, one with his daring performances and the other by his six-plus decades of showcasing outdoor wintertime excitement in all its Widescreen fury.
"Warren Miller my not be as appreciated by the traditional film industry but he is a true pioneer," states Spence. "He went were others had never gone. He broke ground, creating the sports-action film before there was even such a genre. He's a masterful storyteller, a great filmmaker, so I think it makes total sense to look at his career and to honor his work, especially because he has such a strong connection to the Northwest. It was just time."
"Ewan McGregor is just someone I've and others have admired for many, many years. Trainspotting was a huge hit here at [SIFF] and won the Golden Space Needle audience award for Best Film, was the first award Danny Boyle ever got. With McGregor, he has such an amazing reach, and I think all four films we're screening showcase that. There's Beginners, obviously, and there's Perfect Sense which is sort of a post-apocalyptic love story. As for older selections, we're showing The Pillow Book, which is arguably one of [director] Peter Greenaway's best films but also showcases an amazing performance from McGregor; he brought so much to that. And Moulin Rouge!. You kind of have to show Moulin Rouge!. But then, that's just a sampling of what he's done and the type of rolls he's had. We'd show more if we could."
As in previous years, SIFF strives to showcase the cinematic world at all of its levels. From low budget no-name indies, to unheralded foreign imports, to large-scale Hollywood productions like Kung Fu Panda 2, programmers go out of their way to represent every facet of the filmmaking experience.
"It's part of what makes us different," says Spence. "That's my philosophy. Celebrate film as well as [celebrate] movies, whatever that difference might be. I think there are great films and there are great movies. We're just looking for interesting films that for whatever reason we love with a passion and feel like tell a good story; that's the most important part."
"But we're also focused on the audience. We're audience-driven. We have a lot of sponsors but they're not huge, dollar amount sponsors so we rely on the audience. We depend on the audience to make things happen. If we don't cater to the audience in some extent then we're not [going to succeed]. It's a balance in having films that people might be interested [in], films people are dying to see and films we want people to go see that they might not have discovered or heard about otherwise."

Christopher Plummer and Ewan McGregor in Beginners © Focus Features
Programming SIFF is a massive job, and as Artistic Director it is one Carl has been focused on for quite a few years now. Thing is, as exhaustive as it can be, it isn't a job the cool-headed film lover sees himself relinquishing anytime soon.
"I think I'll want to keep doing this until I get bored," responds Spence, "and I'm not close to being bored as of yet. I've been doing a lot of interesting things, looking at ways to do things differently so we're just not doing the same thing over and over and over again every year. I think I have one of the best jobs I could have so as long as I stay in Seattle I don't see another job that I could have in film I'd love or enjoy doing near as much. No matter what I do I think I want to always stay involved in the arts. I can't think of anything else that I would want to do."
- Portions of this artical reprinted courtesy of the SGN in Seattle
Moviefreak.com is proud to present our 6th annual coverage of this 37th edition of the Seattle International Film Festival. Starting today and running all the way until June 13, please check our Blog for reviews, thoughts, interviews and highlights of this year's events as seen through Sara's increasingly-bleary eyes. For the best, most complete coverage of one of the most popular and the largest film festivals in the entire world, your number one destination is right here at Moviefreak.com.
Additional Links
| | | |
| --- | --- | --- |
| | | |