MOVIE INTERVIEW

"Super 8" - Interview with actor Riley Griffiths

Rating: PG-13

Distributor: Paramount Pictures

Released: June 10, 2011

Written by Sara Michelle Fetters
Editor-in-Chief
www.moviefreak.com
Too Cool
Newcomer Riley Griffiths Talks Super 8
One of the more pleasant discoveries hiding inside of J.J. Abrams' retro science fiction coming of age spectacle Super 8 are the performances of its mostly teenage cast. All of them are great (especially, it most be noted, Somewhere and Phoebe in Wonderland star Elle Fanning – she's fantastic), each making their respective characters their own and giving them indelible moments worthy of applause.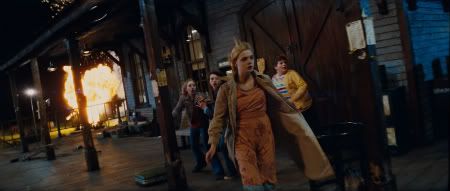 Something amazing is happening Super 8 © Paramount Pictures
Youngster Riley Griffiths is one of the stars of Super 8, playing main character Joe Lamb's (Joel Courtney) wannabe filmmaker best friend Charles. He's the one with the camera, the one making the low-rent zombie movie who accidentally records the train wreck that sets the interstellar plot of the film into motion. The relationship between Joe and Charles is one of the story's major strengths, and for all my issues with the climactic third the one thing I most certainly do not have a problem with is either his or Courtney's performances.
I sat down with the precocious and energetic 14-year-old to talk about his experiences making Super 8, his debut production, and whether or not the acting bug is something he's going to be carrying around for the rest of his life. "I've loved acting since the First Grade," Riley says with a gigantic smile. "It was a school play and it was Shakespeare's A Midsummer Nights Dream and I played Bottom. Ever since then I knew I loved acting. I lit up on stage. I knew it was wanted I wanted to be doing."
It's a long road, however, from a First Grade Shakespeare production to walking on the set of a major Hollywood motion picture, especially one lorded over by J.J. Abrams and supervised by Steven Spielberg. But Riley wasn't daunted, the thought of working alongside two of his heroes keeping him from being particularly nervous. "When I was standing in front of [Abrams] the first time I thought to myself that I'd better do good," he says with a big laugh. "I really liked Mission: Impossible III and 'Lost,' it's such a great show, but he just made me feel so comfortable. He's an amazing guy. He gave us so much advice and with this being my first movie he taught me so much about the other side of making movies, the writing, the directing, the producing; all of that stuff. He's one of my biggest role models."
All that hands-on attention had to be great for the actor as his character is himself a burgeoning writer and director, making his own 8mm short film with a cast and crew made up of his best friends from Middle School. He used Abrams as his template to craft his characterization of Charles, using the Star Trek filmmaker's own quirks and idiosyncrasies as building blocks to assist in his own performance.
"That was really cool," admits Riley. "Having J.J. there to learn from and lean on. Whenever I was playing [Charles] I would just look at J.J. and see what he was doing. I didn't follow him around or anything, but being with him everyday on the set you see him watching the takes and how he sets up shots, and all of that stuff I could draw upon. I loved watching all of that and getting the chance to learn from it."

Joel Courtney, Riley Griffiths and J.J. Abrams on the set of Super 8
© Paramount Pictures
As for the plot of the film, one that Abrams, Spielberg and the studio have gone out of their way to keep as secretive and as nondescript as possible before the picture's release, the plucky teen knew from the first moment he read it he had the opportunity to be part of something special. "I pretty much knew that this movie was going to be a classic," he admits nonchalantly. "It has amazing writing. I read it in like two hours. I was so excited to be a part of it and I felt so blessed."
"My favorite movies going into [Super 8] were Stand By Me, The Goonies, Close Encounters of the Third Kind and Jaws; those are all amazing movies. If you're a movie connoisseur you have to go see those. I was ready to go because I'd seen all of those. They're my favorites, like I said, and this movie just fit in with those others so well. It was exciting to read and to realize I was going to get to be a part of something like that."
As already mentioned, the core cast of the film was made up of young, many first-time actors (save Fanning) like Riley. Watching it, you get the feeling that these kids truly are best friends, that any and all of them would do anything for one another, and it was a sensation that permeated throughout the set during filming as well.
"We got along so well," he says with a happy grin. "We'd have sleepovers almost every night. Between filming we'd go swim at the pool. We'd ding-dong-ditch [adult costar] Kyle Chandler. We're all just lifelong friends now because we pretty much spent the entire summer before making this auditioning for the movie so we kept on seeing each other over and over again so we went into making [the film] as friends. Whenever we get back together, even if we've only been apart for like three days or something, it's like one big family reunion and our parents can't separate us."
And the chances the cast of Super 8 could become their own 21st century version of the Brat Pack? "That would be cool," laughs Riley. "I'd love to work with these guys again. They're the best, and we're all pretty awesome when we get together. That would be very, very cool."
As for the finished product, even though he's hopefully got more wonderful experiences making movies to come the young actor couldn't be prouder of what he feels like he, the rest of the cast and Abrams were able to accomplish. "I was just amazed," he says honestly. "We all watched it together and whenever we had a close-up or anything we'd pass along high-fives or knuckle one another. We were screaming the whole time. I was sitting next to Elle and when anything even remotely scary would come up she'd scream so loud and grab my arm."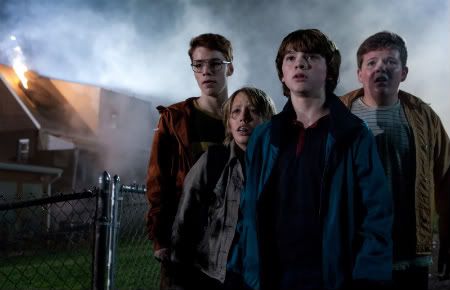 The boys encounter trouble in Super 8 © Paramount Pictures
"It was fantastic. So overwhelming. You know how much effort went into making it and how hard people worked so it was amazing to see it all come together like that. I really do think we were able to make something special. It doesn't happen very often to have two movie geniuses like J.J. Abrams and Steven Spielberg working with you, and I can only dream that I'll have more experiences like this one. This will always be my first movie. This will always be one of the coolest things I've ever done."
Additional Links
| | | |
| --- | --- | --- |
| | | |