Editor-in-Chief
www.moviefreak.com
A Royal Undertaking
Director Nikolaj Arcel on his Affair with Danish History
Director Nikolaj Arcel's A Royal Affair tells the astonishing true story of 18th century Danish King Christian VII (Mikkel Boe Følsgaard), his British wife Queen Caroline (Alicia Vikander) and Dr. Johann Friedrich Struensee (Mads Mikkelsen), a man of the Enlightenment who would change their lives forever. It is a love triangle, a political thriller, a human tragedy and a historical epic all at once, and even though just about every facet of it is true as a story it is one that for whatever reason hasn't traveled beyond the shores of its country of origin.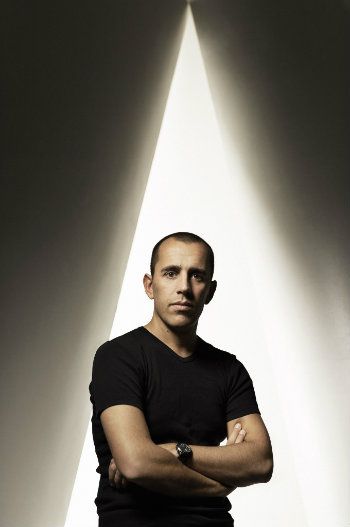 Director Nikolaj Arcel in a promotional photo for A Royal Affair
© Magnolia Pictures
"I think this is just what happens to us in Denmark," laughs Arcel. "We're such a reclusive people, nobody really knows what's going in and our country or has happened in our past. They hadn't even heard much about this story in Germany and, as you now know from watching the movie, Dr. Struensee is German. So that's pretty crazy, isn't it?"
"But when you look at it on a larger scale, all Danes know this story quite well as it is taught so thoroughly in schools and is such an important part of our culture that we take it for granted. Maybe that is why it hasn't traveled particularly well."
I spoke to Arcel about his opus, recently submitted by Denmark to compete for the Academy Award for Best Foreign Language Film, and the fact he was the first filmmaker able to bring this story to the screen wasn't lost on him. "It's very lucky for me that nobody had been able to film this story before," he admits. "Of course, it was not for lack of trying. People have been trying to make a film of this for 25, 30 or so years and nobody for one reason or another had succeeded."
"That doesn't mean the story hadn't been told. In Denmark there is a ballet, there is an opera, there have been a handful of plays and there are many books that go deeply into this story. None of them have found any international exposure, by any means, but still, it isn't like I or my cowriter Rasmus Heisterberg were the very first to try and adapt the story for a piece of popular entertainment. It's been told in various formats, just not in any way that's traveled beyond the Danish borders."
The pressure to succeed was immense for the director. The saga of King Christian, Queen Caroline and Dr. Struensee is held near and dear to the people of Denmark, and to mess it up in a cinematic retelling wouldn't have sat well with the filmmaker.
"Of course I was a little bit daunted by the task," Arcel claims. "I almost couldn't believe I'd taken it upon myself. But, first of all, I made this film for Danish people, that was the immediate task. I didn't know or think that it would necessarily be shown outside of Denmark, you can never know that. So, with that be so, I was always worried how Danish audiences would receive it. We tried to be as thorough and as historically accurate as we could, but we also wanted to make it immediate and relatable to modern audiences. That was important to us."
"When we finally got the financing, I sat down with my crew and my first questions was to how this could not be just another historical drama that feels like every other historical drama that has ever been made. We couldn't beat the British or the Americans in terms of budget so we really had to think about what kind of historical film we both would want to see and that we could make on the budget that we had. I wanted to make it feel as if [the viewer] was actually living in that time. I wanted them feel as if they were with these people and focusing on [them] as real people instead of historical figures to be placed upon the mantle."
One of the more interesting technical decisions Arcel made was in the visual presentation of the story. There is a first-person feel to much of what is taking place that is undeniable, the camera many times following Queen Catherine or Dr. Struensee from behind giving the viewer a unique, you-are-there position on the action. It was a risk to be certain, but one the filmmaker felt was necessary.
"There were a lot of people who were nervous about that but I really felt that this was a good and interesting way of telling a historical piece," explains the director. "It showed me that we could do a lot of hand-held camerawork, that we could get really close to Queen Caroline and the other characters. This proved to me we could show events in a way that was different than what people might typically expect from a historical drama."
"Yet, there were times I wondered if I was making the right choice. We had all these lavish costumes and big sets and we're just walking around behind our characters not really showing any of that off in a big, broad way. But it was something I was very excited about, this visual take on the story, so I'm very happy that we took those risks and that audiences seem to responding so positively."
Not that he was always certain he was making the right decisions. "I always worry a lot," Arcel says with a knowing grin, "I'm a worrier. For me, this is the first time I've done something historical. Just standing in front of the actors and deciding what sort of wig they should be wearing, that's unnerving because you don't think anybody looks good in a wig and yet historically this is what they wore and people back then did think it looked good. It doesn't appeal to you here, now, but back then this was the sort of commonplace item everybody wore so this ended up being just one of those daily things where you worried you weren't going to be able to put yourself in the proper historical mindset to make the right decisions."
"But you have to grapple with a lot when you're making a historical drama. You have to understand just what kind of film it is. You try to make things look as natural and contemporary as you can while also remaining true to the historical era. It's a learning process, and if you treat the production with the right mindset and can get yourself into that historical place in the end it will only help the story resonate for modern viewers more than it would have otherwise."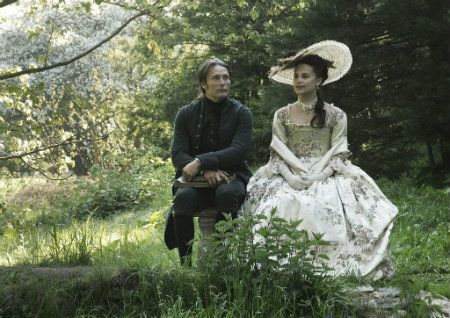 Mads Mikkelsen and Alicia Vikander in A Royal Affair © Magnolia Pictures
Yet the director was always able to maintain perspective, brushing off the pressure mainly because he and his writing partner had just come off adapting one of the modern titans of Danish literature, the late Stieg Larsson's internationally popular The Girl with the Dragon Tattoo. It was that experience which led him to believe he could tackle this subject and do it justice, allowing him to take chances he might otherwise not have had that film, Niels Arden Oplev, not met with such gigantic success.
"In many ways The Girl with the Dragon Tattoo was even more difficult to adapt and make ready for the screen in some ways," states Arcel. "There was so much pressure. The book was so important in Denmark and yet so popular around the world, Rasmus and I could definitely feel the weight of expectation as we were trying to write our screenplay. The whole world was talking about it, all the readers has their own ideas as to what a film should be."
"In that sense, having gone through that experience, after we'd done all our research and felt prepared we were no nearly as nervous writing [A Royal Affair] as we were in writing that adaptation. We'd just been through that pressure cooker, so when we were in the writing process here we joked that if we mess this story up there would be five-million people in Denmark who would be mad at us. But if we had messed up The Girl with the Dragon Tattoo there would have been 400-million people around the world who would have been mad at us, so in some ways that made writing this slightly less daunting in a way."
"But, truthfully, the success we had with that script meant we could be a little bit brave with this one. We didn't have to play it safe. We could take risks. We wanted to create something that had an arc and a vision that people would respond to and wouldn't feel was cliché. That was nice."
It was the triangle at the center of A Royal Affair that fascinated Arcel the most. He didn't want the narrative to follow the usual beats of the genre, wanted to make sure he explored the complexity between his main trio of lovers. "I think that's one of the most interesting things about this story," he responds. "Even though the relationship between Dr. Struensee and King Christian is a platonic one, it is still a love affair in its own way. What we really fell in love with in writing this screenplay was their relationship. The love story between Dr. Struensee and Queen Caroline is a love story, plain and simple, it's forbidden love, you know what that is, but what makes it extremely complex is the added relationship between the doctor and Christian and how the three figures interact. I think the relationship between King Christian and Queen Caroline, in its way, is also one of love, so that ends up being part of the mix as well."
"If you ask me, King Christian becomes the most tragic figure of the whole film. Of course, he doesn't lose his life, but he does lose quite a lot. He loses his great friend. He loses the loving mother of his son. He loses his authority. He keeps being told he's insane. He is given a glimpse of what kind of King he potentially could have been only to have it all suddenly stripped away from him."
Casting was key where it came to the film, the director knowing so much was riding on the performances of the three main actors at the center of the political and romantic maelstrom. While he was open to seeing as many prospective actors as possible for both King Christian and Queen Caroline, by and large Arcel only wanted one man to play the pivotal role of dynamic Dr. Struensee, Danish superstar Mads Mikkelsen.
"I wrote Dr. Struensee with Mads in mind," says Arcel. "But I didn't know him, which seems odd at this point in my career as I know so many of the bigger Danish actors. Mads was the one guy I didn't have a relationship with, so writing this character with him in mind was something of a risk."
"I sent him the script first thing. We were so lucky in that he hadn't done a film in Denmark in five years and was looking for a good part and a good film to make back here. He called us immediately. There was no waiting time. No stalling. No ego. No negotiation. It was just a simple talk over the telephone and at the end of the conversation he agreed to play the part. I felt so blessed."
For King Christian and Queen Caroline Arcel went in the complete opposite direction, risking the entire film on newcomers Mikkel Boe Følsgaard and Alicia Vikander. "The others, Mikkel and Alicia, they were complete unknowns," he says matter-of-factly. "Mikkel was in drama school. He'd never done anything before, so when I cast him I was quite nervous because while I knew he had the talent he'd never done anything like this so I didn't know if he'd be able to execute or bring the part off. But then he did such a fantastic job, and after the first day of shooting I knew for certain I had made the right choice casting him."
"With Alicia, we were looking at a few famous actresses but couldn't find anyone we thought fit the part. We went to Sweden, our neighbor country, and, again, she was just a complete unknown. She'd done this small, independent film in Sweden and we saw that and thought, wow, she's good, we should take a look at her, and from the moment she walked in the door we were just captivated."
"But, the danger of casting her was that she didn't speak Danish," Arcel recounts with another laugh. "She had to take three intensive months of lessons to learn the language so she could play the part. The producers were so scared, but I just knew we were making the right decisions. From the first moment we walked onto the set and I saw the three of them together I knew we had just the right extraordinary mix. I was euphoric. The way they worked together, the three of them, I always felt I was really lucky. It was a true collaboration. I feel like they ended up bringing out the best in one another."
Mikkel Boe Følsgaard and Mads Mikkelsen in A Royal Affair
© Magnolia Pictures
As for the reactions, both from critics and audiences at home in Denmark as well as around the globe, the director stands something close to astonished. "I don't quite believe everything that's going on," states Arcel. "The response has been extraordinary. I always hoped [the film] would play well in Denmark, but I never knew it would travel so well. I didn't know it would end up playing in so many countries. I did not know it would play in the U.S. Now we're being submitted as our country's representative for the Academy Award and I don't have any idea what to say or how to feel."
"You have to understand, I spent five years making A Royal Affair. It feels like it's been an eternity. It took so long to finance it. It took so long to find the right cast. It took so long to convince people that this film was worth doing. It took so long to get people to believe in it. So now, the response, it almost doesn't seem real…it's like I'm living in some sort of amazing dream."
- Article reprinted courtesy of the SGN in Seattle
Additional Links