Senior Theatrical Editor
www.moviefreak.com
Fear is Good
Hugh Dancy Goes Outside His Comfort Zone in Adam
For a movie like Adam, the road from script to screen to theatrical release has been a roundabout one. Not that this should be considered a surprise taking the project's independent roots into consideration. "Well, that's the nature of making a movie like this and [one] with this kind of subject matter," admits star Hugh Dancy. "The machine to release it to the world is not ready made."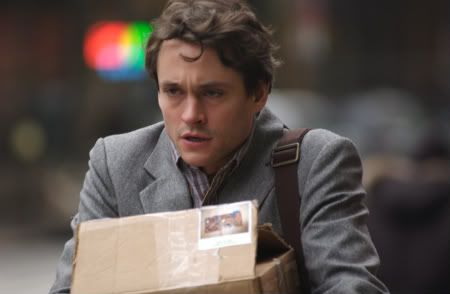 Hugh Dancy in Fox Searchlight's Adam
The actor was in Seattle to promote his unique romantic comedy about a quiet, extremely intelligent man named Adam (Dancy) whose life is changed forever after his father dies and a vivacious, outgoing young primary school teacher (Rose Byrne) moves into his apartment complex. Suffering from Asperger Syndrome, the two enter into a gentle relationship that slowly blossoms into something more, both learning things from the other they never could have predicted.
Not that this was a project the star of Evening and The Jane Austen Book Club imagined he was going to be a part of. "We started and finished in December of 2007," says Dancy. "[Adam] was made in 25 days, so it was not a lengthy period. In fact I had only read the script two months before that. The whole thing was a real sprint."
"I read the script without any idea of what I was going to be reading. I could tell the writing was good, the dialogue was good [and] the scenes were good [but] there was something I couldn't figure out about this character. Bare in mind when you're reading a script compared to watching a movie there is a lot of information you aren't being given. I was worried it going to turn into some kind of fable; that he was going to be this special, different person [and] we've all seen that kind of movie. [Adam] could have just been that kind of special, slightly unusual quirky guy like every indie film and I don't like that, it's not my kettle of fish."
It was the introduction of the character's ailment and the skillful way writer/director Max Mayer introduced it that ended up changing his mind. "It's when I got about a third of the way into the [script] and Adam says to Beth that he has got Asperger's that I was really thrown and very interested," admits Dancy. "Not to focus in on the Asperger's, I think that is kind of secondary to the whole story, but I felt the fact that Max had retained that information from the audience, from the me the reader, for that long was really interesting and intelligent. Then I met Max and I knew nothing about Asperger's, literally nothing. Sitting down with him opened my eyes to what [having] that would entail."
What it would entail is research. Lots and lots of research, much of which was exactly the same type of research and study the director had done. "I think that's actually really natural when you're getting ready for a thing a like this," he chuckles. "The more obvious stuff [will] lead you down the same route, i.e. the internet, reading whatever you can get your hands on and then ultimately meeting people who actually have Asperger's."
"There is something else going on, too, how you're processing that information; how I am processing it and relating it back to the script; how I have my own imagining of [Adam] on top of the framework Max has already provided that is unique. It is very important that [he] can't be read by Beth or by the audience as just the guy next door; to not have some light above his head that flashes Asperger's which is ultimately, to me, a secondary thing. I had to get beyond the broad strokes of Asperger's to get to what the character really was."
Which wasn't easy considering many of an actors' primary tools, like using the face as a tool to convey emotion, were instantly made moot because of the primary character's affliction. To paraphrase the Wikipedia definition, Asperger Syndrome is an autism spectrum disorder and people with it show difficulties in social interaction other restricted and repetitive patterns of behavior and interests. In other words, people suffering from it have difficulties keeping their opinions and comments to themselves, saying exactly what they feel at the moment they feel it their face unable to showcase the emotion.

Writer/Director Max Mayer on the set of Fox Searchlight's Adam
"[Adam] doesn't have the same range that we have," explains Dancy. "Certain things were unavailable to me. As actors we normally rely on eye contact [for] communication [but] I came to realize that 90-percent of the time we over-rely on [it] and reeling that back was eventually really interesting and helpful."
"What it forced me to do was be very specific with what was going on with Adam. He's not just in a room absently; he's listening very hard and trying to translate what he is hearing to make sure he responds appropriately. He is actually very present and obviously I knew that if I just played the externals I would have failed. Being forced to communicate both those things was nice."
"I think there is a high level of anxiety that is natural to [Adam]. The reservation and the hesitation that he has is a reaction to the fact that he has learned that when he expresses his natural enthusiasm it doesn't usually going very well for him. He doesn't know how to do that in a successful way. He is always trying to put the brakes on until it comes splurging out. In some sense, Adam is enthusiastic and gregarious and joyful. He certainly wants human connection but has come to realize he's not very good at it. I think he [has] a very sweet soul."
You get the feeling talking with the actor that this character worried him, that there was some apprehension on his part on the best way to play Adam. But if that's true it's fine with Dancy, fear of failure something he thinks only pushes him harder and makes him better at his chosen profession. "Not knowing what exactly you're going to do and stepping outside of your comfort zone is a good thing," he states. "It's a good thing in life and [a good thing] if you're going to give an interesting performance."
While the movie can't completely avoid convention, where it soars is its depiction of Adam and Beth's relationship. Mayer's script avoids the usual pitfalls and pap sentimentality so often associated with this both this type of drama and far too many romantic comedies. It strays away from many of the melodramatic conventions of the genres, a fact Dancy is understandably proud of.
"We certainly don't fall into the category of a movie-of-the week," he says with a smile. "We didn't want to overplay the seriousness or the romance. There is a lightness in touch that is uncommon. Yet, it's so funny how quickly people want to claim a movie saying [that] it's a romantic comedy. Well it isn't quite that. It was about three weeks into the four week shoot that I [realized] that it shared some shapes of a romantic comedy, I just hadn't thought of the material like that. [But] there are a variety of tones and to lean too heavily on any one of them would hurt. It wasn't a big punchline type of a film and to make Adam the butt of the joke would [have been] disastrous."
It is interesting that Adam and (500) Days of Summer are both coming out at essentially the exact same time. It almost goes without saying that in a multiplex currently dominated by big budget monstrosities (G.I. Joe: The Rise of Cobra, Transformers: Revenge of the Fallen), CGI-filled family fiascos (G-Force) and tragically unfunny vulgar comedies (The Ugly Truth) films like these are the exception and not the rule. In fact, if both weren't independent productions they probably wouldn't even exist, Hollywood not interested in making simple character-driven oddities like these two anymore.

Rose Byrne and Hugh Dancy in Fox Searchlight's Adam
"Well, except obviously they do," responds Dancy with a grin before getting serious once again. "I think it helps that a company like Fox Searchlight, who is having this incredible moment of earned confidence, can take these films and give them a platform. It's a good brand to be associated with right now. It's a good moment."
- Sara would like to extend a special thank you to fellow Seattle film critic Brian Zitzelman, without whom this feature article arguably would not have been possible.
Additional Links: