MOVIE INTERVIEW

"Like Crazy" - Interview with actress Felicity Jones

Rating: R

Distributor: Paramount Vantage

Released: Oct 28, 2011

Written by Sara Michelle Fetters
Editor-in-Chief
Moviefreak.com
Crazy Talk
Sitting Down with Actress Felicity Jones
Felicity Jones didn't need a lot of convincing to take on the role of Anna in the new independent romantic drama Like Crazy. In fact, she knew early on that this was a part she was born to play. "I'd just done the snowboarding comedy Chalet Girl in England and was ready for something different," she explains, "and this script just appeared in the post from Los Angeles and I read it really quickly, within like two hours, which is always a good sign. It just felt exactly what it is like to be in a relationship in a way I hadn't really seen shown before. All the complexities and the great bits, but not sentimentalizing what it is to be in love, it was just very true. I knew I had to do it. I knew that I was Anna."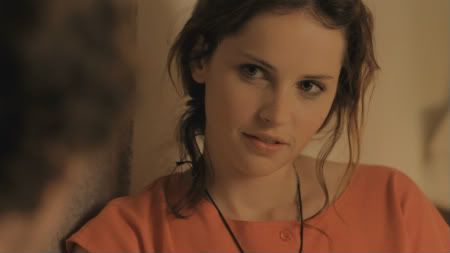 Felicity Jones in Like Crazy © Paramount Vantage
The young British starlet had come to Seattle to talk about her Sundance prize winner costarring Star Trek and Fright Night alum Anton Yelchin and her enthusiasm for the piece was instantly palpable. Most romances dealing with twenty-somethings don't go for a realistic bent, are nothing more than threadbare romantic comedies playing to the lowest common denominator. Like Crazy aims much higher than that, a fact Jones hadn't missed and an opportunity she wasn't going to pass on.
"You don't get a true portrayal of what it is like to be in love in your twenties," she states. "We're used to seeing adult dramas past that age, but 20 year olds can often be patronized by the movie world, they don't get a true or fair representation."
"I've always liked testing myself, taking on challenges as an actor. [This script] just felt right. Everything you make, all things creative, it all tends to be about timing, [writer/director Drake Doremus], Anton and I were just in a similar place in our lives where we wanted to take a risk. Now that I look back I think there was something very vulnerable about all of us, and whether that can happen again will be interesting to discover. We had nothing to lose. None of us were trying to be egotistical while making it. We were very lucky that we found one another at just the right time."
At the same time, taking this wasn't without obstacles. Her character, Anna, is essentially her own age, and she's going through the pangs and the throws of relationship highs and lows the likes of which she's only started to explore for herself in her own young life.
"It was a complicated process to find Anna," she admits. "I find that I tend to use people I know personally as references. It felt with Anna, the starting point actually came from her parents and in being an only child and the closeness with her family. That gave her a security and a confidence, which is something I don't think a lot of people have at that age. But she's very determined, and she wants Jacob, She's the one that pursues him, and I think that's one of the things that drew me in initially, because it is such the reverse of the usual boy-girl cinematic relationship."
"But to get back to your question, if you think about the character and their backgrounds you can build from the outside to get to the person at the center. I think I was able to do this with Anna, and by referencing my own relationship with my parents and seeing how some of my friends interact with theirs and watching other people that I know in the way they pursue different goals I feel like I was able to understand her in a more intimate way."
It helps that the actress' experiences working on both stage and screen far surpass her relatively young age. Having done everything from BBC productions like Northanger Abby, to sharing the screen with Helen Mirren in The Tempest and Michelle Pfeiffer on Chéri, to even appearing in an episode of "Doctor Who," Jones has managed to work with a number of notable talents both in front and behind the camera, a fact she doesn't take for granted.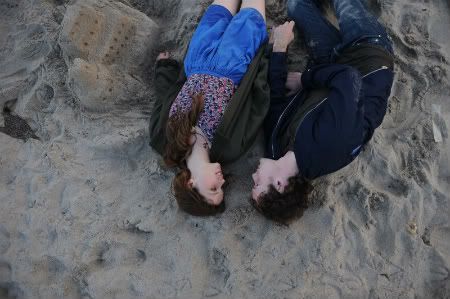 Felicity Jones and Anton Yelchin in Like Crazy © Paramount Vantage
"I've been lucky," she states. "We're very fortunate in England where there are lots of places where you can practice your craft. I've done radio, TV, the theatre, films; there's just more of a range. In some ways I think you benefit from a broader training, and it's incumbent on you to make the most of it. It feels as though, as well, that there is somewhat less pressure on you as an actress."
"I think in the States, unless you live in New York, the pressures to be an instant success or an instant superstar are always there, you can get pigeonholed or typecast rather quickly. In England that isn't the case. You get more of an opportunity to hone your craft, more time to gain that confidence you need as an actor."
"At the same time, it can be a little intimidating sometimes when you're working with all of these amazing people and yet you still feel as if you're still so young and not always up to the challenge. You can be doing a scene with someone and then halfway through you suddenly think to yourself, 'Oh god, I'm acting a scene alongside Helen Mirren.' I had that again with Guy Pierce on [Chalet Girl], my character has to kiss him, and I'm like, my god, I'm kissing Guy Pierce!"
The funny thing is, as she's talking about her time working with all of these talents and about how much she's learned from them it's hard to not point out the fact that, at least where it comes to some of her most recent work, she is the one continually singled out as a bright spot and as a talent to watch. In the case of Like Crazy, as much fanfare as the film itself has gotten since it Sundance debut last January Jones is the one being talked about for an Academy Award nomination, just the mention of which can't help but make the actress blush.
"You can't listen to that," she laughs. "It's very flattering, but you can't listen or it will drive you mad. I'm very good, I think, at being the underdog, and that's something I've always felt is a much easier position because it helps drive me to always get better and to take more risks and to hone my craft. These past few years I've managed to learn so much, and I've been able to do it quite quietly in a way, and that's something I feel is quite important."
"Like Crazy was something of a turning point in a way. I became a different actress after [making it]. I think you have a few turning points in your life and that was definitely one of them for me. It sort of showed me a whole new way of working I didn't know was possible, and I was able to use all of my previous experiences in a way I didn't know I could beforehand. There were no rules."
No rules, indeed. Doremus and his co-writer Ben York Jones took the Mike Leigh route with their script, fleshing out a scenario, crafting their characters backstories but then coming up with dialogue in a series of improvised rehearsals that helped cement the finished screenplay. It was a situation completely unlike anything the actress had ever faced before, her and Anton both coming off a series of highly structured projects that didn't require a lot in the way of improv or linguistic ingenuity.
"Drake made it an extraordinary environment for an actor," says Jones with conviction. "It never felt like there was ever any huge time pressure, the key was always to make the performances as best as they could be. He kept the set very small, very quiet; his focus was always on the performance and on trying to get us to say something honest and truthful. Are main goal was to always keep things away from cliché, but other than that he really gave us the room to breathe and a real opportunity to make these characters and the worlds they inhabit our own."

Anton Yelchin, writer/director Drake Doremus and Felicity Jones on the set of Like Crazy © Paramount Vantage
As for the finished film, Jones is hopeful for its prospects but at the same time understanding of the challenges it presents to an audience. "I hope people aren't scared by the grayness of it all," she explains, "about the complications of it all. I hope for this because I think we, as audiences, have to start being interested again in grownup films made for grownups, and when I say grownup I mean people in their 20's, 30's, 40's and beyond. Hopefully this is one of those films where people will identify with it as being truthful to them in some way and not patronizing or a gimmick. It's come from a very genuine place."
- Review reprinted courtesy of the SGN in Seattle
Additional Links
| | | |
| --- | --- | --- |
| | | |