MOVIE REVIEW

And Everything Is Going Fine

Rating: NR

Distributor: IFC Films

Released: Dec 10, 2010

Reviewed by Sara Michelle Fetters
Insightful Everything a Fine Look at Spalding Gray
And Everything Is Going Fine is Spalding Gray's final monologue. As constructed by director Steven Soderbergh (who collaborated with the author, humorist and actor on Gray's Anatomy), this fascinating film is a collection of interviews, performances and home movies that have been assembled into a knockout collage that is insightful as it is entertaining. It is a fitting and beguiling coda to a man who never shied from laying all his cards on the table in order to reveal all, only his 2004 suicide an unsettling mystery the truth of which no one will ever truly know the answer behind.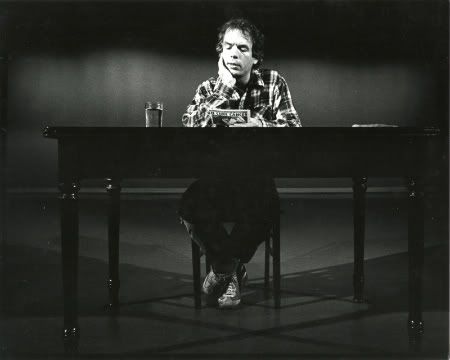 The late Spalding Gray in And Everything Is Going Fine © IFC Films
In his life Gray published and performed 18 different monologues including "A Personal History of the American Theater" and the Obie Award-winning "Swimming to Cambodia." He appeared in more than 40 feature films including The Killing Fields, True Stories, Beaches and King of the Hill. On Broadway he appeared in Gore Vidal's The Best Man and Thornton Wilder's Our Town. He wrote a handful of books including Impossible Vacation and Morning, Noon and Night. In short, he did just about everything, his creative genius coming from a place of crystalline internal observation the majority of us in this world would find unfathomable.
Soderbergh's film, produced by Gray's wife Kathleen Russo and featuring music written and performed by his son Forrest, is told entirely through the late author, humorist and actor's own words. Through early performances of his monologues, through interviews given to programs like "The Early Show" and through his own collected home movies, we are introduced step-by-step into Gray's mindset, given glimpses as to what made him such a stunning and memorable figure as well as what might have helped plant the seeds leading him to suicide.
But the film makes no mention of Gray's death, and even though there are continuous hints to his depression and his family history of same, the movie ends up being a remarkably cathartic and surprisingly jubilant celebration than it does a funeral sermon. There is real joy to be found here, real insight, and by the time it was over I felt the sublime need to return to some of Gray's monologues or maybe one of his novels in order to experience them almost as if it were the first time all over again.
And Everything Is Going Fine isn't groundbreaking. It doesn't tread any new ground or transform the medium in any discernable way. But it is a fine, moving, emotional and ultimately cathartic documentary all the same, and one any person even remotely interested in the life of times of Spalding Gray would find well worthy of their efforts to try and find.
Film Rating: ęęę (out of 4)
Additional Links