MOVIE REVIEW

The Artist (2011)

Rating: PG-13

Distributor: The Weinstein Company

Released: Nov 23, 2011

Reviewed by Sara Michelle Fetters
Irresistible Artist a Sublime Cinematic Valentine
It's interesting that two valentines to the early days of cinema both go into release today, both Hugo and the The Artist celebrating silent film in a way that feels vibrant, new and breathlessly alive. But as good as Scorsese's 3D family fable is, it can't hold a candle to OSS 117: Cairo, Nest of Spies filmmaker Michel Hazanavicius's latest achievement. A glorious spectacle that captivates the senses and energizes the mind, The Artist is a full-bodied sensation that had me doing interior cartwheels while I sat in the theatre gluttonously consuming each and every morsel. It is a movie to cherish, and the only thing better than watching it the first time is getting the opportunity to see it for a second.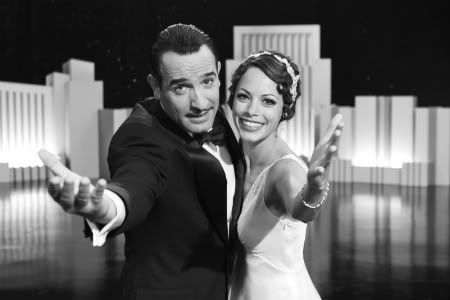 Jean Dujardin and Bérénice Bejo in The Artist © The Weinstein Company
Set in 1927, our hero is George Valentin (Jean Dujardin), Hollywood's biggest star and an international sensation. But things are about to change, sound is coming to the motion picture world and this silent film legend doesn't understand just the effect it will have upon both him and his career. He isn't prepared for the profound impact this will have, the way it will transform beautiful but unknown extras like Peppy Miller (Bérénice Bejo) into outright bombshells audiences will go crazy for in absolute droves. The world is about to change, and for George Valentin this isn't a change that's going to do his career, his marriage or his life a single bit of good.
There's a lot going on in The Artist, more than at first glance a person might originally notice. There are subtle shifts in tone, certain visual clues and numerous musical asides that continually foreshadow the dramas to come. Hazanavicius hasn't just made a silent motion picture manufactured in the same style and scope of the pictures of yore, he has also managed to create an adult melodrama about love and life that speaks to the very core of who we would like to be. George's evolution is poignant and heartfelt, his journey a mixture of tragedy and pathos that held me spellbound.
Granted, there is a lot of trickery here, and anyone with even a passing familiarity with silent film will see the great lengths Hazanavicius has gone to in order to make his picture sing. He's looked at the masters of old and done his due diligence, figured out a way to meld the misery of De Mille with the comedy of Keaton, the visual majesty of Murnau with the emotional complexity of Chaplin. There is a technical precision to all of this that is absolutely undeniable, and it almost goes without saying that composer Ludovic Bource's score, Guillaume Schiffman's boxy black and white cinematography and Laurence Bennett's production design play just as important a role, maybe even a bigger one, than Hazanavicius's own screenplay does.
Then there is the director's OSS 117 star Dujardin. Delivering a magnificent performance, to be sure, the actor transcends the celluloid becoming something a silver, shrouded in shadows paramour whose travails and hardships began to feel as close as my very own. There is something about the way he moves, the way he lifts an eyebrow, the way he smiles, the way holds a cocktail, everything coming together in a way that is decidedly personal and intimately tender. The way he interacts with Bejo is the stuff, to steal from a Hollywood classic, dreams are made of, and to say the actor has outdone himself doesn't come close to giving his performance any sort of justice.
It should also be noted that The Artist is also one of two films this year (Beginners being the other) where a Jack Russell Terrier has a standout role in the proceedings, and does this little doggie come close to stealing every scene he's in. But the movie is so well paced, so well edited by Hazanavicius and Anne-Sophie Bion, that it hard to sit in the theatre and not revel in every aspect of the film in some deliciously delectable way (including supporting performances from the likes of John Goodman, James Cromwell, Penelope Ann Miller and Malcolm McDowell).
To my mind, however, what ultimately puts Hazanavicius's latest over the top is a glorious mid-movie moment I can barely talk about in fear of ruining it yet one that easily ranks as my absolute favorite of the year. It is a sequence that is so exhilarating, so pulse-pounding, so wondrous it made a critic friend of mind sitting behind me in our preview theatre audibly gasp out loud. It is the moment where technique and performance and audio and visual collide in a way that left me thunderstruck, and by the time the sequence came to an end I was absolutely certain I was watching something akin to an instant classic.
That might be too high of praise, sure, but The Artist forces you to at least ponder the possibility. Hazanavicius has done a remarkable thing here, made a movie in the style of the early cinematic pioneers yet has done so in a way that feels shockingly of the now. It is a movie that will delight, will enthrall, will mesmerize and, most important of all, will entertain. It is a sublime reminder of where we came from and where we still have to go, making the movie itself 2011 highlight sure to be talked about, debated and enjoyed for many decades to come.
Film Rating: êêê1/2 (out of 4)
Additional Links
| | | |
| --- | --- | --- |
| | | |
Review posted on Nov 23, 2011 | Share this article | Top of Page

Copyright © 1999-infinity MovieFreak.com