MOVIE REVIEW

The Goods: Live Hard, Sell Hard

Rating: R

Distributor: Paramount Pictures

Released: Aug 14, 2009

Reviewed by Sara Michelle Fetters
Scattershot Goods Has the Laughs
When Ben Selleck (James Brolin), the owner of Temecula, CAís Selleck Motors, finds creditors breathing down his neck and his competition, the oily Stu Harding (Alan Thicke), itching to buy him out he turns to car-selling mercenaries led by the legendary Don Ready (Jeremy Piven) to clear his lot of inventory. Over the Fourth of July weekend Ready and his team (Ving Rhames, David Koechner, Kathryn Hahn) will whip Benís inept staff into shape and face down Stuís narcissistic son Paxton (Ed Helms) all while he puts the moves on the bossí sexy daughter Ivy (Jordana Spiro).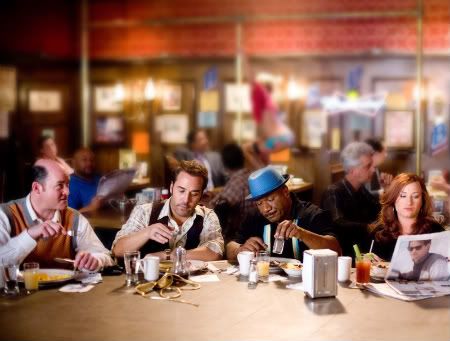 David Koechner, Jeremy Piven, Ving Rhames and Kathryn Hahn in Paramount Pictures' The Goods: Live Hard, Sell Hard
It all sounds like a lot, but when youíve got Ďthe goodsí even a mountain of excrement can look like nothing more than a rose-covered molehill. Don Ready has those goods, and while heíll only be around a few days the memory of what heís accomplished is going to last a lifetime.
I am not about to say that the new comedy The Goods: Live Hard, Sell Hard is a good movie. What I am going to say is that it is funny, sometimes very, very funny. While not consistent and filled with dry spots so rough you can hear crickets outside the theater due to the silence, when the laughs do come they come with an almost relentless aggressiveness thatís spellbinding. It is a nasty, ill-mannered, go-for-broke fun-fest made with an old school urgency thatís sometimes wonderful, and for fans of late 1970ís-early 1980ís comedy here is one film made expressly for you.
Not that Iím so delusional to think it is going to have as long-lasting a resonance as some of its counterparts like say Caddyshack, The Blues Brothers or Trading Places. Even the picture it most resembles, Robert Zemeckisí sensational 1980 Kurt Russell/Jack Warden automotive masterwork Used Cars, is light years beyond this one, and while anything can happen it's unlikely director Neal Brennan is going to have as multifaceted or as creative a career as the Back to the Future and Forest Gump Oscar-winner has had.
The main problem is, as good as Piven and the rest are, there is no breakout performance putting it over the top, no Bill Murray or Eddie Murphy or John Belushi spinning things so far on their head that their presence alone makes up for the rest of the filmís shortcomings. In fact, the best part of the entire picture is a cameo by a familiar face (one that has unfortunately been ruined by the television ads) that had the audience rolling in the aisles, no one else never doing enough to equal it.
But this negativity aside, there is enough going on in The Goods Iím more than happy to tell people to head out for a matinee. Unlike a lot of other recent R-rated comedic monstrosities, this one is vulgar for a reason, its bad taste and political incorrectness in service to a raw, character-driven storyline suited to the depravity. Additionally, unlike (the admittedly funnier) The Hangover there is method to this oneís madness, and while the road is bumpy the drive is short enough I was almost able to overlook my bum's soreness.
Thereís not too much else to say. The movie made me laugh. Not consistently. Not all the way through. But when it did get it got me hard, enough so I almost had a lit bit of choked up Diet Coke coming out my nostrils. For me, that gives The Goods, well, the goods, and as embarrassing as that kind of moment is personally for a critic itís downright perfect for showcasing just how funny this comedy is.
Film Rating: ÍÍ1/2 (out of 4)
Additional Links:
| | | |
| --- | --- | --- |
| | | |
Review posted on Aug 14, 2009 | Share this article | Top of Page

Copyright © 1999-infinity MovieFreak.com