MOVIE REVIEW

Holy Rollers

Rating: R

Distributor: First Independent Pictures

Released: May 21, 2010

Reviewed by Sara Michelle Fetters
a SIFF 2010 review
Strong Performances Make Rollers a Winner
Sam Gold (Jesse Eisenberg) is a young Hasid from an Orthodox Brooklyn community eager to prove to his family heís got their best interests in mind. On the verge of an arranged marriage, heís eager to help his father Mendel (Mark Ivanir) streamline his textile business. He wants to earn money, sure that it will solve all his and his parentís problems, and even though they donít agree heís positive theyíll think different as soon as they see all the benefits a few extra dollars can bring them.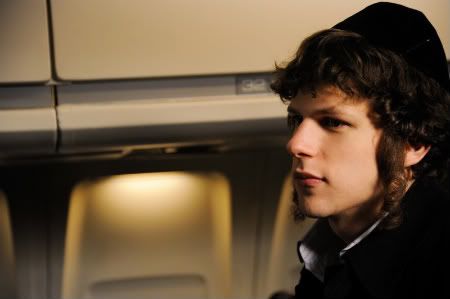 Jesse Eisenberg in Holy Rollers © First Independent Pictures
Knowing Sam has a lust for monetary gain, his best friend Leonís (Jason Fuchs) brother Yosef (Justin Bartha) offers him what he sees as an impossible to refuse offer. He wants him to go to Europe and transport some Ďmedicineí for his Israeli employer Jackie (Danny A. Abeckaser) back to the United States. But that medicine proves to be the illegal narcotic ecstasy, Leon blowing a gasket when he discovers just how his older sibling has been making his money.
But Sam knows an opportunity when he sees one, and in spite of a few moral misgivings he quickly realizes his head for business could help Jackie in ways the drug runner hasnít even pondered. Soon the young man is flying back and forth to Amsterdam getting in deeper and deeper with his new employer, he and Yosef making more money than they almost know what to do with. Yet good time canít last forever, and with his family on the verge of disowning him Sam starts getting a little too close to Jackieís sexy girlfriend Rachel (Ari Graynor) sparking a downward spiral he might not be able to recover from.
Based on true events, director Kevin Aschís debut feature Holy Rollers didnít exactly blow me away. Antonio Maciaís streamlined script doesnít break any new ground or go in any directions that arenít 100-percent expected, the movie your standard rise and fall melodrama about a youngster caught up in the glitz and glam of the high life only to discover a downside that isnít remotely worth the temporary high.
All that said, two things immediately allow this film to rise above its shortcomings. The first is the setting. The second is Jesse Eisenberg.
As far as that first item is concerned Iíve never seen a movie like this one set inside the world of the Hasidic community. The dynamic going on within the Gold family is fascinating, their relationships with their neighbors and with the Rabi almost documentary-like in their exactitude. This is the way religion in movies is supposed to be handled, not with an iron didactic fist but with a subtle truthful honesty that reflects the everyday world like a finely polished mirror.
In regards to Eisenberg, I have to admit I didnít think he had a performance like this one in him. Sure Iíve enjoyed the kid in films like Adventureland and Zombieland but that doesnít mean I thought he was capable of anything close to resembling dramatic depth. Yet that is exactly what he showcases as Sam, going places so profoundly nuanced I was literally blown away. This is a complicated performance that goes far beneath the surface, the actor showcasing skills I canít help but hope he gets to demonstrate far more often.
There are some other pluses, not the least of which is the excellent supporting cast. Graynor is quite good as Rachel, while Fuchs makes the most of limited screen time to deliver a performance of surprising emotional impact, his final scene with Eisenberg particularly stirring. I also found Ben Kutchinsí (Prison Town, USA) camerawork to be quite strong, the cinematographer serving up a series of images that fit both the subject matter and the performance perfectly.
Overall I think this is a rather strong first effort for director Asch. He uses his locations to their utmost while also coaxing performances from his actors that o far beyond the relative familiarity of the subject matter. He also paces his film marvelously, the picture clocking in at just under 90 minutes allowing it to never overstay its welcome. Thanks to everything stated above I quite enjoyed Holy Rollers, fans of character-driven dramas sure to find much here worthy of taking the effort to explore.
Film Rating: ÍÍÍ (out of 4)
Additional Links