MOVIE REVIEW

Quantum of Solace

Rating: PG-13

Distributor: MGM/Sony Pictures

Released: Nov 14, 2008

Reviewed by Sara Michelle Fetters
Quantum Gives Bond Fans Plenty of Solace
If nothing else, Quantum of Solace proves without a shadow of a doubt that the tone and direction started in Casino Royale wasnít just a passing fad. No matter how much a person loved that 2006 reinvention of author Ian Flemingís 007, I donít think any of us were 100-percent certain long-time producers Barbara Broccoli and Michael G. Wilson were going to stick with it. After all, super spy James Bondís glory days were full of flashy gadgets and tongue-in-cheek double entendres, and if the first 20 films in the franchise proved anything it showed the people holding the purse strings were fans of that slickly manufactured consistency.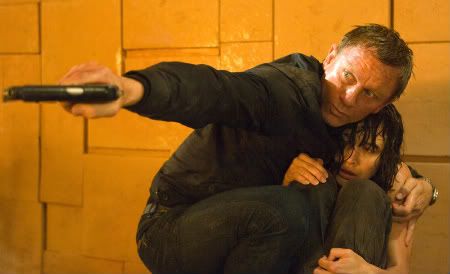 Daniel Craig and Olga Kurylenko star in MGM/Sony Pictures' Quantum of Solace
It was the success of The Bourne Identity and its two sequels that changed everything, Broccoli and Wilson flipping things up considerably turning to director Martin Campbell Ė who also introduced Pierce Brosnan to the role with Goldeneye Ė and blonde Brit actor Daniel Craig to do it for them. And did the ever respond, their gritty down and dirty reboot of the franchise becoming one of top grossing and most popular Bond adventures ever released.
But if that film set a new template for the world this character inhabits, director Marc Forsterís (The Kite Runner) sequel steps on the accelerator and makes it completely his own. Picking up almost immediately after the last flick concluded (the only prior entry to even arguably do the same was 1971ís Diamonds are Forever with Sean Connery), the director screeches the tires and lights the fires in the very first frame. The opening car chase, interrogation and fisticuffs are as vigorous as anything found in the prior pic or in either of the Paul Greengrass directed Bourne sequels, and by the time they concluded I was literally gasping for air.
The thing is, as dynamic as all this action is and as kinetically invigorating as much of it can be, there is a point where all this lively intensity can become a little bit pummeling. The filmís plot Ė Bond (Craig) joins forces with mysterious beauty Camille (Olga Kurylenko) to investigate the Latin American dealings of supposedly honest developer Dominic Greene (Mathieu Amalric) while also trying to discover the identities of those involved in the brutal death of his lost lady love Vesper Lynd, the depth and breadth of the world-wide conspiracy putting both his and Mís (Judy Dench) careers in jeopardy Ė is secondary to all the pyrotechnics, and if you close your eyes for even a second youíll probably miss five or six of the filmís myriad of plot twists.
Donít get me wrong. My main problem, virtually my only problem, with Casino Royale was that at 140-plus minutes it was far too long. But while I appreciate the speed with which Forster and company get this one over and done with (this 22nd Bond adventure is also the shortest), I also think much of the characterís complexities and the storyís emotional resonance is diluted in the process. There is the potential for this film to reach the gloriously moving heights of the On Her Majestyís Secret Service finale, a deliciously melancholic promise that sadly never materializes.
Even with that said, Quantum of Solace is a full-on blast. Craig continues to cement himself as arguably the best Bond ever (this coming from a Connery groupie second to none), while dramatic filmmaker Forster moves into action territory with fiery exhilarating ease. I also just adored the ferocious desert resort climax, the whole film coming together with such magnificently bracing tenacity I was thrilled beyond words.
Much like the previous adventure, this one, too, comes to an end begging for simultaneous resumption in Bond 23, and that's just fine by me. Broccoli and Wilson have a good thing going here, their popular franchise moving in such a great direction itís starting to feel impossible for the duo to muck it up. They could, of course (and anyone whoís seen Moonraker, A View to a Kill or Die Another Day knows this for a pitiably awful fact), but my gut tells me otherwise.
For the time being (and for hopefully much longer than that), British Agent 007 is back in vogue, and I for one couldnít be happier.
Film Rating: ÍÍÍ (out of 4)
Additional Links
| | | |
| --- | --- | --- |
| | | |
Review posted on Nov 12, 2008 | Share this article | Top of Page

Copyright © 1999-infinity MovieFreak.com