MOVIE REVIEW

Smashed (2012)

Rating: R

Distributor: Sony Pictures Classics

Released: Oct 12, 2012

Reviewed by Sara Michelle Fetters
Winstead Sensational in Alcoholism Drama Smashed
Elementary School teacher Kate Hannah (Mary Elizabeth Winstead) is an alcoholic. She sadly comes to grips with this reality when she unexpectedly vomits in the middle of class, her curious second graders coming to the conclusion she must be pregnant, a fallacy the young educator doesnít immediately put the kibosh on. This leads to some hairy unintended consequences not the least of which is having Principal Barnes (Megan Mullally) suddenly wanting to get all chummy with her, announcing the unbeknownst to her faux pregnancy to the entire school.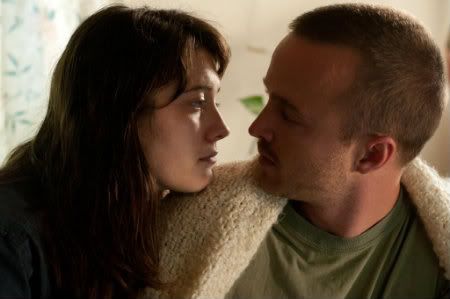 Mary Elizabeth Winstead and Aaron Paul in Smashed © Sony Pictures Classics
Itís the Assistant Principal, the friendly and understanding Dave Davies (Nick Offerman), who first convinces Kate to go to an A.A. meeting with him. From there, she meets local baker Jenny (Octavia Spencer), a woman she quickly becomes friends with and also agrees to become her sponsor. But while her equally alcoholic husband Charlie (Aaron Paul) is supportive of his wifeís attempts at sobriety, heís not exactly helpful, inadvertently revealing her most embarrassing secrets to his brother Owen (Kyle Gallner) after the downing of a handful of beers.
Smashed doesnít do anything out of the ordinary, tell a story we havenít seen numerous times before. It covers territory thatís cinematically timeless, and from The Lost Weekend to Under the Volcano to Barfly to Clean and Sober to Julia this isnít a story full of new ideas. Heck, even Flight travels a relatively similar path, both films added together showcasing the male-female flipside to abuse and addiction that are as familiar as they are necessary.
Why necessary? Because, when done well, when showcased with this much honest emotional authenticity that doesnít speak down to the audience or treat them like imbeciles, stories like this will always serve an important purpose. More than that, they can also be moving, tearful and, most importantly, inspiring, watching these characters find a way to deal with their issues and come to grips with their illness oftentimes as suspense-filled as the most explosive gun-toting spy versus spy thriller.
Smashed, while imperfect, fits that description. Director James Ponsoldt and cowriter Susan Burke have done a fabulous job fashioning Kate, and in Winstead they have found the perfect actress to encapsulate her. She is as well-rounded a character as Iíve seen this year. Every nuance, every facet of her being, feels complete, and watching her explore the world around her as full-blown alcoholic, struggling addict in recovery and as contented woman confident in her illness and what it takes to deal with it on a day-to-day basis is beautifully naturalistic.
Winstead, more familiar for roles in genre fluff like Live Free or Die Hard, Scott Pilgrim vs. the World, Black Christmas and Death Proof, comes into her own and then some inhabiting Kate. She takes the character and runs with her, traveling to places and projecting emotional maelstroms ringing with truth. This is a complex performance, one of depth and nuance, spending time with the character a riveting experience from the first moment she drunkenly sashays onto the screen to the climactic turn of events forcing her to make a monumental, maybe even heartbreaking, decision.
If only the movie as a whole was as well constructed as this character and her journey are. The supporting players, most notably Dave, Jenny and, most important of all, Charlie, arenít nearly as fully conceived, and while I appreciate the fact the film doesnít even run 90 minutes this is one of those rare instances where an extra five to ten minutes could have helped beyond any and all measure. How they all affect Kate, the roles they play in her journey, the pieces are there but the puzzle never quite comes together, a head-scratching conundrum if there ever was one.
Yet at the same time all the actors are good, definitely making of the most of the material and managing to craft an indelible mark on the proceedings no matter how great or small their respective appearances might be. Mullally, in particular, has the most limited screen time yet easily does the most with it, a sequence of quiet honesty near the end showcasing her immense talents to their zenith. Paul, a favorite of ďBreaking BadĒ fans everywhere, also manages some fairly striking moments, a final scene between he and Winstead at the end beautifully enigmatic striking just the right note and bringing things to a close with winsome grace.
Ponsoldt and Burke donít do anything unexpected with Smashed, donít tell a story that we havenít seen before. All the same, they do it with subtle simplicity, never beating the audience over the head with their themes, ideas or emotions. As for Winstead, she completely transforms herself here, hinting at unlimited potential heretofore has been untapped. I expect great things from the actress in the future, even an Oscar nomination or two (maybe even at some point a win), that in and of itself more than enough reason to give this independent a look while itís still playing at a local theatre hopefully near you.
Film Rating: ÍÍÍ (out of 4)
Additional Links