MOVIE REVIEW

The Sweeney (2012)

Rating: R

Distributor: E One Entertainment

Released: March 1, 2013

Reviewed by Sara Michelle Fetters
Cliché Sweeney Nicks Viewer's Time
The Ray Winstone starring import The Sweeney is a loud, angry, energetic and bullet-riddled remake of the popular British television series of the same name that ran for four seasons between 1975 and 1978. The theatrical version revolve around cantankerous old school policeman Detective Investigator Jack Regan (Winstone), the leader of a group of rogue cops known as The Flying Squad who respond to violent robberies using any and all force necessary. The don't play by the rules, and much to the constant chagrin of their long suffering boss DCI Frank Haskins (Damian Lewis) their tactics have them continually under a fairly heated spotlight.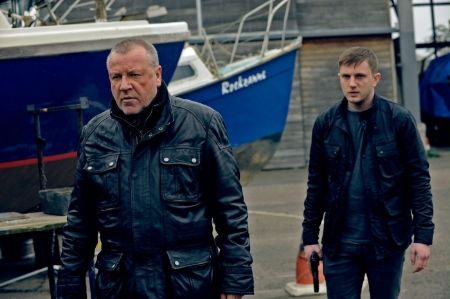 Ray Winstone and Ben Drew in The Sweeney © E One Entertainment
Things are about to get worse. Not only is Jack having an affair with one of his subordinates, DC Nancy Lewis (Hayley Atwell) just so happens to also be married to Internal Affairs' top man, DCI Ivan Lewis (Steven Mackintosh), and if he didn't have reason to put the unit under a microscope before he certain does now. Couple that with the fact the unit has botched a recent investigation regarding a smalltime jewel heist, which was also the scene of a heinous murder, involving career criminal Francis Allen (Paul Anderson), their mistakes putting him back on the street at the same moment a calamitous multimillion dollar bank heist rocks Trafalgar Square.
The weird thing about The Sweeney is just how unoriginal almost all of it proves to be. Even with being a reimaging of a beloved television show, there is no reason for director Nick Love's (Outlaw) version, co-written alongside the great John Hodge (Trainspotting, Shallow Grave), to be this thoroughly riddled with cliché. An amalgam of just about every police thriller ever envisioned, with blatant pulls from Michael Mann's Heat, coupled with a score by Lorne Balfe (Side by Side) that so closely echoes Hans Zimmers' work on Inception who should sue for plagiarism, the movie drowns in its own heavy-handed pretensions. As good as the cast is, as great as individual moments might be, the tedium one most go through for the majority of the narrative is frighteningly extreme, making the watching of the movie from beginning to end incredibly difficult to do.
It's not quite that bad. Winstone, in a role tailor made for his craggy, brutish talents, excels as Regan, giving this Dirty Harry-like throwback layers and shading the script sadly only hints at. His scenes with Mackintosh, while not exactly breaking new ground, crackle with electricity, the twosome putting off confrontational sparks that could power the whole of London. Atwell, while not nearly as involved as I'd have liked her to be, still brings gentle nuance and subtle shading to the conflicted Nancy, and in the end her performance here makes a nice change of pace from her more stalwart, straight-arrow embodiment a feminine heroics in Captain America: The First Avenger.
I should also note that, for film with a reported production budget of right around $5-million, The Sweeney looks and sounds terrific, Simon Dennis' (Pusher) cinematography and James Herbert's (Gangster Squad) editing, especially during the film's crackerjack, John Frankenheimer-esque car chases, close to superb. A central shootout traveling through the aforementioned Trafalgar Square and culminating in the city's famed National Gallery is also expertly staged, and if it weren't for the fact it so blatantly recalls the aforementioned Heat I'd be tempted to call it glorious.
But the plot truly is a mess. Built around a series of tired clichés, Love and Hodge's scenario hardly goes anywhere of interest, every now and then bringing up potentially interesting subplots (a key character suddenly finds himself behind bars, while a neophyte officer – played a tad too enthusiastically by British pop star Ben Drew – find himself at an ethical crossroads) only to leave them dangling and instead return to the humdrum theatrics that are the core of the picture.
There is a blatant setup for sequel at the end of The Sweeney, but considering the film did middling to mild business abroad and won't make a dime here domestically I seriously doubt the cinematic adventures of DI Jack Regan are going to continue anytime soon. Sadly, even with a few plusses and some nice performances the only thing being 'nicked' by these members of The Flying Squad is my good will, the time I spent trying to care about either them or their case precious minutes I sadly will never get back.
Film Rating: ê1/2 (out of 4)
Additional Links